A number of special activities taking place at Black Country Museum this Saturday and Sunday as part of it's Harvest weekend. There will be traditional apple pies being baked in the Back to Back House, fruit biscuits being made in Gregory's kitchen and a harvest loaf being prepared in the Bakery.
Visitors will also get to learn how harvests were picked in the 20th century and how families preserved apples over the winter months. A traditional Harvest Festival Service will take place on the Sunday and visitors are invited to join the service.
See more at Black Country Museum
Twenty Syrian refugee families could be welcomed to Dudley as council bosses today agreed to help some of those seeking refuge.
Dudley Council has said it will offer housing, health, education and other support to the families from today.
All the help provided will be funded nationally, but figures at the council have stressed that the borough has a duty to do what is can to help some of the thousands of refugees fleeing Syria.
The council will be looking at what available housing stock it has as well as availability in the private sector and housing associations.
School places will also need to be found for children arriving with their families as well as access to health facilities to help the new arrivals.
"As a community council we feel we have a duty to open our doors to those refugees who are in desperate need. Many people have contacted myself and other councillors because they are overwhelmed by scenes of people literally struggling to survive and they are quite rightly asking what we can do to help.

"We would like to assure everyone, the help we are offering will not detract from the services we provide and local people will remain a priority when it comes to education, housing and the many other services we provide. But this is about going that extra mile to help people in desperate need.

"We are currently formulating a plan to look at what spare capacity we have in schools and our housing stock and what health and social services provision we have in the borough to see how we can help."
– Councillor Gaye Partridge, cabinet member for housing
Advertisement
A man was seriously injured last night when his car overturned on the Dudley Road East in Oldbury shortly before 11.25pm yesterday.
An ambulance crew, a paramedic area support officer in a rapid response vehicle and the MERIT trauma team consisting of a trauma doctor and critical care practitioner attended.
Police and the fire service also attended.
The car reportedly 'cartwheeled' several times before coming to rest on its side.

"Before its driver, a man in his twenties, could be freed from the car, it had to be stabilised by the fire service.

"He was removed from the car with the use of a long spinal board before being transferred to a scoop stretcher. He was assessed by the attending trauma doctor. He had a bad cut to his face, a thigh wound, a suspected broken ankle and suspected spinal injuries."He was fully immobilised, given an anti-haemorrhage drug and was taken on blue lights to Queen Elizabeth Hospital Birmingham."
– A West Midlands Ambulance Service spokesman
Fire crews, an ambulance and a paramedic had to be called after a man became trapped in a weights machine at a Black Country gym this afternoon.
West Midlands Ambulance Service received the unusual call-out request to a gym in the centre of West Bromwich at just after 1pm.
The man had been working out using a heavy leg weight machine when he became trapped. Other people in the gym attempted to free him but eventually it fell to the fire service to help him out of the machine.
The man, believed to be in his forties, was treated for a fractured ankle. He was immobilised using a leg splint before being taken to Sandwell General Hospital for further assessment and treatment.
Away from the roads, with @officialwmas, crews have freed a man who had foot trapped in leg press at a gym in West Bromwich.
A mum who was warned by doctors that her cervix was too small to deliver a healthy baby is celebrating the birth of her 'miracle' child.
Read the full story ›
It's the second Black Country Festival - held to celebrate Wolverhampton, Dudley, Walsall and Sandwell boroughs.
The home of heavy metal music and the industrial revolution will be celebrated today as it is the anniversary of the invention of the Newcomen Steam engine.
The engine is thought to have launched the Industrial Revolution, and a working model is on display at the Black Country Museum - where today's celebrations will take place.
Advertisement
Two people were led to saved by firefighters from a severe fire in a flat above a shop in the Black Country.
The blaze started in the living area above the retail unit in Messenger Road, Smethwick, during the early hours of Wednesday morning.
The living room was completely gutted and firefighters using breath apparatus helped rescue the pair. The flat was gutted by flames and filled with thick smoke.
About 20 firefighters from Smethwick, Ladywood, Handsworth and West Bromwich were at the scene.
The cause of the fire is not yet known and there are no know injuries.
A world record musical busk will be staged in Dudley town centre next week to mark to launch of this year's Black Country Festival.
Read the full story ›
Paramedics say a man is lucky to be alive after the side of a house collapsed on to his car while he was sat in it.
Emergency crews were called to Richmond Hill, Oldbury shortly after 5pm, where the side wall holding up the roof of the house had fallen on to the next door neighbours car.
The man, in his 60s, escaped with just a minor head injury. Investigations into how the collapse happened are taking place.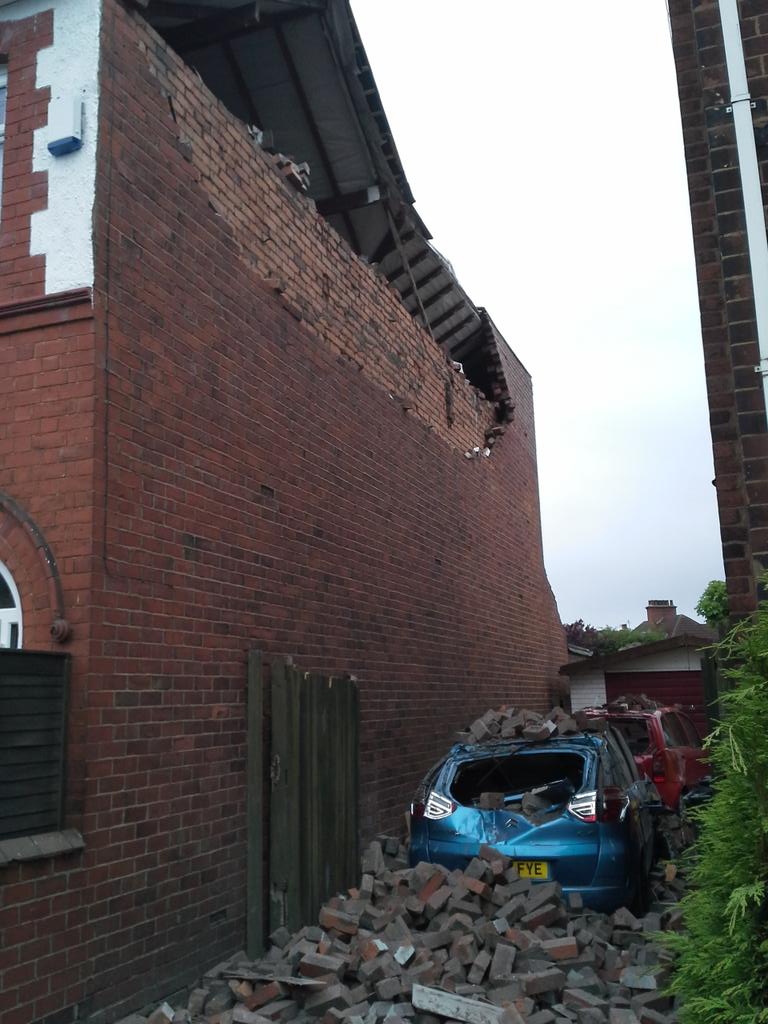 Fire crews are dealing with a building collapse in Oldbury.
West Midlands Fire service has tweeted a picture of what appears to be a 1930s built house with part of its gable end missing.
The rubble from the collapse has crushed a car parked down the side of the property in Richmond Hill.
Fire crews are on the scene will assessments are taking place to make the structure safe.
Load more updates