Car Froch says the right hook that 'finished the job' against George Groves, was the best punch he'd thrown in his life:
"How do you define a good punch and what it means? Well what that meant was, that in the whole George Groves saga and the history of the fight - the way people are going to look back on that in years to come - that was the right hand that finished the job...
... So, yeah, that was the best punch I have thrown in my life!"
Carl Froch says he would have retired and that his career would have been over if he had lost his Super-Middleweight clash with George Groves on Saturday night:
"I didn't want to go out of my career, or finish my career - because my career would've been over, I would've retired if I had lost tonight - I didn't want to go out like that and be remembered, in the biggest night in the history of British boxing post-war, as being the loser!
I take nothing away from George Groves but i came here tonight to win! I lived like a monk for three months and I listened to everything Rob McCracken said for three months. It's been hard to put my body through pain, but if you prepare correctly you get the results and that's what i did."
Advertisement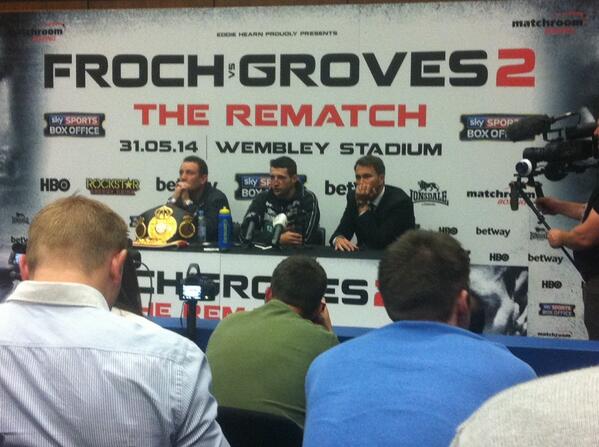 Carl Froch has weighed in heavier ahead of this IBF and WBA Super Middleweight world title rematch with George Groves at Wembley tomorrow.
The boxer from Nottingham tipped the scaled at 1st 13lbs 9oz, and his adversary weighed in at 11st 12lbs 4oz.
The pair also came face to face for photographs, and an exchange of words. It was the last opportunity for each to play mind games, ahead of what has been labelled as one of the biggest fights in British boxing history.
The weigh-in for Nottingham boxer Carl Froch's fight with George Groves is just about to get underway in London.
Press play on the video below to watch live coverage.
For more on the background to the fight, click here.
In a few hours Nottingham's Carl Froch will come face to face with George Groves for the final time, before they meet in the biggest boxing bout in post-war history.
The fighters will weigh-in this afternoon at Wembley Arena, ahead of their title fight in front of 80 thousand people at Wembley Stadium tomorrow.
Our Sports Correspondent Steve Clamp sent this report.
Advertisement
George Groves says he is still 'supremely confident' ahead of his world title match with Nottingham's Carl Froch on Saturday.
He spoke to ITV News Central correspondent Steve Clamp after today's press conference at Wembley, in which Groves appeared much calmer than when the two fighters have previously come face-to-face.
Carl Froch says he is surprised by the lack of 'drama' at today's press conference at Wembley, ahead of his world title showdown with George Groves on Saturday.
The fighter from Nottingham told ITV News Central correspondent Steve Clamp that he believes his adversary has given up trying antagonise him.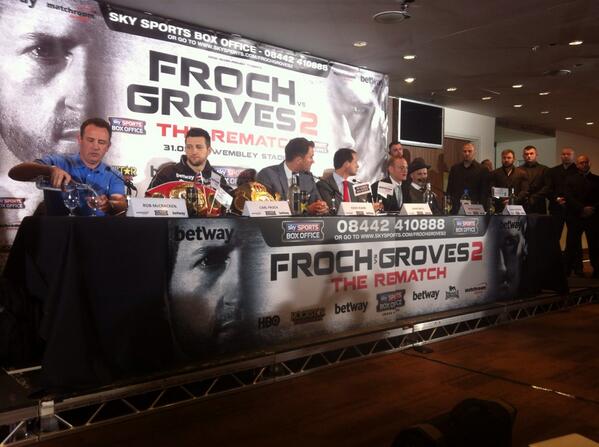 Load more updates