A man has died and three others have been injured in a car accident in Bromsgrove.
The crash happened at 3.30pm yesterday, outside the The Queen's Head pub on the A448 Stratford Road.
Two young women and a man were taken to the Alexandra Hospital in Redditch, while another man was pronounced dead at the scene.
A man has been attacked whilst on a pizza delivery in Bromsgrove.
A pizza and sides were ordered for an address in Appletrees Crescent but when the victim arrived he was approached by four men who grabbed the delivery and ran off.
It happened on Wednesday 2 July at around 10:30. Police are appealing for witnesses.
All the men are white, two are described as being around 5 foot 9 inches tall, of slim build, aged 18-25, clean shaven and wearing dark coloured hooded tops and jeans.
Advertisement
Police have found a man's body in a van parked in a pub car park in Wythall in Bromsgrove.
Officers were called to the White Swan on Alcester Road just after 9am on Saturday morning after a member of the public made the discovery.
The dead man has been identified as Harbans Agimal who went missing from his home in Kings Heath in Birmingham on Thursday 12 June.
His death is not being treated as suspicious and Mr Agimal's family have been informed.
Detective Sergeant Matt Stone, leading the search for Mr Agimal, said:
We would like to thank everyone who assisted in spreading the appeal for help to find Mr Agimal. Our sympathies are now with his family at this tragic time."
A retired former Olympic athletics coach has been charged with a string of indecent assaults against a teenage girl dating back to the 80s.
Darrell Bunn, aged 64, from Marlbrook, Bromsgrove, was previously head of PE at Northfield's Colmers Farm School and also worked at the Birchfield Harriers club.
Bunn was also , and trained stars including West Bromwich-born Olympic gold medal winning heptathlete Denise Lewis - though there is no suggestion she is connected to the police investigation.
He will appear at Birmingham Magistrates Court on May 22 to face 12 counts of indecent assault, and three of taking a child from the lawful control of their parents.
A motorcyclist is in a critical condition following a crash with a car in Bromsgrove this morning.
The man who is in his 40s was airlifted to hospital following the accident on Fockbury Road in Dodford around 7.30am.
The rider, a man believed to be in his 40s, was found some distance from the bike. He had suffered serious head injuries and as a result the doctor from the air ambulance anaesthetised him at the scene. After stabilising his condition, he was airlifted to the major trauma centre at the Queen Elizabeth Hospital Birmingham. There were three people travelling in the car, a father and two young daughters, thankfully none of them were hurt but were understandably shaken by the crash."
– West Midlands Ambulance Service spokesman
Incident 17th Apr #Bromsgrove Crew in attendance at Gas Leak McConnell Close Bromsgrove 50m cordon in place awaiting Gas Engineers to attend
Advertisement
A Downing St spokesman has clarified that the new Financial Secretary, Nicky Morgan, will report directly to David Cameron on women's issues, rather than to the new Culture Secretary, Sajid Javid.
The role of minister for women and equalities has been split, with Ms Morgan taking on the women's brief and Mr Javid handling equalities.
She will report directly to the Prime Minister on women's issues. She will have an office as Minister for Women, supported by DCMS staff. But with regard to her responsibilities for women, she will report to the Prime Minister.

Sajid Javid will have the ministerial lead on equalities issues and Nicky Morgan will have the lead on women's issues.
– Prime Minister's spokesman
The Department for Culture, Media and Sport has tweeted a picture of the new secretary of state, Sajid Javid, along with the department's Permanent Secretary, Sue Owen.
Mr Javid, who was previously Financial Secretary to the Treasury, will also become Equalities minister.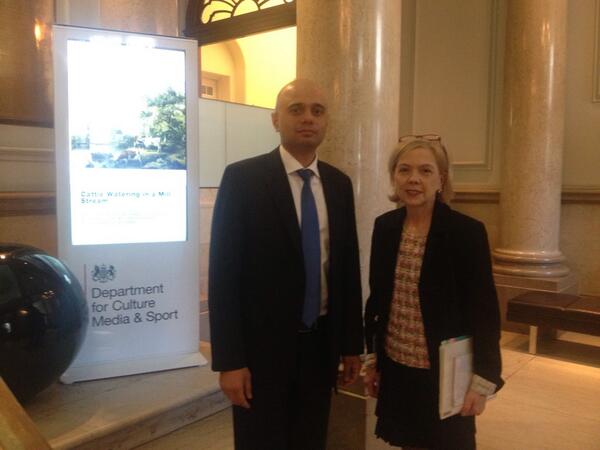 Northamptonshire MP Andrea Leadsom has been made a junior Treasury minister following the resignation of the Culture Secretary Maria Miller.
Andrea Leadsom has been the Conservative MP for South Northamptonshire since May 2010.
She is now the Economic Secretary to the Treasury replacing Nicky Morgan who is now Financial Secretary to the Treasury, a job vacated by Sajid Javid who was promoted to the Cabinet as the new Culture Secretary.
Nicky Morgan ministerial responsibility for women has been criticised in light of her opposition last year to the legalisation of gay marriage.
Ms Morgan voted against the measure last year, and Benjamin Cohen, publisher of gay current affairs site PinkNews, said of her appointment: "It is unfortunate that the new Minister for Women opposes the rights of some women, lesbians, to have the right to marry.
"I hope that in her new role, Nicky Morgan will represent all women regardless of the gender of the person they love."
Load more updates