Police have released CCTV stills of a man they would like to speak to following thefts from Sainsbury's in Buxton.
Read the full story ›
Police have released an image of a man after a compact mirror was found in between toilet cubicles in Buxton.
Read the full story ›
Advertisement
32-year-old Lee Willan of Woodlands Close, Glossop appeared at Derby Crown Court charged with wounding with intent to do serious grievous bodily harm and was sentenced to six years.
On Saturday 5 September police were called to reports of a man acting suspiciously on Buxton Market Place. Officers arrived and were confronted with Willan holding a knife.
Willan attacked Sergeant Trevor Steed, which left him requiring hospital treatment for a puncture wound to his arm.
Sergeant Steed together with other attending officers detained Willan and arrested him.
Today's sentencing reflects the upmost seriousness of the attack upon Sergeant Steed. The level of violence and intent to cause him harm is one of the most harrowing incidents I have witnessed."
– Sergeant Ed Mellor
Two men have died after their car crashed into a tree in the early hours of Thursday morning.
Police are appealing for witnesses to the fatal collision which took place on the A515 near Buxton.
The dark blue Land Rover Discovery, travelling towards Buxton, left the road at Sterndale Moor and collided with a tree.
The two male occupants of the vehicle, aged 27 and 32, received fatal injuries.
Police have cordoned off a road in Fairfield after a number of potentially explosive chemicals and other materials were found at a house.
A 16-year-old boy has been arrested in connection with the find.
The discovery was made at an address in Thornsett Avenue and police have closed the road.
A cordon has been set up as a precaution, covering Thornsett Avenue and parts of the surrounding streets.
The bomb disposal unit is on its way to the scene to assess the chemicals and materials found.
Part of Boarstones Lane leading up to Fairfield Junior School is also shut. Parents planning to collect children from the site should contact the school to make arrangements.
At this stage it is not thought that the incident is linked to terrorism.
Advertisement
A man from Buxton has been jailed after amassing an arsenal of weapons, including a submachine gun in his bedroom.
Read the full story ›
It's been a wet and windy start to the meteorological summer, but exactly 40 years ago the situation was much worse!
Read the full story ›
This was the scene which met firefighters in Buxton when they attended a ruptured gas main in Buxton.
Emergency services were called to a wooded area close to Charles Street at about 12.20am this morning to reports of a fire.
Crews from Buxton assisted Gas and Electricity company overnight with fire involving Gas main - issue now resolved. http://t.co/XD23qFVv7e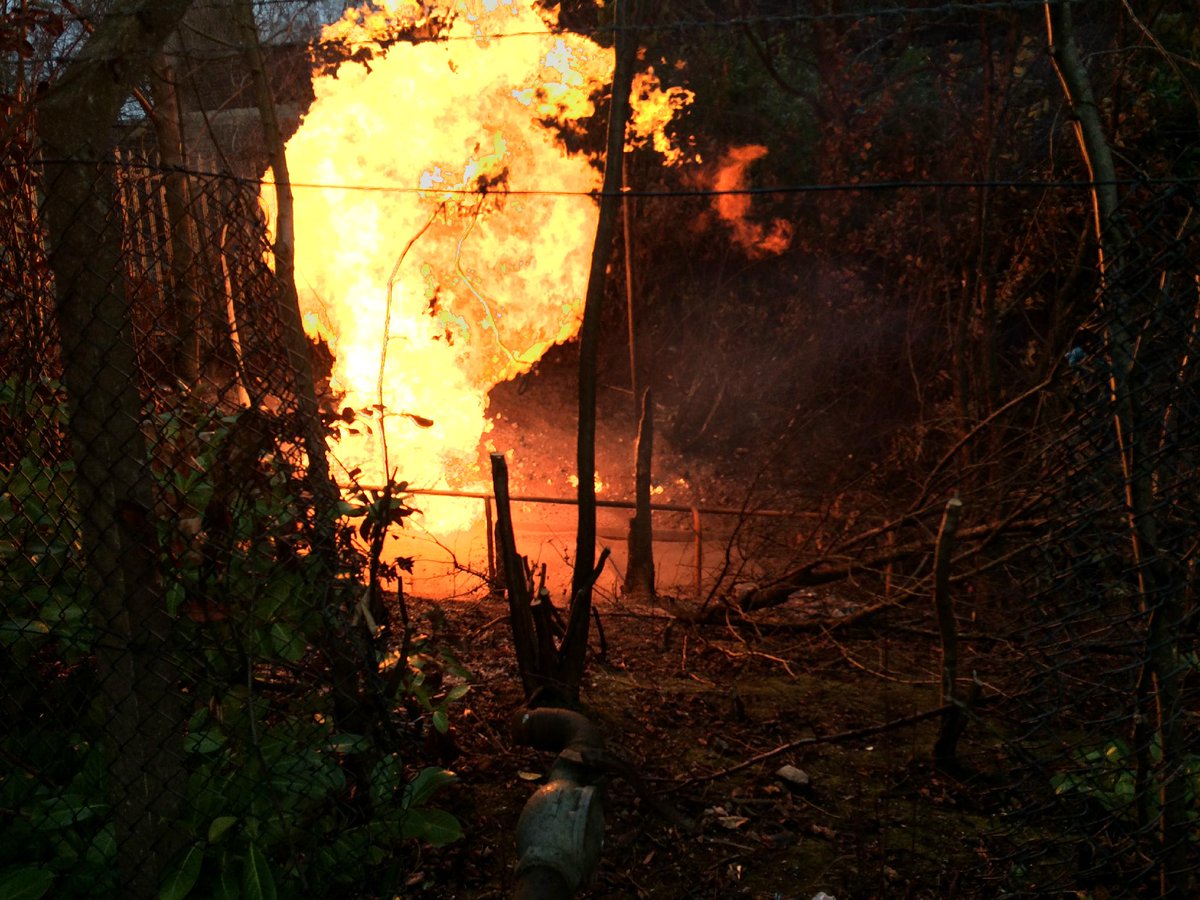 The road was closed for a time and the nearby Aldi store will also be shut today.
Firefighters say the incident has now been 'resolved'.
A ruptured gas pipe which blazed fire into the air last night has closed a road in Buxton in Derbyshire.
Emergency services were called to a wooded area close to Charles Street at about 12.20am this morning to reports of a fire.
There they found the ruptured pipe which had caused a fire reaching several feet into the air.
Police say gas engineers are at the site working with the emergency services and there is not thought to be a risk to other properties. There is no evacuation in place.
The Aldi supermarket, which is near to the ruptured pipe, will remain closed today. There is also a partial closure to railway services in Buxton as part of the line passes close to the affected site.
A Derbyshire police spokesman said:
"There will be an impact on people driving into Buxton due to the site being in the town centre. Anyone planning to visit the Aldi store will not be able to and should plan alternative arrangements. "We apologise for the inconvenience this will cause and are working together with gas engineers and the fire service to get it sorted as quickly as possible."
– Derbyshire Police
Anyone who may be affected by the railway closure should check with the rail operator for any disruption.
Load more updates