A man from Buxton has been jailed after amassing an arsenal of weapons, including a submachine gun in his bedroom.
Read the full story ›
Advertisement
It's been a wet and windy start to the meteorological summer, but exactly 40 years ago the situation was much worse!
Read the full story ›
This was the scene which met firefighters in Buxton when they attended a ruptured gas main in Buxton.
Emergency services were called to a wooded area close to Charles Street at about 12.20am this morning to reports of a fire.
Crews from Buxton assisted Gas and Electricity company overnight with fire involving Gas main - issue now resolved. http://t.co/XD23qFVv7e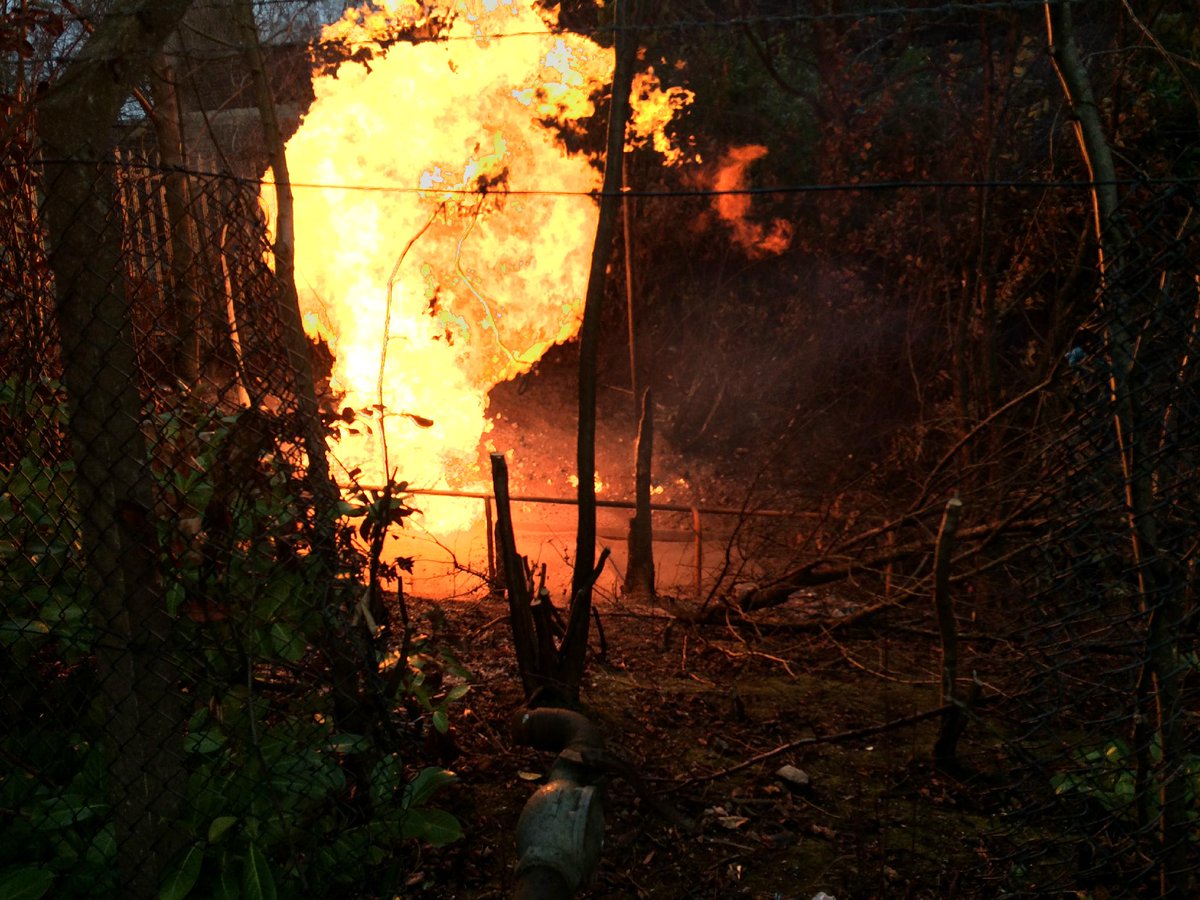 The road was closed for a time and the nearby Aldi store will also be shut today.
Firefighters say the incident has now been 'resolved'.
A ruptured gas pipe which blazed fire into the air last night has closed a road in Buxton in Derbyshire.
Emergency services were called to a wooded area close to Charles Street at about 12.20am this morning to reports of a fire.
There they found the ruptured pipe which had caused a fire reaching several feet into the air.
Police say gas engineers are at the site working with the emergency services and there is not thought to be a risk to other properties. There is no evacuation in place.
The Aldi supermarket, which is near to the ruptured pipe, will remain closed today. There is also a partial closure to railway services in Buxton as part of the line passes close to the affected site.
A Derbyshire police spokesman said:
"There will be an impact on people driving into Buxton due to the site being in the town centre. Anyone planning to visit the Aldi store will not be able to and should plan alternative arrangements. "We apologise for the inconvenience this will cause and are working together with gas engineers and the fire service to get it sorted as quickly as possible."
– Derbyshire Police
Anyone who may be affected by the railway closure should check with the rail operator for any disruption.
Advertisement
Police in Buxton in Derbyshire are trying to trace a man who has not been seen for more than 30 years. They want to speak to Edward William Garlick about a rape allegation. He lived in Buxton in the 1970's but has not been seen locally or by his family since about 1980. He would now be 62.
Anyone who knows where Mr Garlick is is being asked to contact police on 101.
A former Catholic priest is due to be sentenced today after admitting sexually assaulting seven children, including altar boys.
Francis Paul Cullen spent more than 20 years on the run in Spain. The offences took place whilst he was a practising priest in Derby, Buxton and Nottingham. He will be sentenced at Derby Crown Court.
Derbyshire Police have charged a 23-year-old man with attempted murder, after a serious assault in Buxton on Friday.
Jake Grimshaw, from South Mews, Buxton, will remain in custody before appearing in court on Monday.
The attack took place at around 4.40pm, when officers were called to a disturbance on Fairfield Road.
A 36-year-old man was then taken to Wythenshawe Hospital in Manchester, where he remains in a serious but stable condition.
Police have identified the body found in Derbyshire's Goyt Valley as that of missing officer, Tim Frohwein, and also confirmed the body was found by family friends.
The family of the inspector had organised and co-ordinated searches in areas of the Derbyshire peaks not yet covered by police or Mountain Rescue in their structured approach.
Police have recognised the efforts of the volunteers, after the body was found on the Grouse Moor by two friends of the family, who immediately notified nearby police officers.
The Derbyshire Constabulary have offered their condolences to the family.
Load more updates