Live updates
Local Elections
Labour gain Cannock Chase
Labour gain Cannock Chase from no overall control.
Cyclists Crossing Danger
Full report on the dangers facing cyclists
Advertisement
Cyclists Crossing Danger
Forestry Commission statement about crossings changes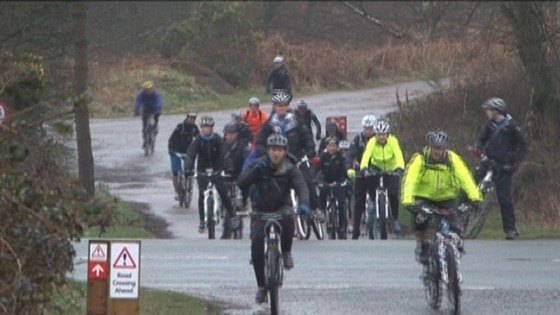 Generally this is an activity which is supported by the Forestry Commission because it encourages people to exercise and because it brings benefits such as jobs and visitor spend to the local economy.
The Forestry Commission has been working productively with a number of partners, including Network Rail, to come up with a long term solution which eradicates the risk, whilst still allowing users to cross the railway.
While this long term solution is being developed and is progressed through the appropriate consultations and planning channels, some short term improvements have been put in place.
These include an improved crossing, improved signage and a crossing attendant being on site to help advise users during peak periods.
We would ask that all cyclists and other users of the crossing act responsibly and adhere to all signage and instructions.
Cyclists Crossing Danger
Cyclists using crossing welcome plans for new bridge
"Given the volume of traffic with the bikers trying to cross here, it's a danger to everybody and to the noise levels of the people who are living here. So having a bridge is common sense. So much needed and will be much welcome."
"The trains do come round rather fast. As far as I've seen everybody dismounts and walks over safely. But health and safety these days...I think it would be a very good idea."
"It'll be a lot safer. Nearly all the trains are going to announce when they are coming round the corner.
"I think someone said the speed of the trains are getting faster. So if you can just walk or ride up the bridge, fantastic. Even better if it will take you all over the road but they are obviously short of funds for that."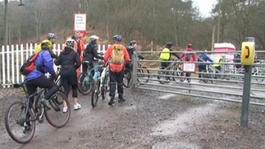 A series of near-miss accidents involving cyclists have been reported by train drivers using a remote railway crossing in Staffordshire.
Read the full story
Back to top