A woman has died after her motorcycle crashed into a car in Cannock this afternoon.
The woman was found unconscious by West Midlands Ambulance Service after the accident on Watling Street at around 1pm.
She was later pronounced dead at the scene.
The driver of the car is being treated at Walsall Manor Hospital for minor injuries.
The M6 Toll in Staffordshire is currently closed due to a 'serious incident'.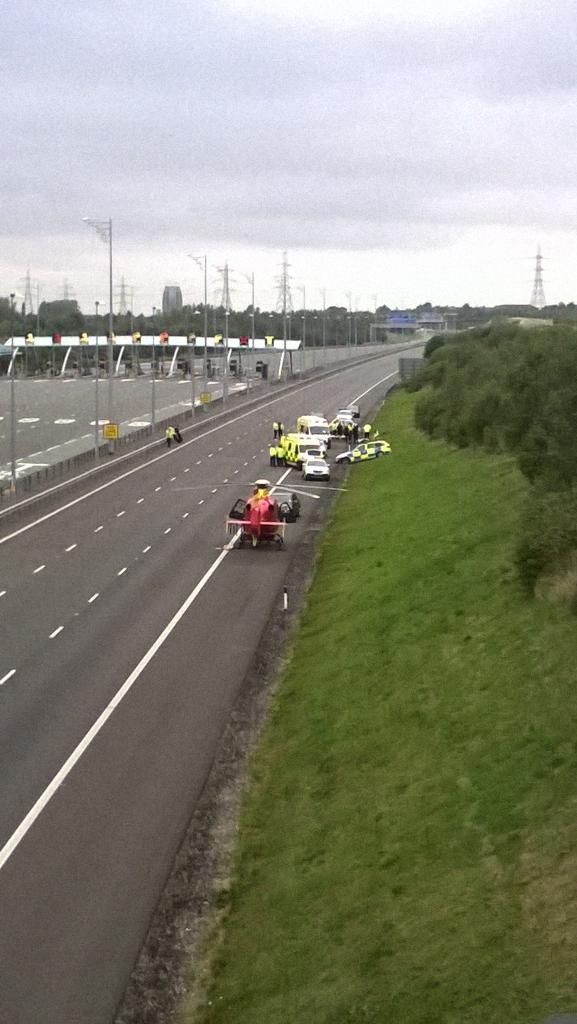 The Highways Agency say there is a total closure between T7 and T6.
There is also a closure in place from JT8 and the air ambulance is at the scene.
Advertisement
Dog walkers are being warned to take care on Cannock Chase after a greyhound was bitten by an adder at the Staffordshire beauty spot.
Animal charity PDSA says eight-year-old Cookie was rushed to its Wolverhampton branch after being bitten while out on a walk.
Almost immediately, she lay down and began to swell up - and needed emergency treatment to save her life.
The adder is the UK's only native venomous snake.
Statement from mother of brothers from Leicester who died at the Hillsborough disaster is read out at inquest.
Read the full story ›
The sister of one of the 96 to die at Hillsborough has told a jury how she feels cheated by his death.
Louise Brookes was talking during her pen portrait of her brother Andrew who was 26 when he died.
Advertisement
Andrew Brookes, 26, died at Hillsborough. His sister Louise read her statement about him to the inquest in Warrington.
Read the full story ›
Jennifer Birtle was in tears as she read out her statement about son David William Birtle, 22 from Cannock, Staffs, who died at Hillsborough.
He was born in 1966 at her parents' home in West Bromwich. Six months later they moved to Cannock where he almost died from gastroenteritis.
When he recovered and he began to walk.
"Once he could run there was always a football attached to his foot. He never walked. He ran everywhere. Trevor Francis was his hero at that time."
David was described as quiet and a happy little boy. He spent a lot of time with his grandparents: "It broke their hearts when he was killed."
His younger brother Daniel was only 4 when David died. "He missed out by not having David in his life. Daniel is very much like him in many ways."
David's step-father went to work in Oman and enjoyed the culture and climate on visits there. He lived with his grandparents when his mother moved out there."He became an ardent fan of Liverpool Football Club. Sadly that decision was going to cost him his life."
"David wan't perfect, none of us are, but he was just getting his life together."Jennifer Birtle told the jury that somebody broke into her son's car at Hillsborough and stole his radio.
She said his scarf was still inside so the thief knew why the vehicle was still there.On hearing the news of his death three weeks short of his 23rd birthday, she flew back to the UK.
"I had to listen to two expats reading a local paper and saying 'The police said it was hooligans' as if it was ok and it was their own fault.""I tried to explain it all to Daniel... David wouldn't be at Grandma's because he had gone to live in the clouds with the care bears."
"None of us will ever be the same again. We've all changed and not for the better I'm afraid.""David was loved deeply by all his family and is missed every single day buy us all."
We were robbed of a son, a brother, grandson and now uncle. David did not get the chance to have a family but we know he would have been a wonderful father."
"I've asked myself a million times if only I'd been at home but I know David would still have gone to Hillsborough that day and he was at his happiest watching Liverpool.""As a family we are owed an explanation sooner rather than later as to how and why David died that day."
Load more updates