A large fire broke out at a car auction facility in Castle Bromwich late on Tuesday night.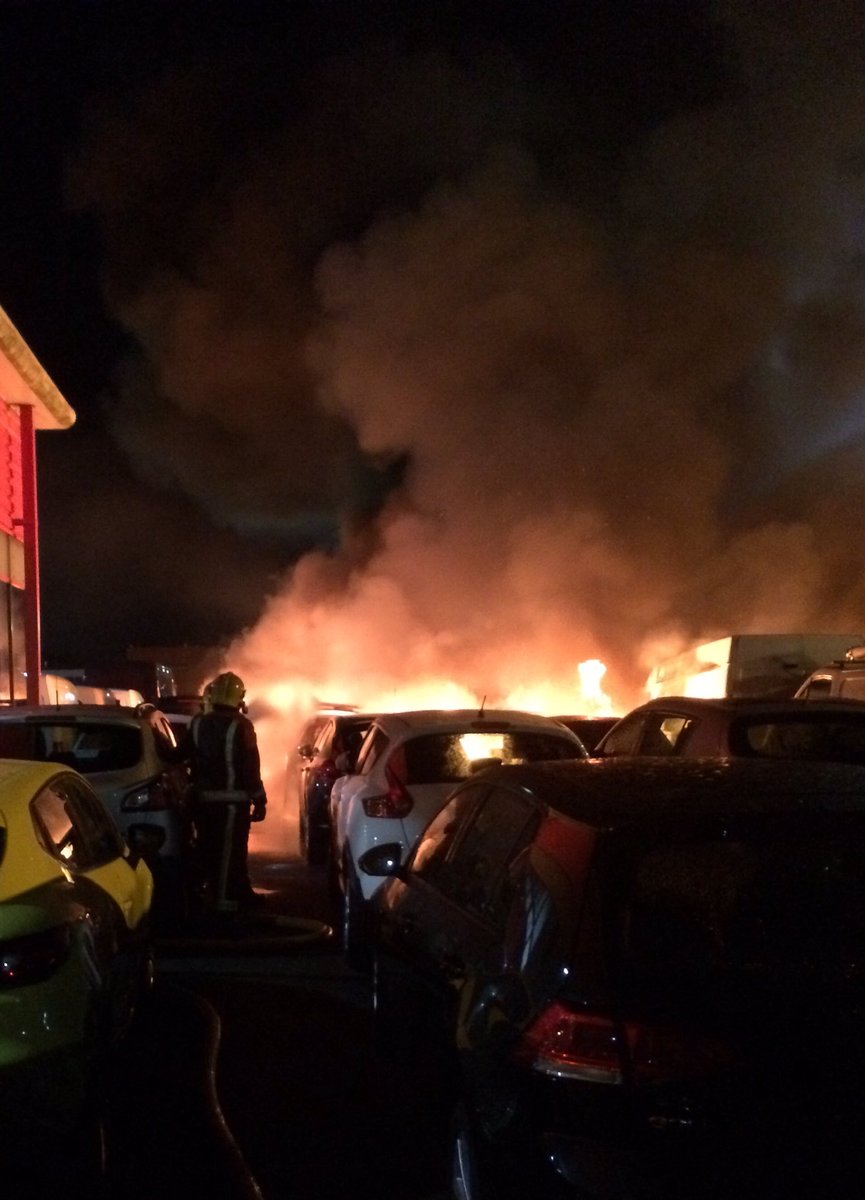 Fire services were at the scene a little before 1:30am with six crews dealing with the incident:
Update from Castle Bromwich. Incident involves 40 cars on fire. Crews working hard bring fire under control & defend neighbouring property
We are currently dealing a large fire in Castle Bromwich. Six crews from surrounding stations in attendance.
A burglar who broke into his own grandmother's home in Castle Bromwich to steal her bank cards has been jailed for five years.
Read the full story ›
Advertisement
There are delays and queueing traffic due to an earlier accident on the M6 Southbound between J6 A38(M) Aston Expressway Spaghetti Junction and J5 A452 (Castle Bromwich),
There is congestion on M6 to J10 A454 / B4464 (Wolverhampton / Walsall). All lanes have been re-opened. Travel time is around 50 minutes.
Lane three (of three) was closed until 07:15.
One lane is closed and there is queueing traffic due to broken down vehicle on M6 Southbound between J6 A38(M) Spaghetti Junction and J5 A452 (Castle Bromwich).
Christopher Clarke from Yardley was travelling on a blue Yamaha which collided with a black Toyota Auris on the A452 Collector Road at around 3.50pm on Sunday.
The 32-year-old was confirmed dead at the scene of the crash near the junction with Auckland Drive. Two people in the car suffered minor injuries.
We are trying to piece together exactly what happened and would appeal for anyone with information to contact us.

Even the smallest piece of information could help us build a picture of what happened.

A man has tragically lost his life and our thoughts are with his family at this very difficult time.
– Sergeant Steve Newbury, from the Collision Investigation Unit
Collision investigators can be contacted on 101 or via independent charity Crimestoppers on 0800 555 111.
Dramatic CCTV footage has been released of a violent carjacking in Castle Bromwich.
Security company boss, Vince Cappellie, was targeted outside his home on Stoneymore Drive on February 25.
Advertisement
A security company boss from Castle Bromwich has been attacked on his own driveway in a violent carjacking.
Read the full story ›
Two lanes are closed due to accident on M6 Northbound between J4A M42 and J5 A452 in Castle Bromwich.
Lanes two and three are closed.
Delays, two lanes closed and very slow traffic due to earlier vehicle fire on M6 Northbound at J8 M5, congestion on M6 to J5 A452 (Castle Bromwich).
Travel time is around 60 minutes.
Lanes one and two (of three) remain shut, carriageway was completely halted at around 7am to extinguish the blaze. Queues start around halfway between J5 and J6
One lane is blocked on the M6 Southbound because of a broken down vehicle between J6 A38(M) Aston Expressway / A5127 Gravelly Hill / A38 Tyburn Road / Slade Road Spaghetti Junction and J5 A452 (Castle Bromwich).
Load more updates