A man has been questioned by council officers investigating a 'potential criminal offence' at the house where street artist Banksy painted his 'Spy Booth' mural close to GCHQ in Cheltenham, Glos.
Officials entered the house with a warrant and said they found that 'substantial work' had been carried out inside the listed building.
Roger Wilson, the business partner of the property's owner David Possee, was formally interviewed about the work that has taken place, possibly in breach of planning and listed building regulations,
The 'Spy Booth' artwork appeared in April, leading to a financial battle over whether it stays or goes - and also becoming a target of vandalism and an apparent attempted theft by a man who drilled four holes in the wall around it earlier this week.
People in Cheltenham are being asked to help make sure that a piece of Banksy artwork stays in the town.
'Spy Booth' has been vandalised for a second time in a fortnight.
A local businessman agreed to buy the artwork to keep it in the town, and the deal is still in progress.
Advertisement
A man who beat and strangled his former wife at her home in Cheltenham has been jailed for life. Daniel Spencer killed Jane Wiggett and then hid her body inside here bed where it remained undetected for weeks.
A judge at Bristol Crown Court told Spencer he would remain in prison for a minimum of 16 years.
A man's been convicted of murdering his ex-wife in Cheltenham, telling friends and family she had gone on holiday.
Read the full story ›
The family of Jane Wiggett, whose body was discovered in Cheltenham in August last year, have thanked everyone for their support. It follows the conviction of her ex-husband Daniel Spencer for her murder. They issued the following statement:
Special thanks to our barrister team and Gloucestershire Police for their hard work and continued support in finding justice for Jane.

People have been very kind to us when we may not have always wanted to speak about Jane.

Jane was very private and would have hated all the attention but she was popular, funny, sensitive, kind, loyal and very protective of her family.

We hope she can now rest in peace knowing that she has been listened to and justice is seen to be done.
– Jane Wiggett's family
A man's been found guilty of strangling his ex-wife and hiding her body, which lay undiscovered for weeks in Cheltenham.
Daniel Spencer had denied murdering Jane Wiggett at her home in Cheltenham, last July.
The pair had been married for thirty years, but divorced in 2005.
The court heard how friends and family became concerned about her disappearance and reported her missing.
Daniel Spencer told police his ex-wife was on holiday in Cornwall.
Police discovered her body several weeks after the murder, in August last year.
He went on the run after the killing and was picked up with his passport. Detectives think he was trying to leave the country.
Advertisement
Police in Cheltenham have released these CCTV images of two men they want to speak to after a burglary at a car wash in Prestbury Road. A mobile phone, a vacuum cleaner and cleaning products were stolen from the site between midnight and 1:40am on 15th July.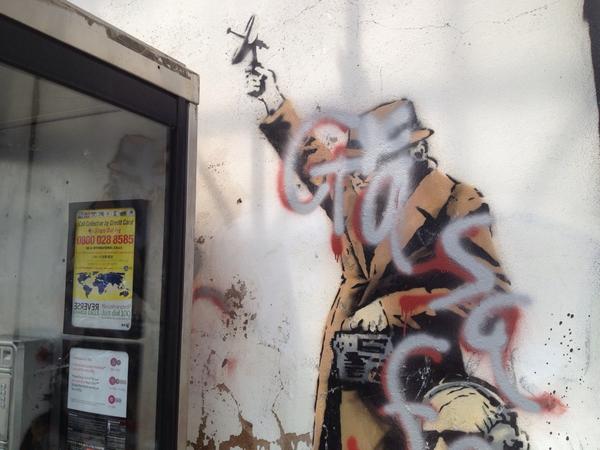 BREAKING: Businessman Hekmat Kaveh tells me he's just agreed price for Cheltenham #Banksy and, separately, the house it's painted on.
Load more updates