A man's been convicted of murdering his ex-wife in Cheltenham, telling friends and family she had gone on holiday.
Read the full story ›
The family of Jane Wiggett, whose body was discovered in Cheltenham in August last year, have thanked everyone for their support. It follows the conviction of her ex-husband Daniel Spencer for her murder. They issued the following statement:
Special thanks to our barrister team and Gloucestershire Police for their hard work and continued support in finding justice for Jane.

People have been very kind to us when we may not have always wanted to speak about Jane.

Jane was very private and would have hated all the attention but she was popular, funny, sensitive, kind, loyal and very protective of her family.

We hope she can now rest in peace knowing that she has been listened to and justice is seen to be done.
– Jane Wiggett's family
Advertisement
A man's been found guilty of strangling his ex-wife and hiding her body, which lay undiscovered for weeks in Cheltenham.
Daniel Spencer had denied murdering Jane Wiggett at her home in Cheltenham, last July.
The pair had been married for thirty years, but divorced in 2005.
The court heard how friends and family became concerned about her disappearance and reported her missing.
Daniel Spencer told police his ex-wife was on holiday in Cornwall.
Police discovered her body several weeks after the murder, in August last year.
He went on the run after the killing and was picked up with his passport. Detectives think he was trying to leave the country.
Police in Cheltenham have released these CCTV images of two men they want to speak to after a burglary at a car wash in Prestbury Road. A mobile phone, a vacuum cleaner and cleaning products were stolen from the site between midnight and 1:40am on 15th July.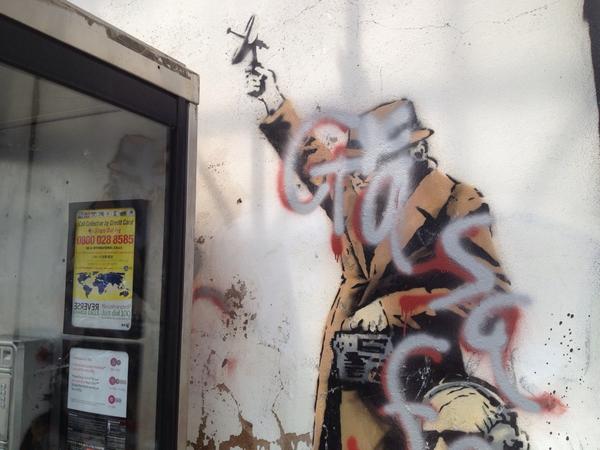 BREAKING: Businessman Hekmat Kaveh tells me he's just agreed price for Cheltenham #Banksy and, separately, the house it's painted on.
Advertisement
A Banksy artwork in Cheltenham has been defaced by vandals, shortly after a deal was reached to stop it being sold to an American investor.
The mural, named 'Spybooth', was daubed with silver paint, and locals have since apparently tried to restore it.
The Environment Agency has issued three flood warnings for the Midlands.
They are:
Lyme Brook at Newcastle under Lyme and Trent Vale including Hatrell Street, Brook Lane, Lyme Valley Road and Sports Grounds
River Chelt at Springbank, Cheltenham
River Chelt at Uckington and Boddington
Warrant Officer Class 1 Patrick Hyde from Cheltenham was blown up 17 times in Afghanistan and Iraq, but casually shakes it off as an "occupational hazard".
The soldier, nicknamed the 'Bomb Magnet' for his encounters with IEDs and missiles received the Military Cross today at Buckingham Palace.
"There's no lucky charms, when you operate in Sangin, as I have done, it becomes a bit of an occupational hazard up there. I'm just fortunate enough that I've survived."
He was recognised last July for his bravery when he entered a compound where he feared there were IEDs - to rescue his commanding officer.
"He entered into a compound which had significant battle damage on it and I know the tell-tale signs of where IEDs are planted by insurgents and I wanted him out of there and the only way I could get him out of there was to go in and get him."
On his rescue mission an Afghan soldier stepped on an IED right in front of him - losing a leg. Warrant Officer Hyde arranged for troops to be rescued while lying injured on the ground.
He jokes,
"My family don't want me to go back"
Load more updates