Derbyshire County Council has defended a cycle path in Chesterfield, which local cyclists have criticised for being four metres long. They say it is simply a section of a longer cycle lane.
"This is not a four-metre long cycle path - it is part of our Chesterfield town-wide network. The photograph makes it look odd because it is a busy part of town and it is intersected by two road junctions.

We're keen to promote cycling and make our towns accessible to cyclists. This cycle path runs from West Bars, along New Beetwell Street, ending at Park Road. It is a continuation of a longer cycle path from the A61 Derby Road, through the picturesque Queen's Park into the town centre.
Council chiefs in Chesterfield have been left red faced after cyclists criticised a brand-new bike lane - which is just four metres long.
The short cycle lane was painted in Beetwell Street earlier this month and was almost instantly criticised by cyclists in the town.
Bike commuter Will Jones, said: "It makes the council a laughing stock really."Why on earth would anybody need a cycle lane so short? It's stupid."
Cyclist Lisa Jennings, said:
"It's an embarrassment to the town. There are so many dangerous roads which really do need a cycle lane, but don't. So to paint this pathetic little lane is just an insult to cyclists who are forced to use genuinely dangerous roads which still don't have a cycle lane."
Advertisement
Chesterfield were undone by 2 corners in the first half of their Johnstones Paint Trophy final against Peterborough. The Spirites were guilty of missing a number of chances in between Josh McQuoid giving Posh the lead, and Shaun Brisley making it 2. A big 45 minutes awaits for Chesterfield.
Alison Mackenzie Political Correspondent
Friends family and supporters from the world of politics gathered to pay tribute to the former Chesterfield MP Tony Benn at his funeral today in Westminster. One mourner described him as a man who had inspired ideas humour and hope for generations.
Tony Benn's funeral drew a kaleidoscope of political persuasions united to pay tribute to his life's work and his enduring legacy.
Read the full story ›
Figures from across political divide have arrived in Westminster for the funeral service of Tony Benn.
Mr Benn's coffin arrived at St Margaret's Church to applause and some tears as politicians and activists made up the amassed crowds.
Arthur Scargill, Rory Bremner, Lord Heseltine, Gerry Adams and Andrew Mitchell are among those at the ceremony, ITV News' Political Correspondent Carl Dinnen reports.
Advertisement
Devoted crowds are waiting outside in Westminster as the funeral service of former Labour cabinet minister Tony Benn gets underway.
One banner describes the left-wing MP as "truly irreplacable", while another calls him "our Tony Benn".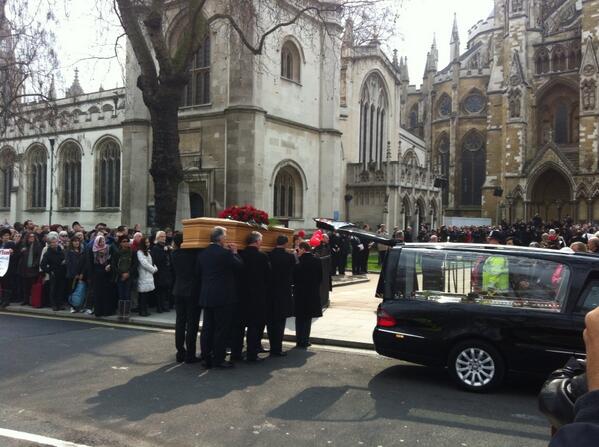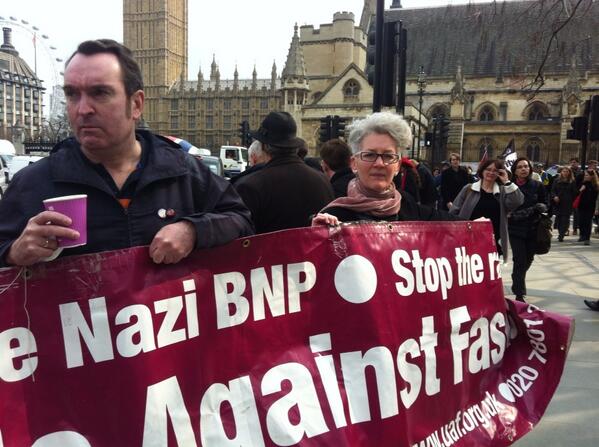 The friends and family of former Chesterfield MP, Tony Benn, are preparing to say their final goodbyes at his funeral later this morning.
A service for the long-serving Labour politician will be held at St Margaret's Church in Westminster at 11am.
It's expected he'll then be buried at his family estate in Essex.
Load more updates