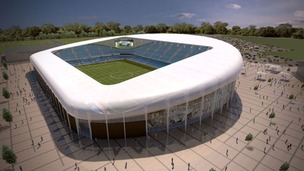 The first plans for Coventry City Football Club's new stadium have been revealed.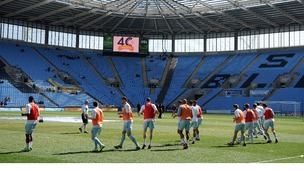 ITV News Central has been told that secret talks between Coventry City and the Ricoh Arena to try to keep the club in the city have failed.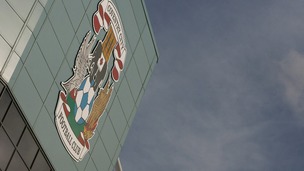 If Coventry is going to buy land to build a new stadium just outside the city, why has it not spoken to council bosses yet?
Live updates
Central Sport
It is possible that the new Coventry City stadium could be built just two miles from the Ricoh Arena, according to the Coventry Telegraph.
The potential site in Exhall would be a five minute drive from the club's former home.
The club has unveiled images of what it might look like, which can be seen here.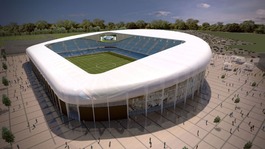 The first plans for Coventry City Football Club's new stadium have been revealed.
Read the full story
Advertisement
Historian 'locates' CCFC pitch
The Sky Blues Trust, the Coventry City supporters club, has reacted to the decision in the High Court to grant a full-judicial review into the City Council's 'bailout' of the clubs former home at The Ricoh Arena.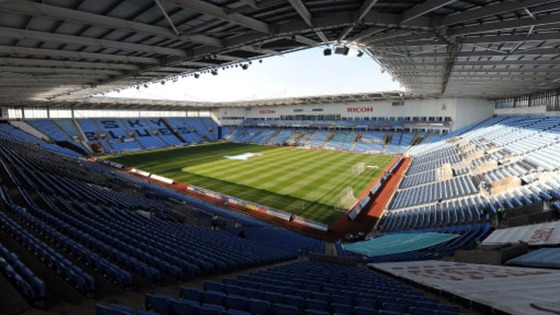 A statement from Sky Blue Trust states:
"The club is dying in Northampton yet a resolution now appears as far away as ever...
...Sky Blue Trust calls upon all parties to put this matter to one side and use the time before the hearing to work together to find a way of bringing Coventry City home."
The owners of Coventry City, SISU, are pursuing the case in court because they say the council's £14million loan in January to the firm Arena Coventry Limited was unlawful under European 'state aid' legislation as ACL is part-owned by the council.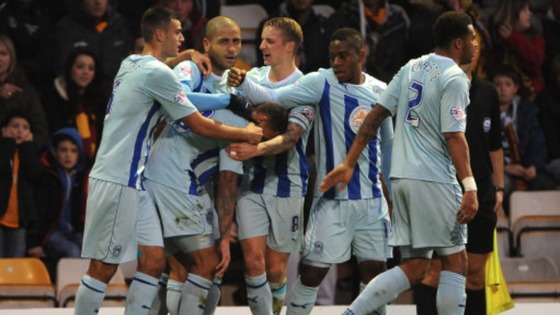 In today's League One encounter, Coventry City were held to a 3-3 draw away at Bradford City, as a late penalty earned the home side a draw.
Coventry went into an early two goal lead through, Andy Webster and Leon Clarke. The Sky Blues were pegged back by Nahki Wells, who capitalised on some poor defending to level the scores.
Callum Wilson put Coventry in front again before half time thanks to a fierce drive, and they looked to be holding on for the win, before referee Kevin Friend awarded Bradford a penalty in the dying seconds. Nahki Well converted from the spot for his hat-trick, to send Coventry home with a point.
The Sky Blues now sit 12th in League One.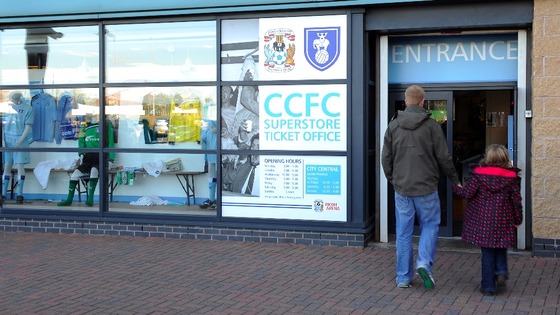 Coventry City will open its new superstore later today.
The club has been without its own retail outlet since its shop at the Ricoh Arena closed in March.
The new store, at Gallagher Retail Park on Stoney Stanton Road in Coventry, will open at 5pm this evening.
Advertisement
Coventry City's FA Cup first round game against AFC Wimbledon has been delayed until 8pm.
The club say it is due to an accident at Esher Common A3.
Ricoh cancels Cobblers lawsuit
Bosses at Northampton Town have spoken of their "surprise" at a decision by the board of Arena Coventry Ltd (ACL) to withdraw a pending lawsuit - and demanded compensation for legal fees.
ACL announced in July it would be suing the club for effectively 'stealing' their customer, Coventry City.
A statement released by The Cobblers reveals the news that ACL were to withdraw their legal action was released before lawyers had even told the club.
As well as demanding their legal fees be covered, bosses said they also expected an apology.
We were surprised to read the latest press release from ACL's PR consultants. To our knowledge, ACL have not withdrawn their action though they are fully aware that we intend to ask the court to strike it out as an abuse of process.We defended ourselves robustly as it was clear from the very beginning that this action had no legal merit nor factual basis.
ACL appear to have belatedly realised that there is no basis for this action.However, ACL's aggressive and bullying tactics have meant that NTFC has had to incur substantial legal fees as well as waste a good deal of management time. If ACL really does want to withdraw its action, we expect to be fully compensated for these costs.

We would also expect ACL to apologise to the club and its supporters for seeking to intimidate us in this way.
– Northampton Town Football Club
Ricoh cancels Cobblers lawsuit
The Ricoh Arena is no longer suing Northampton Town for ground-sharing with Coventry City.
In July, stadium bosses announced they were planning legal action against The Cobblers for effectively 'stealing' their customer.
The Sky Blues currently play at the Sixfields Stadium in Northampton and have signed a deal to stay there for at least three years.
This evening the Ricoh has confirmed it has dropped the claim 'so as to avoid any further distress to [Northampton] fans and to help clarify the position for long suffering Sky Blues supporters.'
"We still believe our action against Northampton Town Football Club has strong legal merit.

"In light however of the Football League's decision to award the Golden Share to Otium Entertainment and the recent public statement made by Joy Seppala... it has become clear that even successful legal action will not bring the Club home from Northampton.

"We await Otium's best offer to return but to date we have heard nothing from them.

"Our focus remains on running our successful business."
– Statement from the board of Arena Coventry Limited
Fans boycott Coventry City
Just 1,100 fans travelled to Northampton's Sixfields stadium for the Sky Blues' first 'home' game at their new base.
There were protests outside by angry fans demanding the team be kept in their home city.
Meanwhile, around six times that many headed to the Ricoh Arena for a legends match in celebration of the club's 130th anniversary.
Andy Bevan reports.
Load more updates
Back to top