Fans protesting against Coventry City's move to Northampton have been speaking of their anger at a march in Coventry today.
Thousands of Coventry City fans have taken to the streets in protest over the club's move to Northampton's Sixfields stadium last season.
The one-mile march ended at Broadgate, where they were greeted by the 1987 FA Cup winners' double decker victory parade bus.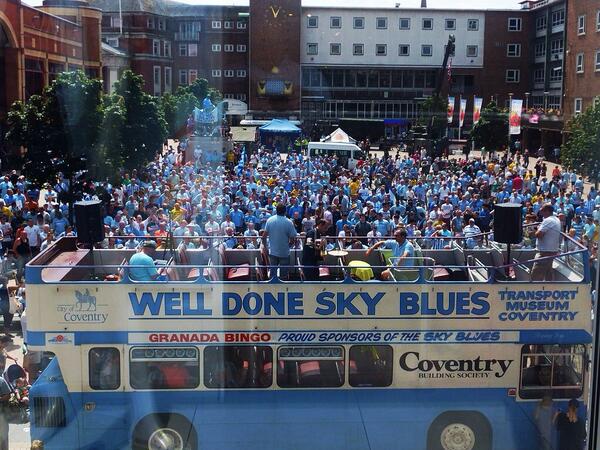 Advertisement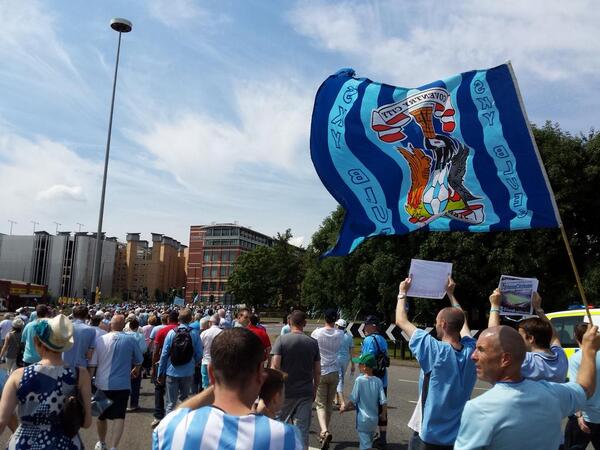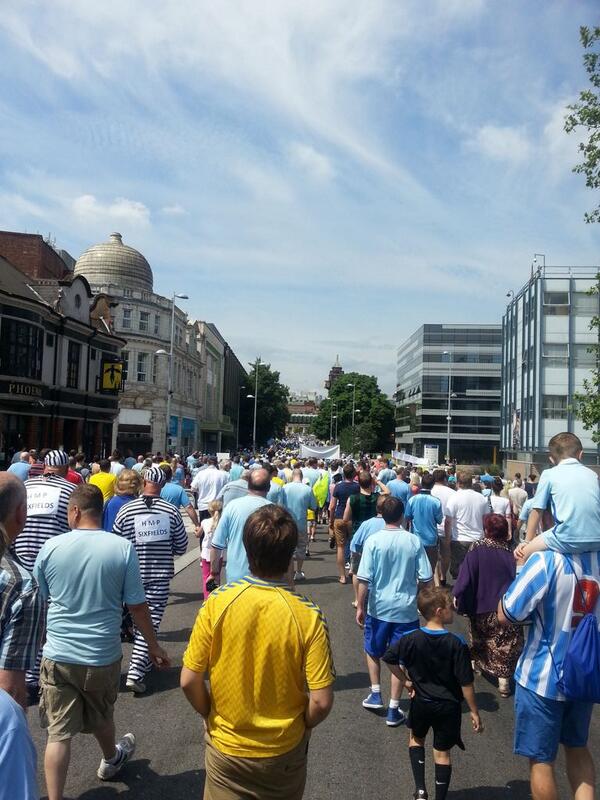 Hundreds of Coventry City fans are gathering in the city to take part in a march a year after the club moved home games to Northampton Town.
Fans will march at midday from Gosford Green to Broadgate.
Yesterday the owners of Coventry City wrote an open letter to supporters, explaining that they want to communicate more with supporters than they have in the past.
Coventry City football club is "slowly dying" in its current home at Northampton's Sixfields stadium.
Jan Mokrzycki, from the Sky Blue Trust, said the Football League "and all the other powers" have "a responsibility" to resolve the situation and ensure the club returns to its former home at the Ricoh Arena.
Supporters are today holding a one-mile march through the city in protest, as a second season playing their home games in Northampton beckons.
The march starts at Gosford Green at 12pm and will make its way up Sky Blue Way, along Gosford Street, Jordan Well, Earl Street and into Broadgate.
Advertisement
Coventry City fans will stage a one mile march through the City later in protest at the club's move to Northampton last year.
The club switched from Ricoh Arena to Nothampton's Sixfields stadium because of a row over rent arrears.
The decision has angered large numbers of Sky Blues fans ever since.
Thousands of fans are expected to take part in the march, which will begin at Gosford Green and end at Broadgate.
Yesterday the owners of Coventry City wrote an open letter to supporters, explaining that they want to communicate more with supporters than they have in the past.
The owners of Coventry City have posted an open letter to supporters on the club's website, telling them that the biggest problem in the row over the Ricoh Arena is not rent. They say it is the club's access to matchday revenues.
Part of the open letter from Joy Seppala and Tim Fisher reads:
...We understand that you want to hear from us about what is going on. You want the Sky Blues to return to play home games in Coventry. We do too. But any return to the Ricoh Arena has to be driven by Financial Fair Play. We want what is best for the club for the long term and this must be built on financial stability.

We appreciate that some of you have pledged to pay the rent for the Ricoh Arena. We are grateful. But unfortunately the rent is not the biggest problem. We have always been happy to pay a competitive rent but we need to access the match day revenues.
The club's proposal is very simple. We are happy to pay a rent which is competitive in League One. But, we must have access to our very own match day revenues. That is, under Financial Fair Play Rules, all the business that is generated on a match day is managed by the club so that 60p in every £1 generated can be allocated to Steven Pressley to spend on improving and growing the calibre of the first team squad with promotion to the Championship and beyond in mind...
SISU also promised to share more about what is going on behind the scenes than they have previously, and communicate with supporters.
...We know that reconciliation will need effort from all sides but we will do all we can as long as it does not jeopardise the long term future of the club. We know we haven't done enough to communicate with you. We want this to change. We promise to share as much as we can about what is going on.

We are all passionate about the club becoming an essential part of the Coventry City community, determined to secure its long term future and build a team that continues to make us all proud for generations to come.?
A video has been produced for the Sky Blue Trust, a Coventry City supporters' group, calling for Coventry to have their football club back.
The video has been released ahead of a march from Gosford Green this Saturday.
Coventry City played their home fixtures in Northampton last season after leaving the Ricoh Arena following a long-running dispute over its rental agreement to use the stadium.
A recent High Court judgement concluded the club deliberately withheld rent in an attempt to "distress" stadium operators ACL and secure a stake in the business at a cheap price.
The owners of Coventry City Football Club are in court today to try and force Coventry City Council to hand over more internal documents about the Ricoh Arena.
The two sides are in the middle of a legal battle over the council's decision to loan £14.4m to the company which runs the stadium.
Load more updates