Now that this particular impediment has been cleared up we would urge ACL to agree that it is no longer a barrier to talks with the club.

The fact that they may not agree with the Football League's calculations is a matter to be resolved between them and the Football League and should not hinder the start of negotiations to bring the club back to Coventry as quickly as possible.

We need the Sky Blues back at the Ricoh before it's too late – we need ACL to accept that the Football League decision is not a reason not to start talks and we need SISU to cease their pointless legal actions so as to allow negotiations to begin.

Coventry City supporters have been continually let down during this long running dispute – this is an opportunity to act positively – don't let us down again.
– Sky Blue Trust
One of the major obstacles to a potential return to the Ricoh Arena for Coventry City appears to have been removed.
Coventry City owners Sisu have been ordered to pay Ricoh Arena operators ACL the vast majority of the £590,000 ordered by the Football League at the start of last season as a condition of the Sky Blues being allowed to complete their fixtures. This was later disputed by the club's owners.
The decision was taken after the Football League's Board met at their London headquarters yesterday.
In light of today's announcement, Coventry City's Tim Fisher, said:
We know that ACL saw the payment of this money as a barrier to agreeing terms to get the club back to Coventry. We can today put this obstacle behind us and get down to the business of negotiating a return to Ricoh Arena until we can own our own stadium.

As we have said all along we want what is best for the long term future success of Coventry City FC. That means our job is to get the club back to Coventry, which is something every single supporter wants to see, whilst ensuring the financial stability of the club.

A key element is for us to agree terms that are driven by Financial Fair Play, so that Steven Pressley can invest match day revenues in talent on the pitch."
Advertisement
One year after Coventry City decided to start playing home fixtures in Northampton, fans have staged another protest, urging bosses to move the club back to the city.
The Sky Blues now play at Sixfields in Northampton after a row over rent at the Ricoh Arena.
On Saturday, thousands of fans turned out in protest.
Watch the full report again here.
Thousands of Coventry City fans have marched through the city centre to protest a year after home games moved to Northampton Town's ground in a row over rent.
The club released a statement yesterday saying they were keen to communicate more with fans this season, but home games would still be played at Sixfields.
Fans protesting against Coventry City's move to Northampton have been speaking of their anger at a march in Coventry today.
Thousands of Coventry City fans have taken to the streets in protest over the club's move to Northampton's Sixfields stadium last season.
The one-mile march ended at Broadgate, where they were greeted by the 1987 FA Cup winners' double decker victory parade bus.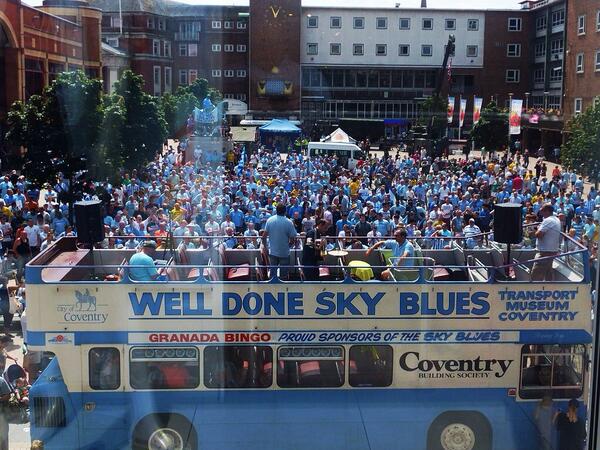 Advertisement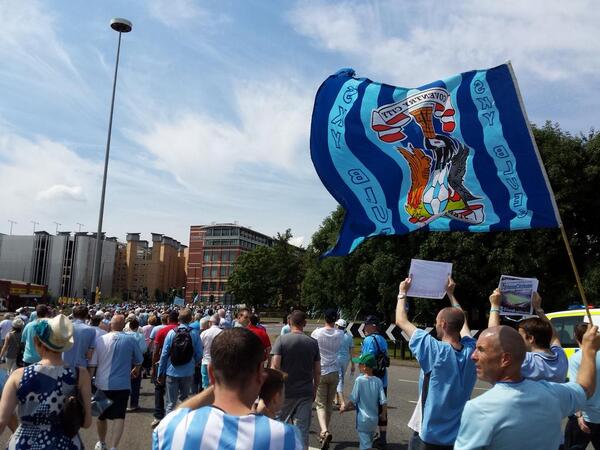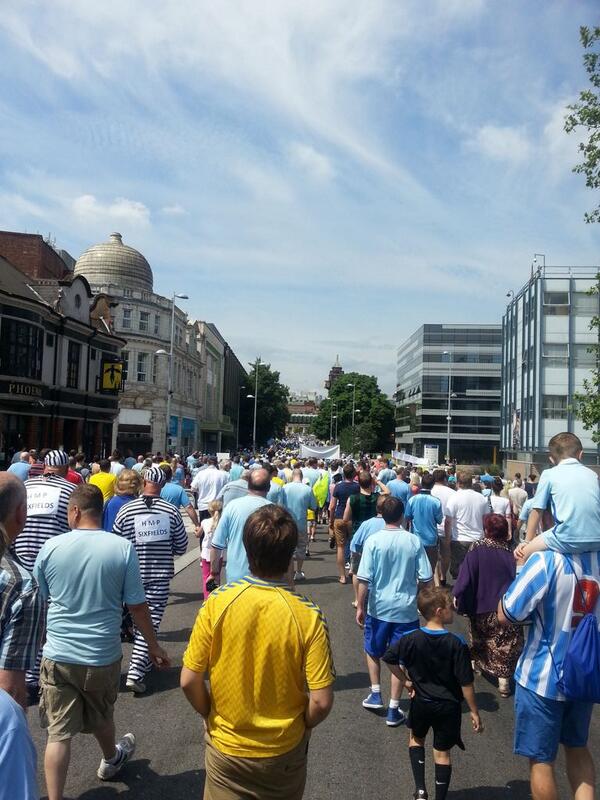 Hundreds of Coventry City fans are gathering in the city to take part in a march a year after the club moved home games to Northampton Town.
Fans will march at midday from Gosford Green to Broadgate.
Yesterday the owners of Coventry City wrote an open letter to supporters, explaining that they want to communicate more with supporters than they have in the past.
Coventry City football club is "slowly dying" in its current home at Northampton's Sixfields stadium.
Jan Mokrzycki, from the Sky Blue Trust, said the Football League "and all the other powers" have "a responsibility" to resolve the situation and ensure the club returns to its former home at the Ricoh Arena.
Supporters are today holding a one-mile march through the city in protest, as a second season playing their home games in Northampton beckons.
The march starts at Gosford Green at 12pm and will make its way up Sky Blue Way, along Gosford Street, Jordan Well, Earl Street and into Broadgate.
Load more updates