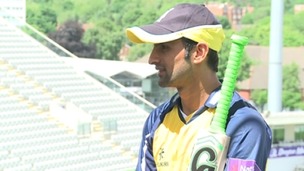 Shoaib Malik says he is confident of doing well in T20 for the Birmingham Bears.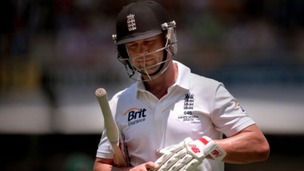 There's new criticism over cricketer Jonathan Trott quitting the Ashes in November, with former captain Michael Vaughan calling it a 'con.'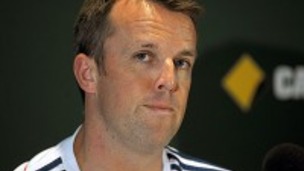 Graeme Swann says he was not referring to anyone in the current squad when he said certain players are "up their own backsides".
Live updates
Retiring Graeme Swann departs with team-mate 'swipe'
National
Graeme Swann has told his former England captain not to "jump to conclusions" after Michael Vaughan claimed Swann's post-retirement comments were a mistake.
@michaelvaughan don't jump to conclusions Vaughney. I wasn't talking about the England dressing room or anyone in it. You too bbc.
Retiring Graeme Swann departs with team-mate 'swipe'
National
Former England captain Michael Vaughan said he agrees with former team mate Graeme Swann that "some players are getting ahead of themselves", but inferred the timing of his comments was a mistake.
So @swannyg66 says some England players heads are up their own Arse???? Which ones exactly??
I agree with @swannyg66 that some players are getting ahead of themselves but I don't think he should have said it the day after retiring...
We all make mistakes @swannyg66 .. I make plenty ... I am afraid on this occasion you have made one ...
Advertisement
Retiring Graeme Swann departs with team-mate 'swipe'
National
Graeme Swann has attempted to distance himself from a report in The Telegraph which alleged the retiring cricketer had made a "barely disguised swipe" at his fellow English cricketers.
Swann took aim at the journalist who wrote the story, saying "making stuff up sells papers I suppose".
Just because Derek Pringles writes something I find it astonishing that people buy into it?! Making stuff up sells papers I suppose
Retiring Graeme Swann departs with team-mate 'swipe'
Graeme Swann will be missed by both Nottinghamshire and England, according to the county's Director of Cricket, Mick Newell.
The spinner announced his retirement from all forms of cricket today with immediate effect.
Newell says Swann was a great character to have around the dressing room, but he will not miss watching him bat, as he claims it caused his grey hair!
Retiring Graeme Swann departs with team-mate 'swipe'
The Director of Cricket at Nottinghamshire County Cricket Club believes the 'irreplaceable' nature of Graeme Swann is one of the reasons the spinner was selected for the first three games in Australia, despite his claims today that he isn't fully fit.
Graeme Swann's announcement that he is to retire from first class cricket has received mixed reaction. Swann has said his arm has not felt 'quite right' since his operation earlier this year. Some have criticised him for playing in this series if he knew he was not 100% fit.
Mick Newell says the selectors probably had no choice but to select him, because has has previously been 'irreplaceable'.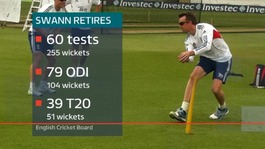 Take a look at some of the key moments in Nottinghamshire and England spinner, Graeme Swann's career.
Read the full story
Advertisement
Retiring Graeme Swann departs with team-mate 'swipe'
National
What? Swann's quit too, before the series is even finished? Australia must be laughing their heads off. This is so embarrassing. #Ashes
Cricketer Graeme Swann's snap retirement from the England team during the Ashes tour has drawn shocked reactions on Twitter, with Piers Morgan calling the move "embarrassing" and saying the Australian team "must be laughing their heads off".
Former England batsman and bowler Paul Collingwood said "I can't believe it", while commentator Jonathan Agnew said the move was "unexpected".
General feeling was that this might be Swann's last tour, but this unexpected. Massive contribution to England success and true character
Swann has left the England team after they suffered three successive defeats on their Ashes tour to Australia.
Retiring Graeme Swann departs with team-mate 'swipe'
National
Spinner Graeme Swann has retired from England's cricket team with two matches left to play in their Ashes tour of Australia.
Thanks to you all for your messages and support throughout my career. I hope you enjoyed it as much as I did.
England have already lost the series having suffered defeat in their first three matches, and are now fighting to avoid a 5-0 whitewash.
It was always a privilege to represent my great country playing the game I love and I'll forever support the three lions #keepthefaith
Swann told the Sun on Sunday (£): "It would be wrong for me to stay on for two more games just in the hope of picking up a few more wickets and adding to my personal tally." The spin-bowler also said his right elbow "hasn't felt quite the same" since a second operation earlier this year.
Swann's retirement follows Jonathan Trott's departure from the tour after England's first defeat, citing a stress-related illness.
Nottinghamshire cricketer, Alex Hales, has been awarded an incremental contract by the England and Wales Cricket board, going into 2014.
All-rounder Hales has recently been named in England's T20 squad in Australia next month.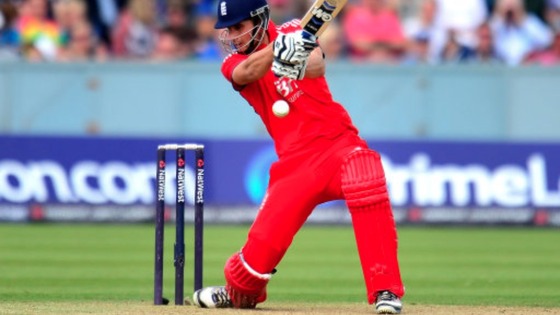 He has been given an incremental contract, which is a 12 month contract where the player is paid by his county, but awarded an additional salary by the ECB. The county receives compensation for matches missed while playing for England.
Hales has been awarded the contract alongside for other players, Jos Buttler, Ravi Bopara, Eoin Morgan and Luke Wright.
National Selector, Geoff Miller said:
"These five players have played key roles in our limited overs sides in recent years and awarding them increment contracts means we expect them to be an important part of England's plans going forward. _I would like to congratulate the players and wish them every success in an England shirt._"
Warwickshire's new t20 name
The newly-named Birmingham Bears can help bring the local communities together, says Councillor Ian Ward, Deputy Leader of Birmingham City Council:
The Birmingham Bears t20 team is an incredibly exciting proposition that can unite sports fans across the city on Friday evenings next summer... I'm looking forward to seeing people get behind the Bears and hopefully roar them on to a Finals Day at Edgbaston in August.
Edgbaston is currently the home of the NatWest t20 Blast Finals Day for the next three summers, with the event scheduled to be staged on the Birmingham Bears home-turf in 2014, 2015 and 2016.
Neil Rami, Chief Executive of Marketing Birmingham added:
Birmingham has a reputation for hosting some of the most compelling tournaments in sport... About a quarter of our visitors come here because they are attending or participating in a sports event... The new t20 matches will provide another opportunity to showcase both the revamped stadium and the city as a whole.
Load more updates
Back to top