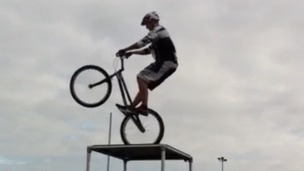 Stunt mountain bike rider and Britain's Got Talent contestant Joe Oakley from Derbyshire is backing today's safe cycling event.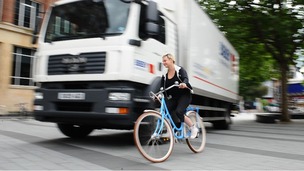 A cycle safety event is being held in Derby today, bringing cyclists and drivers together to look at challenges on the road.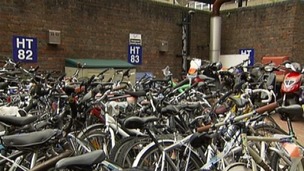 Tens of thousands of pounds of bikes are stolen in the Midlands each year. So what advice is being given to help prevent theft?
Live updates
Cyclists pushed off bikes
One of three cyclists who were pushed from their bikes in a series of similar incidents in Leicestershire, has been treated for a broken collar bone.
The man was the third to be approached as he rode his bike on Saturday 6th July on Stanton Lane in Croft.
An "old style silver BMW" crossed in front of the cyclist and braked sharply causing the cyclist to fall from his bike.
In two other similar incidents in Earl Shilton and Broughton Astley, victims described a "old, silver" car approaching them and the front seat passenger leaning out to push them over.
The two other cyclists were treated for minor injuries.
Cyclists pushed off bikes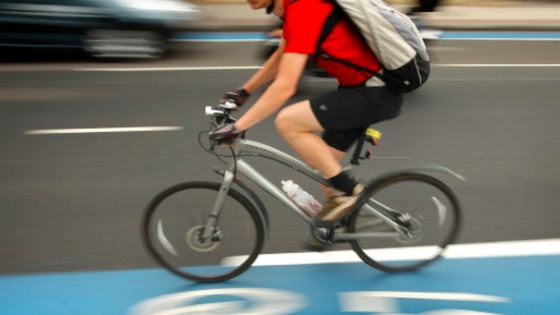 Police are investigating after three cyclists were pushed from their bikes in Leicestershire.
The incidents all happened within the space of a week, within a ten mile radius, in Earl Shilton, Croft and Broughton Astley.
Police think the events are all linked because each of the victims described a "silver" vehicle being involved.
Advertisement
Bike rider boy in national comp
A four-year-old Leicestershire boy is gearing up to take part in the Balance Bike National championships in Manchester.
Thomas Ayers, who lives in Broughton Astley, will compete in his age group in September.
What is balance bike racing?
Balance bikes were first designed to introduce children to biking without stabilisers. The bikes, which have no pedels, are powered by children running. The framework is made of plastic and with no pedals or brakes, the bikes are free from greasy chains.
Children can start using balance bikes from the age of two.
Bike rider boy in national comp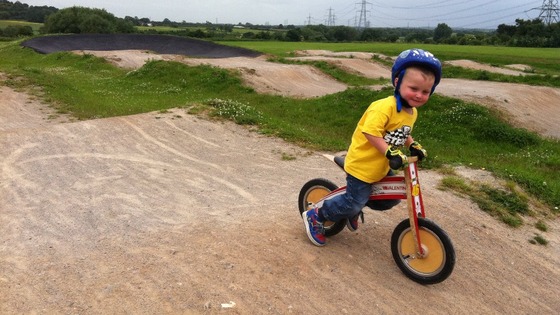 A four-year-old boy from Leicestershire is hoping to be crowned a national champion in balance bike riding.
Thomas Ayers, who lives in Broughton Astley, is in serious training to try and clinch the title as the best rider for his age group at the British Championships in Manchester in September.
His mother, Kim Brown, says he's a 'speed junkie with no fear!'
Cycling special reports
Cities across the Midlands are trying to encourage more people to leave their car at home and get on a bike. But motorists and cyclists do not always see eye to eye and confrontations are not uncommon.
Rajiv Popat has been speaking to one man who wears a camera on his cycling helmet to record bad driving and then puts the footage online. He says he does it to improve driving standards.
Cycling special reports
Advertisement
Cycling special reports
Stephen Perrin wears a headcam out on his bike to capture 'irresponsible drivers'.
Cycling special reports
Cyclist Stephen Perrin has started wearing a head camera to capture what he calls 'irresponsible drivers' on the roads.
Cycling special reports
The success of Great Britain's cyclists at recent Olympics has meant a huge increase in the number of people getting on their bikes. And councils across the Midlands would like even more people to take up the sport.
The councils say cycling is healthier, more environmentally friendly and cheaper than getting in the car or on the bus.
That may be so, but many people are also nervous about taking to the road on two wheels. Local authorities say they're planning to tackle that by improving cycle routes to make it safer for everyone. Rajiv Popat reports.
Questions raised over cyclist's death
Calendar
I would like to offer my deepest condolences to the family after this tragic incident.

It is important to say that we had not been made aware of any of potholes at this location prior to the incident, and the A631 is generally in a good condition. As soon as the police alerted us to it following the accident, we responded immediately.

However, this is an on-going police investigation and therefore it is not appropriate for me to comment any further at this time.
– Paul Coathup, Assistant Director for Highways and Transportation
Load more updates
Back to top