On a visit to a flood-hit region of Worcestershire today David Cameron said that spending on flood defences has been 'increased'.
The Prime Minister sat down with residents in Upton-upon-Severn to discuss the flooding which has affected the area three times since Christmas.
Last week, the Government pledged £10million of help to businesses affected by the floods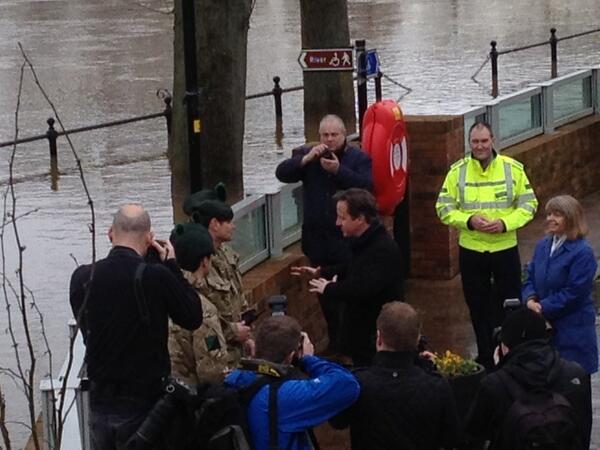 Advertisement
A great example of the military helping with floods: running a shuttle service on flooded roads in Upton-upon-Severn. http://t.co/L6PjaHQ421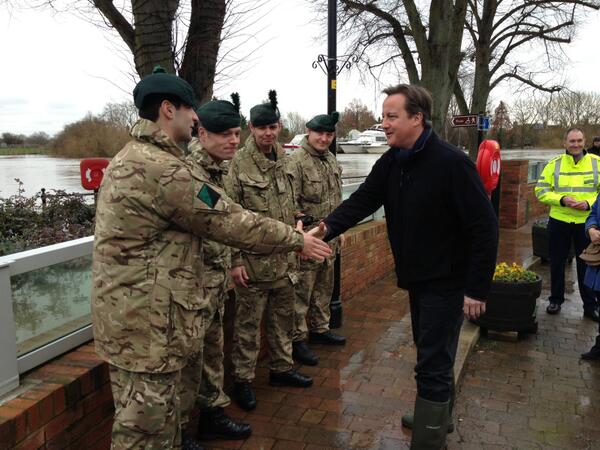 David Cameron will try to visit every flood-hit area around the country to "try and learn lessons" from the crisis.
Speaking in one of the worst affected areas in Upton-upon-Severn, Worcestershire, Mr Cameron said: "I'll try to get to every part of the country that's been affected so that we can learn all the lessons."
The Prime Minister, who earlier described the floods as a "tragedy", defended the Government's response to the crisis, adding that the Cobra emergency committee had been meeting since water levels started rising before Christmas.
The Army were deployed to Upton-upon-Severn after the town was cut in two by floodwaters, only after the damage had already been done.
The Prime Minister has met people battling the floods in Worcestershire today.
David Cameron sat down with residents to talk about how the area has been flooded three times since Christmas and what they are doing to cope with the situation.
It comes after he pledged £10million of help to businesses hit by the flooding.
Advertisement
The Prime Minister will visit the West Midlands later this morning in an attempt to highlight the Government's new policy on apprenticeships.
David Cameron will say that he wants every young person who does not go to university, to become an apprentice with a local company.
Speaking ahead of his visit Mr. Cameron said:
"We've made good progress in the past three years in turning this picture around. In the West Midlands the number of people starting an apprenticeship has doubled.
Across the region, firms are taking people on and giving them hope - from Jaguar Land Rover in Solihull to Mondelez in Birmingham."
Britain has been "London-centric" for too long, Prime Minister David Cameron said today as he claimed the new HS2 railway would make England's northern cities industrial capitals again.
In a speech to the Conservative Party Conference in Manchester, Mr Cameron said it was important the UK became a "land of opportunity for all".
He said the new HS2 high speed rail line would bring the country together in a "national endeavour", as he urged the public to get behind the scheme.
Mr Cameron said: "When I say a land of opportunity for all I mean everyone - north and south.
"This country has been too London-centric for far too long. That's why we need a new north-south railway line.
Mr Cameron added: "HS2 is about bringing north and south together in our national endeavour."
Speaking to ITV News Central at the Conservative Party Conference he said other transport projects will have more money spent on them than the planned high speed rail line HS2.
Sutton Coldfield MP Andrew Mitchell could return to the front line of the Government in future, David Cameron has hinted.
Mr Mitchell resigned from the Cabinet in October last year following allegations that he hurled abuse police officers outside Downing Street, calling them "plebs".
But an official investigation later uncovered CCTV footage which appeared to show the "plebgate" claims were wrong.
The Prime Minister, speaking ahead of the first day of the Tory party conference today, would not rule out a return to government for Mitchell.
He declined to talk about the incident as arrests have been made - but praised Mr Mitchell as a "very talented politician".
He added that he would wait until the investigation was over before making any announcements about Mr Mitchell's future.
"I have enormous respect for him. He was a brilliant (International) Development Secretary. I am very sorry about all the things that have taken place," he told the Andrew Marr show.
"We have to let this investigation take place and then we can take it from there."
Load more updates