A man has been given a three year football banning order for assaulting a police officer during a match between Chesterfield and Barnsley.
Rhys Atkinson, 23, of Mansfield Road, Barnsley, appeared before magistrates at Chesterfield Justice Centre yesterday (Monday, January 4) charged with the offence on Saturday, August 8 at the Chesterfield ground.
Mr Atkinson was also given a fine of £216, a £21 victim surcharge, £620 costs and ordered to pay £50 compensation to the officer he assaulted.
Mr Atkinson's behaviour at the game between Chesterfield and Barnsley has led to him being banned from all regulated football matches for three years. This means he will not be able to go to the Euro 2016 tournament in France, and must surrender his passport when England play abroad.

I hope these sanctions act as a reminder to people that we will not tolerate violence and anti-social behaviour, whether it is football related or not."
– PC Roger Brown, Football Intelligence Officer
Under-fire retailer Sports Direct has pledged to pay its employees above the minimum wage from today, after allegations about low wages.
Read the full story ›
Advertisement
Several high value items including a quad bike and lawnmower were stolen in the raid.
Read the full story ›
Police are growing increasingly concerned for the safety of Andrew Bennett who is missing from Chesterfield.
Mr Bennett, who is 44, was reported missing from Calow yesterday afternoon (Wednesday December 30).
He is 5ft 6ins tall, of medium build, with short greying hair. He was last seen wearing dark trousers and a black coat. He is a chain smoker.
Mr Bennett has been missing before and has been found in the Dronfield and Sheffield areas.
Anyone with any information should contact police on 101.
Mike Ashley has promised to spend £10 million on raising the pay of all Sport Direct employees to above the minimum wage.
The pledge comes after the company's pay and employment practices, including the use of zero hours contracts, faced criticism.
Sports Direct has since announced that Mr Ashley will oversee a review of all agency worker terms and conditions.
Announcing the move, the Newcastle United owner told the Daily Mirror: "I believe as a FTSE 100 or even 250 company we have a responsibility to set a high moral standard.
"We're putting our money where our mouth is and have notified the City we will be spending £10 million ensuring all employees are above the minimum wage."
Police are appealing for information after an assault on a woman in Matlock.
The 41-year-old woman was walking on Bank Road when she was approached by a man who reportedly pulled her into an alley near the junction with Smedley Street and assaulted her. She was uninjured but was left shaken.
It happened on Sunday 27 December just after 12.30pm on Bank Road.
The attacker is described as white, five feet tall and was wearing blue jeans, a black hoodie and has a tattoo on the back of one of his hands.
She described her attacker as being white, about five feet tall and wearing blue jeans, a black hoodie and has a tattoo on the back of one of his hands.
Anyone with any information should contact police on 101.
Advertisement
Derbyshire Police and Crime Commissioner Alan Charles warns access for "justice for victims could suffer" over proposed legal aid cuts.
Read the full story ›
Police in Derbyshire who are investigating a sexual assault on a woman in Spondon say the offender would have had facial injuries and cuts on his face.
A 28-year old woman was attacked while she was walking along a footpath between West Drive and Acorn Way in Spondon. It happened at around 6.30pm on Tuesday 22nd December.
The man is described as white, in his early to mid-20's and of a medium build. He has short black hair and wore a black, zip up hooded top.
Police are appealing for the public to get in touch if anyone recognises a family or friend with such facial injuries to get in touch.
"We believe the man responsible will have suffered facial injuries. At this time of year, people will be getting together with friends and family. If you are with someone who has recent facial injuries that they can't easily explain, I would ask you to get in touch."
– Detective Sergeant Claudia Musson, Derbyshire Police
Chesterfield have announced the signing of Danny Wilson as the new manager of the club.
The 55-year-old has managed a host of clubs, including Barnsley, Sheffield United, Swindon Town and Hartlepool United.
He parted ways with Barnsley in February.
Chesterfield currently sit eighteenth in the table, just two points above the relegation zone.
BREAKING: We're delighted to announce that Danny Wilson is the new manager of Chesterfield FC. Welcome to the club! https://t.co/96wDGd0vgU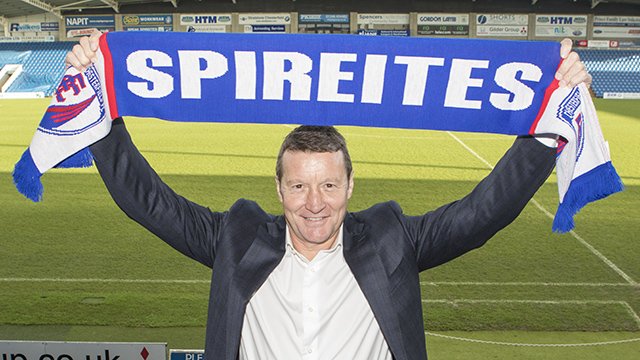 Load more updates