Delays, one lane closed and very slow traffic due to broken down car on M1 Southbound between J29 A617 / A6175 (Chesterfield / Mansfield) and J28 A38 (Alfreton / Mansfield), congestion to J30 A616 / A6135 (Worksop / Sheffield South).
In the roadworks area. Travel time is around 50 minutes.
Firefighters have rescued a man who fell down a steep embankment into a river in Derbyshire.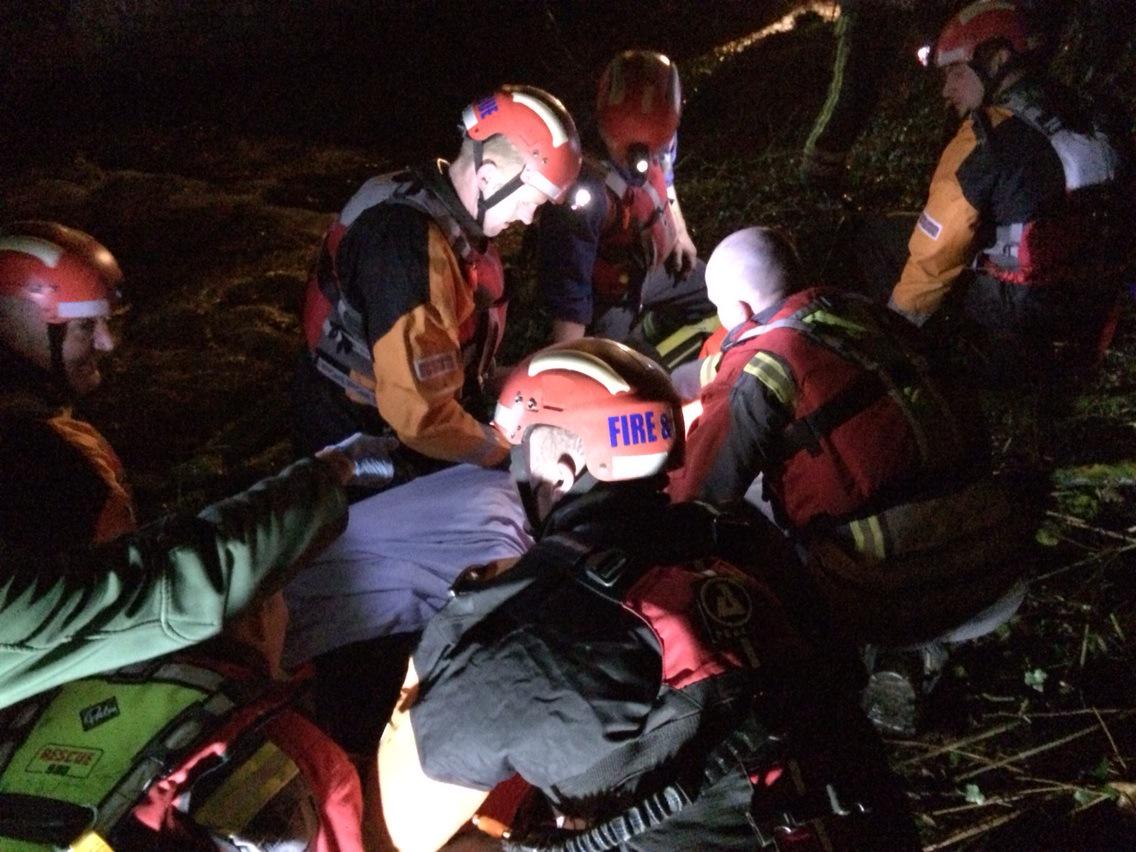 It happened overnight near New Mills.
Derbyshire firefighters had to work in dark and slippery conditions to bring the man to a waiting ambulance.
Derbyshire firefighters just rescued casualty in New Mills who had fallen 50m down steep embankment into river. http://t.co/dZGGfKCW8W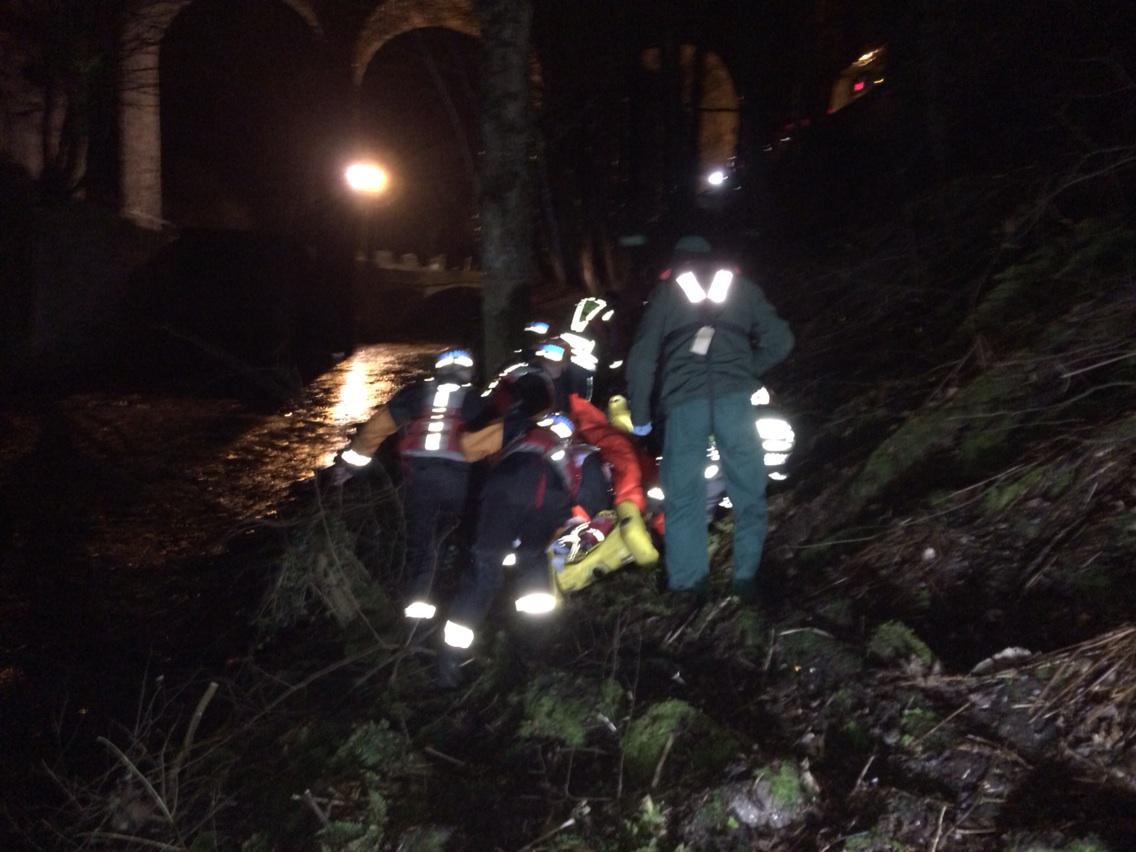 Advertisement
Dog chews baited in rat poison have been found in Stanley Common in Derbyshire.
The deadly bites have now been removed from the Glendon Street area after a dog walker found them on Monday.
Derbyshire Police have been made aware of the incident.
This is a very serious and very worrying incident and we are grateful to the member of public for taking immediate action so that we could remove the baits before any dog was affected. I would urge all dog walkers to be vigilant and to report any suspicious activity or bait they find.
– Councillor Barbara Harrison, Erewash Borough Council's Lead Member for Environment
A pensioner has died after being hit by a National Express coach in Derbyshire.
Police say it happened as the single decker bus pulled out of Chesterfield Coach Station onto Beetwell Street just before 1:30 pm.
A man who was crossing the road was hit and suffered fatal injuries. An investigation has begun.
The creators of the spectacular sea of poppies that engulfed the Tower of London to mark the centenary of the start of the First World War will be honoured today.
Sculptor Paul Cummins, 37, and theatre designer Tom Piper, 50, will receive MBEs from the Duke of Cambridge at Buckingham Palace in recognition of the immensely popular 'Blood Swept Lands And Seas Of Red'.
The artists previously met William, along with the Duchess of Cambridge and Prince Harry in August when the royals toured the powerful display of 888,246 ceramic poppies that progressively filled the moat at the Tower - one for each British or Colonial military death during the First World War.
Mr Cummins, from Chesterfield, receives his MBE for services to art and First World War commemorations. Mr Piper, from London, receives his for services to theatre and First World War commemorations.
Yellow Warning of Snow for East Midlands : Derbyshire valid from 1105 Sun 22 Feb to 1700 Sun 22 Feb http://t.co/FvTgp0hy42
Advertisement
A £260,000 grant is set to boost access to cycling routes in the Peak District National Park.
The money - from the Department for Transport - will be used by the Peak District National Park Authority for a bookable bike bus offering a bespoke service to leisure cyclists across Bakewell, Buxton, Matlock and surrounding areas.
The service, operated by Bakewell & Eyam Community Transport, will not operate to a standard route, or times, but will run where requested or needed. It will also help families, school groups and visitors to make more tailor-made journeys on the trails at Monsal, Tissington and High Peak.
The grant will be used to buy a new bus, convert an existing vehicle to carry cycles at peak times, and operate the service for a year.
The second project is with the Youth Hostels Association (YHA), which will make four of its hostels in Edale, Eyam, Ravenstor and Youlgreave more cycle-friendly.
The track leading to the hostel at Edale will be upgraded and work at the four sites will include installation of cycle stores, bike stands and outdoor cleaning facilities.
It follows similar upgrades at Castleton, Hartington, Hathersage and Ilam, meaning all eight YHA properties within the national park will have been improved for cyclists.
Work will start at the site of the new Derby Innovation Centre today.
A ceremony will be held this afternoon to celebrate the beginning of the multi-million pound construction project.
The centre aims to provide businesses with easy access to the latest academic research and development. The project is a joint-venture between Derby, Aston and Cranfield universities.
Police are hunting two boys as young as eight after a pensioner's bag was snatched in Derby.
Derbyshire Police said it is seeking the public's help to trace the youngsters after an 81-year-old woman was left "badly shaken" by the incident.
She had just got off a bus in the Sinfin area at about 5.45pm last Thursday when she felt her handbag being pulled from her shoulder.
She let go of her bag, and turned to see two boys running off along Lynwood Road towards The Chase.
A police spokesman said the boys are described as being aged between eight and nine and were about 4ft 6in.
Both were wearing hooded tops, with their hoods up.
The leather-look pink bag contained a patchwork purse and Samsung mobile phone.
Police said the woman was uninjured but shaken.
Disabled young people are being invited to take part in a sports and fitness programme led by Derby County football club.
The club's coaching staff have teamed up with charity Caudwell Children to help eight to 18-year-olds enhance their skills in games such as football, tennis, cricket, golf and cycling.
"Children will get the opportunity to learn new skills in sports that they may never have tried before. They'll also get the chance to enhance their skills in games that they are already familiar with.

"Whilst the programme will be full of fun, excitement and energy, it also, very importantly, helps participants to develop leadership, communication skills, collaborative team work, independence, creativity, enterprise and motivation."
– Keller McHenry, short break activities coordinator for Caudwell Children
The free programme will take place at the Shobnall Leisure Complex in Burton-upon-Trent over four days on March 7, 8, 21 and April 11. It will end with a visit to the iPro Stadium to see the Championship club take on Brentford in April.
To book a place, call 01782 6002844 or email keller.mchenry@caudwellchildren.com.
Load more updates