The Mayor of London had a go at driving a tube train on a visit to Derby's Bombardier factory today.
The company is building dozens of new trains for the London Underground, and Mr Johnson was keen to give one of them a test drive.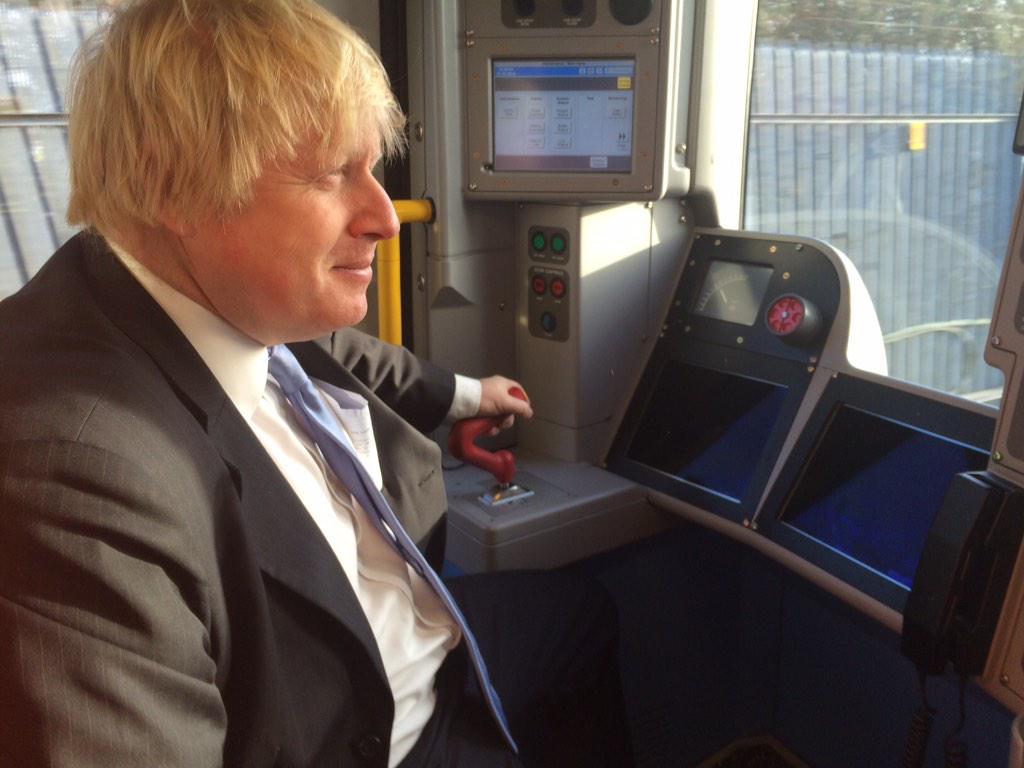 Boris Johnson has arrived at the Bombardier factory in Derby to inspect the progress on trains being built for London's Crossrail project.
The contract with Transport for London is worth £1.3bn.
Bombardier is delivering 65 nine-car trains for the east-west rail link in the capital.
The project is due to open in 2018.
Advertisement
London Mayor Boris Johnson is visiting Bombardier in Derby to see progress on the trains being built for the capital's Crossrail project East-West rail-link.
The contract with Transport for London is worth £1.3 billion.
The deal secured 840 UK manufacturing jobs including 80 apprenticeships
Chesterfield FC's place in the third round of the FA Cup could be in doubt after they were charged with fielding an ineligible player in their second-round win at MK Dons.
The Spireites surprised the in-form Dons with a 1-0 win on Saturday, fielding on-loan Wolves defender Geog Margreitter in their side - but without receiving written permission from Wolves. The League One club now have until 5pm on Thursday to respond to the charge.
"It is alleged that Margreitter - on loan to Chesterfield from Wolverhampton Wanderers - played in the fixture without the necessary written permission having been received by The FA as at the 12 noon deadline on Friday 5 December 2014...As a consequence it is alleged they are in breach of FA Cup Rule 15 (j) (i) for fielding an ineligible player".
– FA statement
"We notified the FA as soon as it came to our attention that the necessary written permission from Wolverhampton Wanderers to allow Georg Margreitter to play in the match had not been received.....We had a verbal agreement with Wolverhampton Wanderers to play Georg but unfortunately we did not ensure that the consent was received in writing....We will of course provide The FA with our full co-operation as they investigate the matter."
– Chris Turner, Chesterfield FC Chief Executive
Snow has started falling in parts of Derbyshire as we enter a wintry few days.
This was the picture from a live webcam in Buxton this afternoon. If it's snowing where you are please send your pictures to centralweather@itv.com.
This was the scene which met firefighters in Buxton when they attended a ruptured gas main in Buxton.
Emergency services were called to a wooded area close to Charles Street at about 12.20am this morning to reports of a fire.
Crews from Buxton assisted Gas and Electricity company overnight with fire involving Gas main - issue now resolved. http://t.co/XD23qFVv7e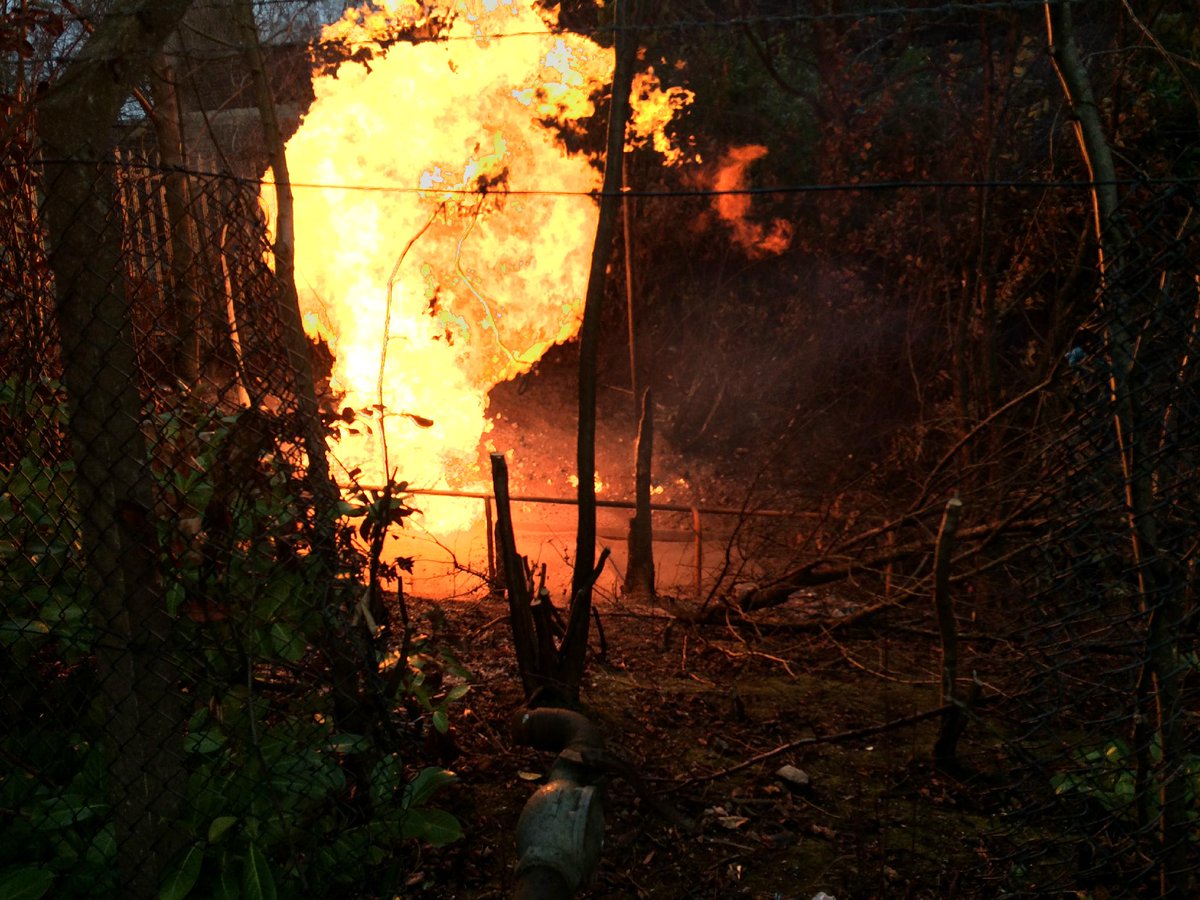 The road was closed for a time and the nearby Aldi store will also be shut today.
Firefighters say the incident has now been 'resolved'.
Advertisement
A ruptured gas pipe which blazed fire into the air last night has closed a road in Buxton in Derbyshire.
Emergency services were called to a wooded area close to Charles Street at about 12.20am this morning to reports of a fire.
There they found the ruptured pipe which had caused a fire reaching several feet into the air.
Police say gas engineers are at the site working with the emergency services and there is not thought to be a risk to other properties. There is no evacuation in place.
The Aldi supermarket, which is near to the ruptured pipe, will remain closed today. There is also a partial closure to railway services in Buxton as part of the line passes close to the affected site.
A Derbyshire police spokesman said:
"There will be an impact on people driving into Buxton due to the site being in the town centre. Anyone planning to visit the Aldi store will not be able to and should plan alternative arrangements. "We apologise for the inconvenience this will cause and are working together with gas engineers and the fire service to get it sorted as quickly as possible."
– Derbyshire Police
Anyone who may be affected by the railway closure should check with the rail operator for any disruption.
Police have released CCTV pictures of two people they want to speak to after a man was attacked in a Derbyshire nightclub.
The 44-year-old victim was hit on the back of the head, and was then hit again when he fell to the floor at Manhattans in Long Eaton on October 26 at 1.50am.
The offender was white, in his early 30s, of stocky build and with fair hair.
Officers have released two images of men they want to identify. One of the images shows a man inside the club, while two others show two men walking outside. One of the men is wearing a body warmer.
Derbyshire residents are being warned about a library fines scam.
Criminals have been calling local people and pretending to be representatives of Derbyshire County Council.
The scammers tell victims they represent the council's library service and that they are ringing to recover fines from overdue books. They then ask for the person's bank details over the telephone. They may also threaten to visit the borrower's house and collect the books in person if payment is not made immediately.
"We never have and never will use an agency to recover overdue library fees. If someone has an overdue fee our library staff will write to them and we would not ask for bank details.

"This is a shameful scam designed to frighten people into handing over their financial information.

"If people receive a call like this they should report it straight away and in no circumstances should they give out any personal information or bank details."
– Councillor Dave Allen, Cabinet Member for Health and Communities
The swimming pool at West Park Leisure Centre in Long Eaton will be closed for five weeks over Christmas and New Year for maintenance work.
The pool will shut down at 1pm on Saturday December 13, and work will start immediately on the pool's circulation pipework.
Load more updates