An investigation has been launched after a man was stabbed on the car park of a pub this morning.
The 21-year-old man was found on a bench in the car park of the Earl of Dudley pub around 4.15am suffering multiple stab injuries.
He was brought to Russell's Hall hospital by two friends. His condition is descried as critical.
Wolves legends Steve Bull and Don Goodman will help launch a 10-mile fundraising walk across the Black Country today, in aid of Wolverhampton-based charity Promise Dreams.
The 'Walk for Dreams' will take people from Himley Park, on the outskirts of Dudley, to Wolverhampton Racecourse on September 21.
All money raised will go towards Promise Dreams' work to help give children with terminal or serious illnesses experiences to remember.
Advertisement
Police in Dudley have released an image of a man they want to speak to about a violent assault.
Daniel Reid, from Belle Vale, Cradley Heath, left his home address on Monday. Officers have tried looking for him in a number of other addresses linked to the 35-year-old, but have not found him.
They believe he is within the Cradley, Walsall or Handsworth areas. He is described as a black man, medium build, 5 ft 7 ins tall, balding with brown eyes.
A group set up by the mother who was branded a tramp on Facebook for breastfeeding her daughter in public is holding a 'nurse in' at the Merry Hill Centre in Dudley this lunchtime.
Two stray horses are blocking the road in High Street, Pensnett, in Dudley this morning.
Good morning. First calls of the early shift, 2 horses are blocking the road on High Street, Pensnett, Dudley.
Northampton has been named in the top three cities where people are most likely to have their mobile phone stolen, according to Protect Your Bubble.
Dudley in the West Midlands was found to be the safest place for mobile phone owners with less than 5% of the claims the insurance company received being for theft.
People in their early 20s are said to be the most likely victims of mobile phone theft.
There are more than a quarter of a million reported cases of stolen mobile phones every year according to the National Mobile Phone Crime Unit.
Stephen Ebbett, director of Protect Your Bubble, said: "Everyday we cart around hundreds, or even thousands of pounds' worth of high-tech gear, such as smartphones, tablets, cameras and e-readers. This makes many of us prime targets for thieves."
Advertisement
An officer from West Midlands Police has tweeted a picture of the wreckage of a police car after a suspected drink driver ploughed into it last night in Dudley.
Two officers had to be taken to hospital after the smash at the junction of Smithy Lane and Tansey Green Road in the early hours of this morning.
Two officers have been hospitalised after a suspected drink driver ploughed into a police car in Dudley in the early hours of this morning.
Read the full story ›
Burglars beware - everyday tools are being fitted with specialised tracking systems to help police catch crooks who target garden sheds.
Lawnmowers, hedge trimmers and power cleaners are being fitted with the trackers by police in Dudley, as part of a 'capture shed' scheme to help reunite victims with their stolen goods.
The kit uses tiny CCTV cameras and satellite information to track the items which have been stolen, and can be fitted inside sheds, garages and other outbuildings.
The 'capture sheds' will be set up in areas where there have been a spate of burglaries reported in the past - as burglars often return to people they have targeted before, knowing they will have replaced their goods.
Officers will unveil the technology at en event at the Ryemarket in Stourbridge today.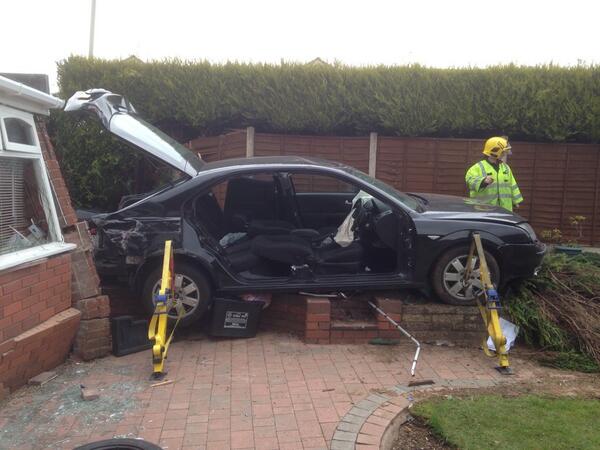 Load more updates