Our political reporter Alison Mackenzie investigates allegations that Conservative Party Candidate for Dudley North, Afzal Amin, planned to use an inflammatory march against a new 'mega-mosque' to help his election campaign.
Alison also joined us on our Sunday programme to discuss Mr Afzal's alleged deal with the English Defence League (EDL).
Speaking to ITV news after appearing on the BBC this morning, Conservative MP for Broxtowe & former Central News East presenter Anna Soubry said Dudley North conservative candidate Afzal Amin 'should go' , if allegations of collusion with the far right group the English Defence League to win votes by stirring up racial hatred in the Dudley North constituency are true.
Amin has reportedly described the allegations as "completely untrue".
Ms Soubry said: "If he's done it then he should put his hands up and go but we've said that we're going to wait until Tuesday.
"He's suspended but if he's done it he should go".
Advertisement
Afzal Amin is accused of planning to use an inflammatory march against a new 'mega-mosque' in Dudley North to help his election campaign.
Read the full story ›
Seven porkers had a pancake pig-out today as staff at Dudley Zoo included their micro-pigs in Shrove Tuesday celebrations.
Little Ernie, Hamm, Chuck, Brian and Wilbur and their mum Poppy and dad Harley seemed to approve of the seasonal puddings.
Police have released images of a group they want to speak to following a burglary in Netherton.
Jewellery and cash were taken from a house on Prince Street in the afternoon on January 17. The suspects ran off when the homeowner returned.
Anyone who recognises these people or who has any information should call police on 101.
Advertisement
Local businesses were hit hard today after they chose not to stay open when the EDL took to the streets of Dudley to protest against plans for a new mosque.
This was despite local police meeting regularly with organisers, councillors, business leaders and community representatives before the protest took place.
Throughout all of our meetings, we encouraged businesses to open as usual. Some, however, took the independent decision to close. I fully understand why they made that choice given the impact the last demonstration in Dudley had on the town.
– Chief Superintendent Chris Johnson
The protest apparently passed fairly peacefully but police say they will continue to support local businesses and help to make up for lost trade by holding a family day in the town next Sunday.
There were far fewer people than anticipated at the protests but despite the fact the operation ran as well as could be expected we must not lose sight of the fact that local businesses have been hit hard.

The reality is that the fear and anxiety caused by these kinds of protests meant that the majority of businesses did not open on what would normally be their busiest day's trade.
– Councillor Pete Lowe
30 people were arrested today for public order related offences ahead of the EDL protests.
Police are continuing to patrol Dudley town centre following the EDL protest in Priory Road and the Unite Against Fascism counter-protest in Castle Street.
Around 600 supporters of the English Defence League gathered outside Dudley Council House while another 50 people from Unite Against Fascism also gathered to oppose the EDL.
The excellent work of officers has ensured that the events in Dudley were peaceful and calm.

In advance of the protests community leaders joined my call for peace, calm and respect and I am pleased that our call was adhered to on the whole.
– Police and Crime Commissioner for the West Midlands, David Jamieson
There is still a significant police presence in town as we make sure the protesters disperse safely and peacefully.
Dudley protests update. Both protest sites are now clear and the roads are starting to be re-opened. http://t.co/bS9y9RyNqy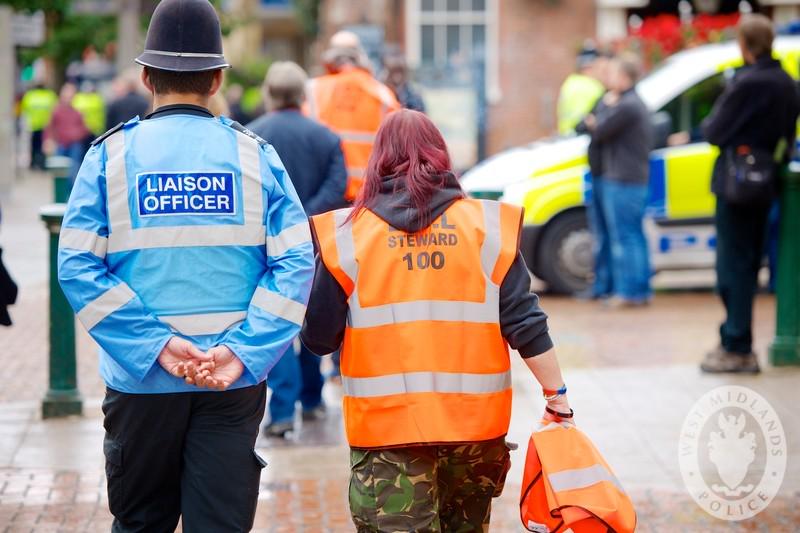 The EDL protest taking place in Dudley appears to have passed peacefully.
More than 1500 EDL members staged a rally outside Dudley Council House in protest at the plans to build a new mosque.
EDL members gathered at the Rock Zombie bar before walking to the Council House for the protest.
Load more updates