Live updates
Derby Dupuytrens Breakthrough
Pamela Berry from Derbyshire describes the feeling of a new treatment for people suffering with Dupuytrens.
Derby Dupuytrens Breakthrough
Consultant Chris Bainbridge describes the new treatment being offered at the Royal Derby Hospital for Dupuytrens disease.
An enzyme is injected into the hands which stops the painful lumps forming underneath the skin causing the fingers to close into a person's palm.
Advertisement
Derby Dupuytrens Breakthrough
Judith Stott from Shrewsbury suffers from the hand condition Dupuytrens. Here she describes the difficulties she faces everyday.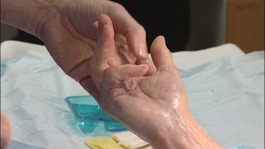 People suffering from the hand condition known as Dupuytrens are being given new hope with the introduction of a new form of treatment.
Read the full story
Back to top