A group of EDL supporters have been jailed for more than 75 years after violence flared at a protest in Birmingham two years ago.
Read the full story ›
Ten people were arrested today for public order related offences after separate English Defence League and Unite Against Fascism demonstrations took place in Birmingham city centre.
Despite a number of flashpoints there were no major clashes between protestors and the police.
Advertisement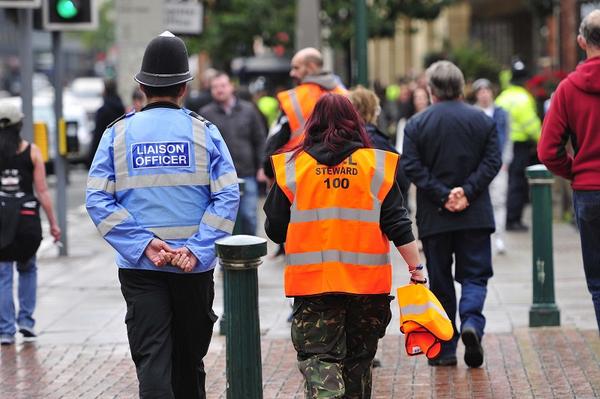 Members of Unite Against Facism are gathering in Birmingham City Centre this lunchtime as rival group EDL stage a protest in the city.
Police have given both groups specific areas to hold their protests. Both demonstrations must be over by 3pm.
Watch as EDL members gather outside a bar in Birmingham ready to stage a protest in the city centre.
Members chanted "E E EDL" ahead of the protest in Centenary Square at 1 o'clock. A counter demonstration by Unite Against Facism takes place at the same time in Chamberlain Square.
Advertisement
Police are insisting it's business as usual in Birmingham city centre during today's EDL & UAF demonstrations, but hundreds of extra officers have been drafted in from all over the country to deal with any potential trouble.
Here's Mark Gough's report on how the city has been preparing for the protests.
Faith leaders in Birmingham say the EDL is not welcome in the city.
Today, hundreds of protesters from the English Defence League will stage a protest in the city centre at the same time as members of Unite Against Facism stage a counter demonstration.
"The best thing we can do as a city is treat it like any other Saturday, because it is just any other Saturday. We are Birmingham, and together we show the world every day how our diversity helps us thrive."
– Faith leaders in Birmingham Statement
The EDL have been informed that their protest will be held in a section of Centenary Square between 11am and 3pm. http://t.co/RHbn1ONCzK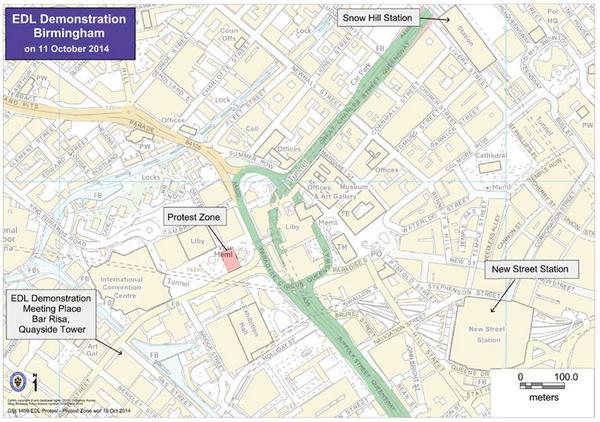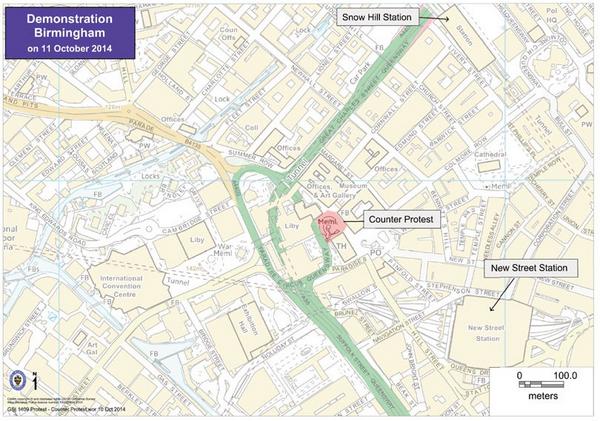 This map shows the location of protests by the English Defence League and a counter demonstration by Unite Against Fascism in Birmingham city centre this afternoon.
Both static protests will take place between 1.00pm and 3.00pm, but at different locations in the city.
The English Defence League will meet in Bar Risa on Broad Street from 11.00am, then be escorted by police to Centenary Square for its demonstration at around 12:45pm.
Unite Against Fascism will hold their event in Chamberlain Square next to Birmingham Museum and Art Gallery.
Hundreds of police are being deployed to make sure both events pass off peacefully.
Load more updates