Police are investigating claims an alleged hit-and-run driver targeted a group of men outside a pub because they were in the EDL.
Read the full story ›
Lincolnshire Police has confirmed that no arrests were made during or in the aftermath of a demonstration by the English Defence League and a counter demonstration by Grantham Solidarity Network. The cost of policing the event is still unknown at this stage.
Advertisement
Lincolnshire police on duty in Grantham say two opposing protests which took place in the town passed off peacefully. Around 250 officers - some drafted in from other forces - were on duty.
The English Defence League were in the town protesting against plans to build an Islamic Community Centre. Grantham Solidarity Network staged a counter protest.
Two opposing protests are underway in Grantham. Around 200 members of the English Defence League are demonstrating against plans to build an Islamic Cultural Centre in Grantham. They marched into town chanting various slogans and were quickly tunnelled by police to a cordoned off area.
Just metres away members of the Grantham Solidarity Network are saying extremist views are not welcome in their town. It is estimated around 250 police officers, some drafted in from other forces, are on duty. So far the protests are passing peacefully.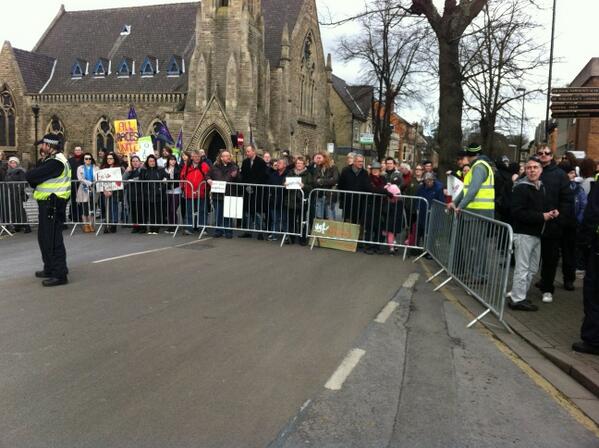 Advertisement
Around 200 police officers are on duty in Grantham today as two demonstrations take place in the town in the next hour . Members of the English Defence League will be staging a protest against plans to build an Islamic Cultural Centre.
At the same time a counter demonstration by the Grantham Solidarity Network is taking place a few metres away.
"We do not want extremism in our town. Planning issues need to be decided by local people."
– Councillor Charmaine Morgan, South Kesteven District Council
1150 - Saturday - Protestors arriving in Grantham & engaging with the police & there are no issues. Supt Keiran English Lincs Police
Lincolnshire Police have told ITV News they expect only minor disruption in Grantham today during protests by the English Defence League and an opposing group.
The marches and static protests will take place between 1pm and 3pm.
"There may be some minor disruption in Grantham on Saturday and some people will wonder why the events are being allowed to take place. The police have no authority to prohibit peaceful protests and all the information we have indicates the organisers of both groups intend their protests will be carried out in a peaceful, lawful manner."**
– Lee Freeman, ACC, Lincolnshire Police
Police say they have met with organisers of the groups and are trying to ensure that businesses can stay open as normal in Grantham this afternoon. Some road closures will be in place.
Load more updates