The East Midlands became UKIP's heartland last night, with a share of the vote higher than it achieved in any other region.
Read the full story ›
UKIP is celebrating after winning three seats in the EU Parliament, while Labour and the Tories have two each.
Read the full story ›
Advertisement
UKIP: 3
LABOUR: 2
CONSERVATIVES: 2
That's the old man gone. We may not agree on everything, but I am hugely proud of @billnewtondunn's 30 years in the European Parliament.
UKIP top the poll in with Roger Helmer and Margot Parker re-elected.
The Conservatives came second, narrowly beating Labour. Emma McClarkin is re-elected, and she is joined by Andrew Lewer.
The final MEP is Labour's Glenis Willmott.
The Liberal Democrat's Bill Newton-Dunn loses his seat.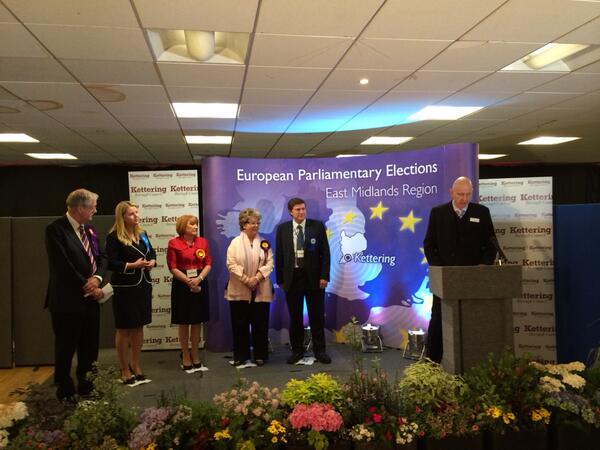 Advertisement
LAB - 93,740
UKIP - 52,063
CON - 39,329
LD - 19,853
The early results from across the region seem to indicate that Labour is winning in many of the big cities, but coming a poor third other areas.
UKIP is polling well in all areas.
Nikki Sinclaire has conceded that she will not be re-elected as MEP for the West Midlands.
Ms Sinclaire won as a UKIP candidate in 2009, but left the party a year later, and set up the "We Demand A Referendum Now Party" in 2012.
Full results are yet to be announced.
Load more updates