25 firefighters have been tackling a large fire at a recycling plant in Oldbury overnight.
Crews from West Midlands Fire Service were called just before midnight to the fire at the site on Trinity Street.
The fire service said there was no toxic smoke, but are advising people to keep doors and window closed as a precaution.
They tweeted the fire is now being scaled down:
Oldbury recycling fire now being scaled down. Some crews will remain working with onsite workers to clear the area https://t.co/1bCUZavXMB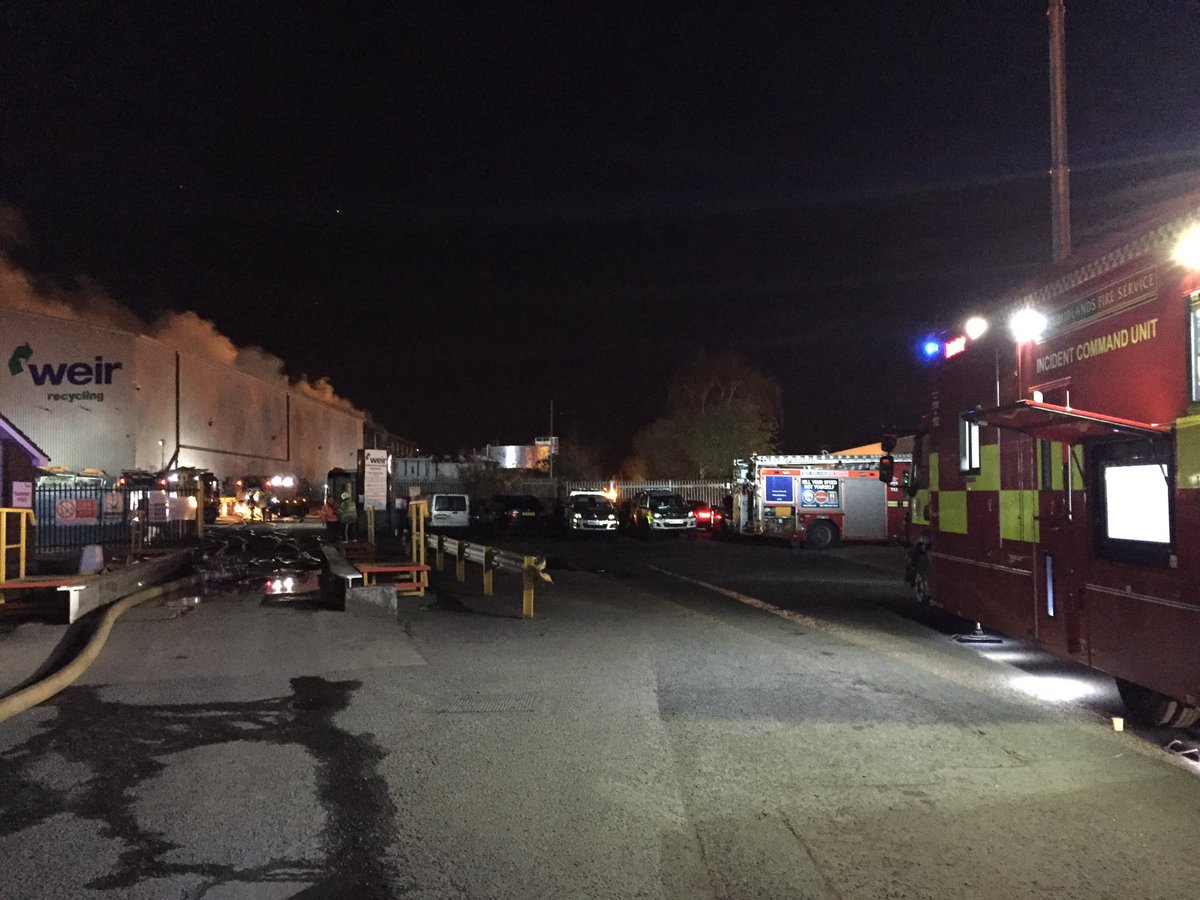 Aston Fire Station have confirmed 15 children and 22 adults were evacuated from a building after a electrical fire in the basement of a building in Birmingham.
Advertisement
West Midlands Fire Service have evacuated more than 35 people from a building in Birmingham after a fire was reported in its basement.
Read the full story ›
Firefighters are attending a large incident at a unit on Astonfields Industrial Estate. Residents are being advised to keep windows closed.
Residents are back at home this weekend after a huge factory fire nearby. Many returned to find windows boarded and doors melted.
Read the full story ›
Several roads closed in the Belgrave area of Leicester after a major factory fire have now reopened, police have said.
The fire which broke out on Ross Walk on Monday was believed to have been caused by an electrical fault.
All roads closed due to factory fire in Ross Walk earlier this week are now open.
Advertisement
Road closures are still in place around the scene of a factory fire in Leicester, police have confirmed.
Ross Walk and Marjorie Street remain closed following the fire which broke out on Monday. Crews were putting out the final small pockets of fire this afternoon.
UPDATE | Ross Walk and Marjorie Street are closed between Westbourne Street and Garfield Street following the large factory fire on 28 Dec.
Demolition began today on a factory in Leicester which was destroyed by fire earlier this week.
Watch the demolition teams in action below:
A huge fire at a factory in Leicester is 'believed' to have been caused by an electrical fault in the wiring, according to Leicestershire Fire and Rescue Service.
The factory on Ross Walk was gutted after the fire began on Monday. Investigations on the site have now been completed and demolition of the factory began earlier.
Damping down and turning over has resumed now the investigation has been completed, with small pockets of fire being extinguished.
Demolition work has begun on a factory destroyed by a serious fire earlier this week in Leicester.
Investigators had been working on the site to establish what caused the fire, which began on Monday and led to people in the surrounding area being evacuated.
Load more updates