Southwell residents can get information and advice about applying for the Repair and Renew Grant today.
Up to £5,000 is available to help flooded homes and businesses with the cost of installing flood protection.
In July 2013, the town was hit by severe flash flooding which damaged a number of properties.
Representatives from the National Flood Forum are helping run the information day, which takes place between 10am and 4pm at The Admiral Rodney Function Room in the town.
They say people can find out more on:
Repair and Renew Grant
Insurance Queries
Community Emergency Plan
Southwell Flood Fund
Future Mitigation Plans
Flood Protection products
We'll be deploying low level flood barriers at Frankwell #Shrewsbury this afternoon. Short stay car park will be temp closed #floodaware
Majority of Frankwell car park will be reopened once the demountable flood barriers are up to reduce impact on Christmas shoppers/visitors
Advertisement
The Environment Agency is warning of possible flash floods overnight and into tomorrow morning.
A number of areas in Lincolnshire were affected after heavy downpours yesterday.
The Met Office has issued a Yellow warning of rain from midnight today.
Torrential rain led to flooding in parts of Cambridgeshire. These are some of your pictures taken during and after the flooding.
Overnight we have attended 29 flooding incidents in & around Skegness, Wainfleet, Ingoldmells, Friskney and Sutton Bridge.
Advertisement
Flooding in Louth - Residents evacuated advised they can return to their homes for the next hour only. Heavy rains are expected from 2pm.
Lincolnshire County Council has reported traffic congestion due to the flooding in Louth.
"Due to the flash flooding in Louth this morning, traffic in the area is very congested. Highways is asking that people avoid the area if possible. Another spate of heavy rain is expected this afternoon around 2pm, which may exacerbate conditions.

"Although the floodwaters are receding, the A16/Grimsby Rd is impassable and all of central Louth is heavily congested, so please take other routes where possible."
– Lincolnshire County Council
Trinity Lane has been closed due to a suspected gas leak and residents have been asked to leave their homes.
A shop in Louth has been evacuated after flash floods this morning.
Affected areas include Church Street, Eastfield Road, Keddington Road and Horncastle Road and the Co Op store has been temporarily evacuated.
A smell of gas has been reported in Eastfield Road and the situation is currently being assessed.
Standing water may contain hazards including displaced drain grates so members of the public are advised to avoid flooded areas and to follow the advice of police and fire officers on scene.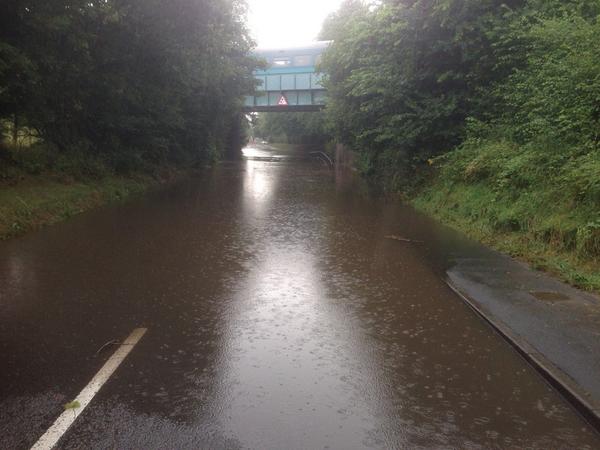 Parts of the Midlands are dealing with flash flooding this morning. This photo shows Newport road in Albrighton is closed because of flooding.
Is there any flash flooding where you live? Email your photos to centralnews@itv.com with your name and location.
Load more updates