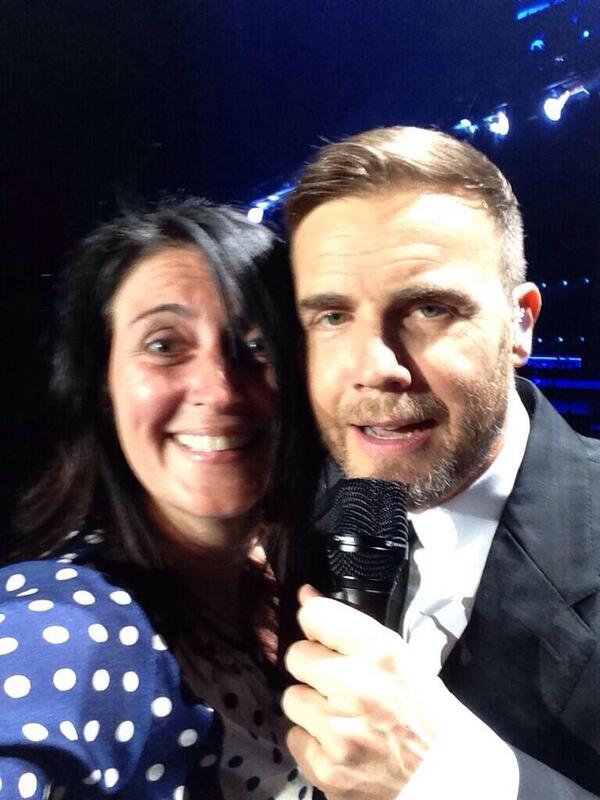 A school principal from Derbyshire has managed to fulfil a lifelong dream to meet Gary Barlow.
Angela O'Brien who is principal at Wyndham Primary Academy in Alvaston masterminded a plan to appear on stage with Gary Barlow at his show is Sheffield.
She made a banner, booked two front row seats and even tweeted Gary Barlow in advance with #anythingispossible.
The idea was to show her pupils that you can achieve your dreams.
Advertisement
It was one lucky night for Gary Barlow super fan Hayley Tatton from Walsall - now she wants to remember it forever...
Read the full story ›
Gary Barlow has added an extra Birmingham date to his UK tour.
The Take That band member and ITV's X Factor judge will perform at Birmingham's LG Arena on 19 April 2014.
Tickets will go on sale this Friday (18 October) at 09.30.
When it comes to attention grabbing ways to raise money for charity you need all the right ingredients and that is what we got in Birmingham today.
It consisted of a pink Rolls Royce, a member of Take That and lots of screaming fans. Lucy Kite can tell us more.
Four celebrities including Take That's Gary Barlow, will be arriving at Birmingham today as part of a cross-country charity event.
The X-Factor judge will be joined by Chris Evans, Professor Brian Cox and James May. They'll be arriving at the NEC, car park N1, in a pink Rolls Royce. They're expected to arrive at 4pm.
The event will see the self-styled Fab 4 drive from John O'Groats to Land's End in a bid to raise over £1m for Breast Cancer Care.
Advertisement
Gary Barlow, Chris Evans, James May and Brian Cox will drive through the Midlands today in a pink Rolls Royce raising money for Breast Cancer Care.
The challenge will see them driving from Land's End to John O'Groats in a bespoke pink Rolls Royce Ghost.
They want to try and raise £1 million in 24 hours.
The four celebrities will stop off in Birmingham as part of their trip to meet breast cancer sufferers from the Midlands.
Gary Barlow is being joined by celebrity friends today as he heads off on a charity drive from Land's End to John O'Groats.
Read the full story ›
With a campaign looking into online bullying being launched, we look at five celebrities who have been the victims of web trolls.
Read the full story ›