Update for inc in Grantham, incident now being scaled down to 6 pumps. Appliances from @nottsfire & @commsleicsfire now being released.
10 pumping appliances and an Aerial Ladder Platform are currently attending a large factory fire in Grantham. Updates will follow.
Advertisement
Ten fire engines are in attendance at a large factory fire in Grantham. Crews from the Lincolnshire Fire & Rescue Service were called to the Environcom recycling plant in Spittlegate Level, earlier this evening. More to follow...
Parking charges are to go up at hospitals in Lincoln, Grantham and Boston for the first time in five years.
United Lincolnshire Hospitals NHS Trust's board voted on the price rises - which will take effect from 1 June.
A daily £1.50 charge will be implemented for Blue Badge holders at Lincoln County, Boston Pilgrim and Grantham District hospitals - it is not known when this will begin.
Prices will go up from £1.20 to £1.40 for a one-hour stay, from £3 to £3.40 for up to four hours and from £3.50 to £4 for up to six hours.
The trust says it has financial challenges to meet and the cost of providing car parks increases year on year.
A new sculpture goes on display today as the first anniversary of the death of Margaret Thatcher approaches.
The bronze bust by artist and sculptor Lisa Hawker will be on display at Grantham Museum from today until 30th April.
Since her death Grantham Museum has seen a big increase in the number of visitors and now have an extensive exhibition on the first female Prime Minister of Great Britain.
The Museum will be open on Tuesday 8th April, the first anniversary of Margaret Thatcher's death, to allow visitors to read condolence books signed last year.
Lincolnshire Police has confirmed that no arrests were made during or in the aftermath of a demonstration by the English Defence League and a counter demonstration by Grantham Solidarity Network. The cost of policing the event is still unknown at this stage.
Advertisement
Lincolnshire police on duty in Grantham say two opposing protests which took place in the town passed off peacefully. Around 250 officers - some drafted in from other forces - were on duty.
The English Defence League were in the town protesting against plans to build an Islamic Community Centre. Grantham Solidarity Network staged a counter protest.
Two opposing protests are underway in Grantham. Around 200 members of the English Defence League are demonstrating against plans to build an Islamic Cultural Centre in Grantham. They marched into town chanting various slogans and were quickly tunnelled by police to a cordoned off area.
Just metres away members of the Grantham Solidarity Network are saying extremist views are not welcome in their town. It is estimated around 250 police officers, some drafted in from other forces, are on duty. So far the protests are passing peacefully.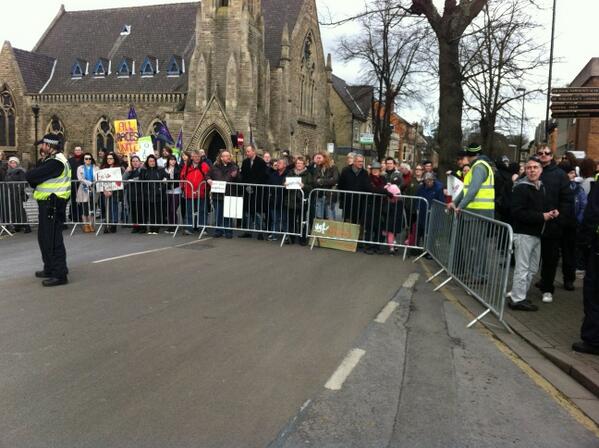 Load more updates