Police have released an image of somebody they want to speak to after inappropriate comments were made to two teenage girls on a train.
It happened as the pair travelled on the 12.15pm Skegness to Nottingham train on Saturday, 22 August.
Both girls, aged 16, were travelling together on the train when a man boarded at Grantham and sat down next to them before making a number of inappropriate comments which made them feel understandably uncomfortable.
– PC Joshua Dunn, investigating
British Transport Police are issuing CCTV images of a man they wish to speak to in connection with the incident, as they believe he may hold key information which will help them to investigate what happened.
Anyone with information is asked to contact British Transport Police on 61016, quoting reference MSUB/B8 of 5/10/2015.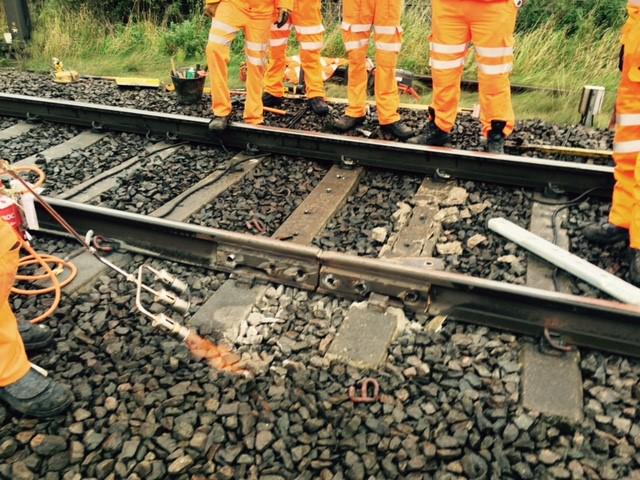 Disruption is expected until at least 13:00.
Advertisement
The A1 at Grantham in Lincolnshire has been closed in both directions due to an accident between B1174 Great North Road (Great Gonerby turn Off) and A46 / B6166 Lincoln Road (Newark Showground / Air Museum turn Off).
There are reports of heavy congestion on the northbound carriageway to Whalebone Lane (Little Ponton turn off) and on the southbound carriageway to B6325 (North Muskham).
The accident happened just north of Grantham. The air ambulance has been at the scene.
Diversions are in place.
Detectives investigating the unsolved murder of a mother-of-two have obtained a DNA profile which may identify her killer.
Read the full story ›
Police investigating the murder of a woman in Grantham 21 years ago say a new development has come to light which could help them find her killer.
Julie Pacey was found dead at her home on Longcliffe Road in September 1994.
New footage explaining the development will be broadcast on Crimewatch tonight.
The A1 near Grantham has fully reopened after a lorry carrying fruit and vegetables collided with a Highways England vehicle.
Read the full story ›
Advertisement
The teenager had left it outside the back door to dry off the wheels when it was taken.
Read the full story ›
Former Tory MP Harvey Proctor has said he is assisting police with its enquiries but continued to deny being part of a "rent boy ring".
Detectives from the Metropolitan Police's Operation Midlands have been searching his home, which is located within the grounds of Belvoir Castle, near Grantham, Leicestershire, as part of an investigation into historical child sex claims.
Earlier in an interview with BBC Radio 4's Today programme, Mr Proctor denied attending sex parties with other MPs in the 1970s and 1980s and said he knew nothing of an alleged VIP paedophile ring in Westminster.
Addressing the media later, Mr Proctor continued to deny the allegations saying: "I have nothing to add to this Kafka-esque fantasy".
Former Conservative MP Harvey Proctor has denied being part of a "rent-boy ring" or attending sex parties with other prominent figures, after his Leicestershire home was searched by police investigating historic allegations of child sex abuse.
Mr Proctor - who left Parliament in 1987 after pleading guilty to acts of gross indecency - said he knew nothing about a VIP paedophile ring alleged to have existed at Westminster during the 1970s and 1980s, or allegations that three boys linked to the abuse were murdered.
He told BBC Radio 4's Today programme: "I find myself in a very Kafka-esque fantasy situation.
"The police have said basically that they are investigating historical sex abuse allegations going back to the 1970s and 1980s.
"I have never attended sex parties at Dolphin Square or anywhere else. I have not been part of any rent-boy ring with Cabinet ministers, other Members of Parliament or generals or the military.
"I conducted my private life in a discreet manner. It wasn't I who outed myself, it was the press who did an assortment of things to out me.
"I was a discreet person and regarded in the House of Commons as a very independent MP and a loner. The last thing I would have dreamed of doing was talking to other MPs or ministers or anyone else about my private life. It wasn't that I was ashamed of being a homosexual, it was that I didn't think it mattered a damn to the work I did on behalf of my constituents."
Mr Proctor said he was keen to be interviewed by police as soon as possible to clear his name.
"The police wish to interview me," he said. "They talked in terms of that interview taking place in a matter of weeks. I asked for that interview to take place at the earliest opportunity."
Officers are investigating allegations that three boys linked to the alleged ring were murdered.
Mr Proctor represented Basildon in Essex from 1979 to 1983 and Billericay, also in Essex, from 1983 to 1987. He also sat on the executive of the right-wing pressure group the Monday Club.
Load more updates