A search is ongoing for a 70-year-old man who walked out of Heartlands Hospital in Birmingham last night (February 2nd). Robert Jamison is said to have dementia. West Midlands Police are asking anyone with information to call them on 101.
A major incident was declared at Heartlands Hospital after its A&E department was flooded following torrential rain.
Patients had to be transferred to other areas of the hospital for treatment and people were asked to visit their nearest walk-in clinic in the aftermath of the rain.
Advertisement
Two members of staff who work as porters at Heartlands Hospital have saved the lives of their loved ones by donating their kidneys.
Read the full story ›
Birmingham City players will pay a special Christmas visit to the children's ward at Heartlands Hospital today.
Team members will hand out gifts to patients as part of their 'Blues Give a Gift' campaign.
A salmonella outbreak affecting at least 23 victims has forced the Heartlands Hospital in Birmingham to close down eight wards as a leading public health lawyer calls for a probe into what caused the infection.
The Heart of England NHS Foundation Trust has confirmed that four of its staff and 19 patients have tested positive for a common strain of salmonella.
Amandeep Dhillon, a leading public health lawyer, has called for an investigation into the outbreak.
Mr Dhillon said the "unusual" outbreak, which has left eight people in a stable condition at Birmingham's Heartlands Hospital, might provide lessons to help prevent future outbreaks.
"Attention will then need to turn to identifying the cause of the infection. This will be essential to provide victims and their loved ones with the answers they will want as to what caused their illness," Mr Dhillon said.
Symptoms of salmonella include diarrhoea, stomach cramps and sometimes vomiting and fever.
Information on the Salmonella bug, which has found its way into eight wards at a Birmingham hospital.
Read the full story ›
Advertisement
Heartlands Hospital have confirmed that twenty patients and three members of staff are among those suffering from Salmonella-like symptoms, which include diarrhoea and vomiting.
Medical Director of the hospital, Dr Andrew Cotto, said:
Any infection in someone who is already ill can be very serious and we are taking every precaution possible to protect our patients and staff. We are concerned by the spread and number of patients who have tested positive, as this is unusual. Not all community Salmonella cases get reported as many people recover quickly and do not feel the need to go to see their GP...
...Usually, we see between two and four cases across the West Midlands reported monthly and for a hospital to see this number in such a short space of time requires expert investigation. This is why we are working closely with environmental health experts to continually carry out testing and cleaning. The key to preventing Salmonella passing from one person to another is correct hand washing and I am asking all visitors to ensure that they wash their hands on entry to any ward area and wash them on exit. The hospital is also asking visitors not to bring food in to the affected areas...
...We are doing everything possible for our patients, with clinical teams caring for and treating patients who are affected, and working with none affected patients to ensure their continued safety.
Heartlands Hospital, in Bordesley Green, has closed eight wards to visitors while it deals with an outbreak of Salmonella.
A mixture of 28 staff and patients have been affected by the outbreak and experts are concerned it might spread further into the community.
All areas of the site are being deep cleaned whilst patients are being tested for bacteria, although the bug has not been found in hospital food or water.
Visitors are advised not to visit the hospital if they have experienced symptoms in the last 48-hours.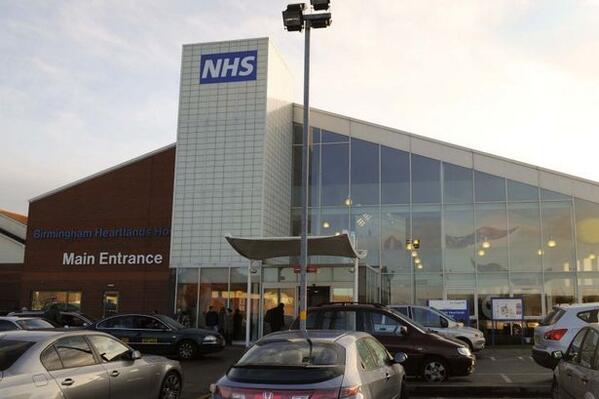 The maternity ward at Heartlands Hospital in Birmingham had to be evacuated in the early hours of this morning after a fire in a nearby storage building.
The fire is now out and an investigation is underway.
Load more updates