A 28-year-old man from Redditch has been arrested following a school bus crash in Hereford.
The coach was found down an embankment on the B4339 after it crashed and overturned during Monday morning's rush hour, at around 8.30am.
More than 20 people, most of them children, had to be taken to hospital.
Police investigating have questioned the driver of another vehicle on suspicion of causing injury by dangerous driving.
An investigation's continuing after a school bus crashed and overturned in Hereford.
More than 20 people, most of them children, were taken to hospital after the crash yesterday morning.
Some people were treated by paramedics at the scene.
Advertisement
More than 20 people, most of them children have been taken to hospital after their school bus crashed and overturned in Hereford. Seven ambulances were called to the scene where the vehicle was found down an embankment with the female driver trapped inside.
Around fifty people were assessed by paramedics at the scene with the driver and a further 25 pupils thought to be aged around 14, taken to Hereford county hospital. Our correspondent Mark Gough sent this report from the scene.
These are pictures from the scene of a dramatic bus crash in Herefordshire this morning, when the vehicle carrying schoolchildren skidded off the road down an embankment.
There were more than 50 people on board, and luckily all passengers were able to escape front he bus with just minor cuts and bruises.
A school bus of almost 50 people, carrying mainly children, has overturned in Hereford.
Seven ambulances and paramedics were called to the scene, where they found the bus which had reportedly travelled down an embankment, before overturning on its side.
The driver was trapped inside but was freed by the fire service, all of the passengers managed to escape from the bus.
Some of the students, who are thought to be around 14-years-old, have been taken to Hereford County Hospital for treatment.
A second bus was sent to the scene to help transport approximately 20 uninjured pupils back to their school. A senior paramedic officer travelled on board the bus with the children. A further 19 patients, who had suffered a range of minor injuries such as cuts and bruising, were taken to the same Hospital for further triage by other means of transport."
– West Midlands Ambulance Service spokesman
The A449 Southbound is closed in Ross-on-Wye because a lorry has shed its load at the A40 / B4234 Ledbury Road / Netherton Road.
The closure is affecting traffic heading away from the M50 towards Monmouth.
Advertisement
Residents and businesses are being warned to keep their doors and windows closed after a fire broke out at a farm in north Herefordshire.
The blaze has engulfed several buildings at Manor Farm, near Orleton, including those housing baled straw and hay, farm machinery and livestock.
All livestock has been moved to safety.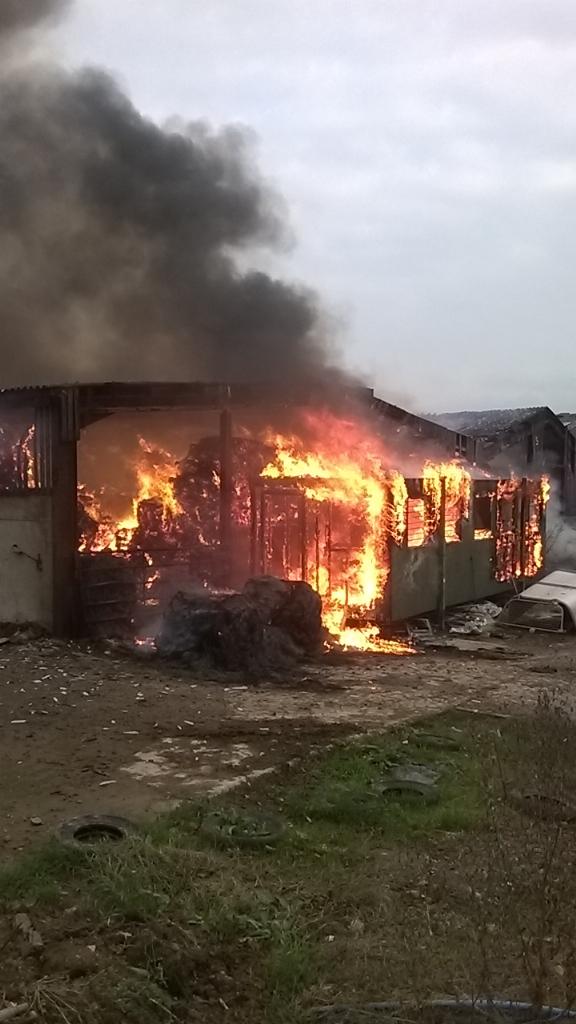 Four men have been taken to hospital after a pick-up truck was split in two when it smashed into a tree.
The casualties were cut free from the cab of the truck near Kington, Herefordshire, after it became detached from the vehicle's chassis.
Four ambulances were sent to the scene of the crash, which happened two miles outside Kington at around 4.10am today.
A West Midlands Ambulance Service spokesman said: "Crews arrived to find a 4x4 pick-up truck that is believed to have left the road and hit a tree.
"It appears the cab of the truck has then become completely detached from the rest of the chassis and come to rest in the road with the occupants trapped inside.
"Four men, all believed to be in their twenties, suffered injuries in the crash and all received treatment from medics at the scene whilst being extricated."
Two men suffering serious injuries were taken to hospital in Birmingham, while the remaining casualties were transferred to Hereford County Hospital for treatment.
"Considering the catastrophic damage to the vehicle, all four were fortunate not to have suffered more serious, possibly fatal injuries," the spokesman added.
A 12-year-old Kenyan boy has described how he was raped by a man from Herefordshire who is on trial at Birmingham Crown Court charged with multiple sex offences.
Simon Harris, from near Leominster, denies 22 charges including rape and sexual assault, and also faces five counts of possessing indecent images of children.
The boy said he was nine at the time of the alleged rape, and appeared by video link with an interpreter.
Harris, a former teacher who was working for a charity in Kenya, is alleged to have abused 11 boys between 2001 and 2013. He denies the charges.
A former teacher and charity boss from Herefordshire "preyed" on Kenyan street children as young as six years old, a jury has been told.
Read the full story ›
Load more updates