Police in Hereford are conducting door to door enquiries after a trail of blood was found in Bishops Meadow in Hereford early this morning.
The trail stretched from Victoria Bridge through Hinton Avenue and appears to originate near to Nelson Street.
Blood was also found on and near benches along the river.
Advertisement
An important collection of cider apples, which includes almost 300 varieties of tree, has been given to the National Trust.
Read the full story ›
Thousands of mourners are expected to pay their last respects to John "Brummie" Stokes, the former SAS soldier who died aged 70.
Read the full story ›
Detectives have issued a global appeal to help identify a man who was found 'wandering' on a street in Hereford ten weeks ago.
Read the full story ›
Dale Griffin, the drummer and founder member of Herefordshire rock group Mott the Hoople has died aged 67.
Read the full story ›
Advertisement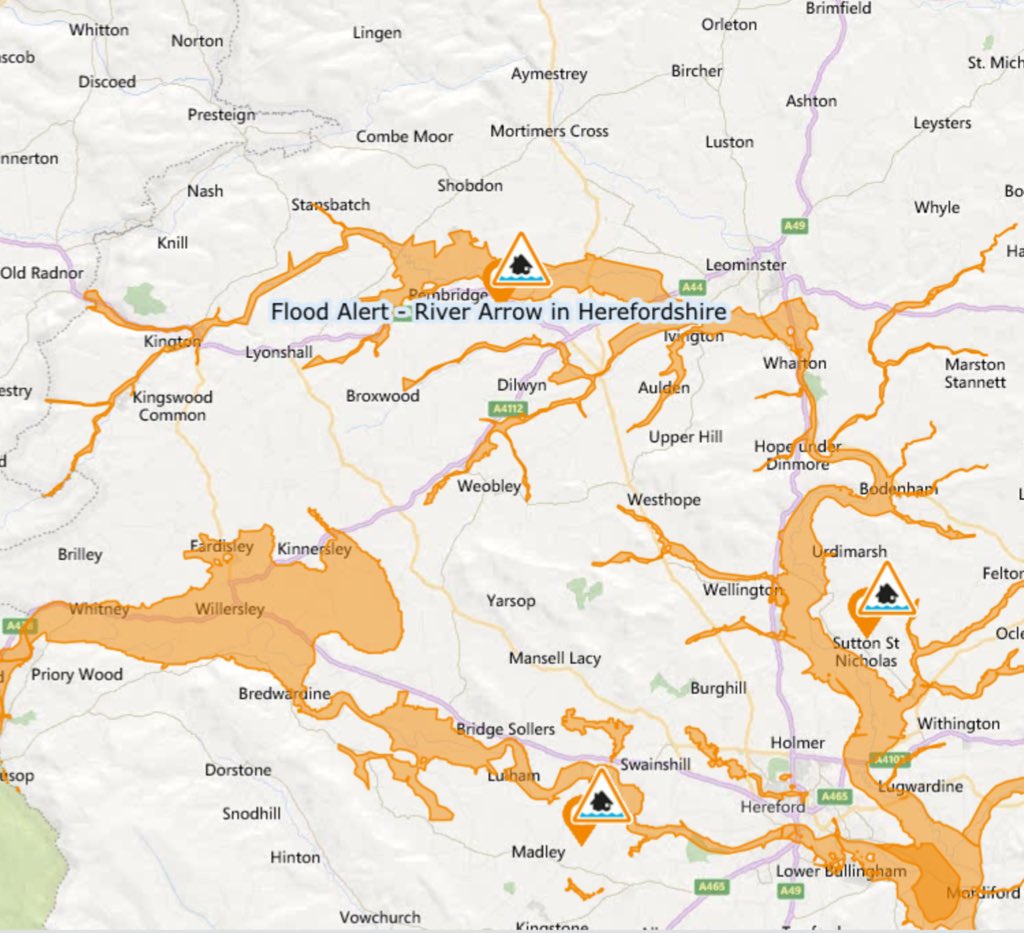 A man from Herefordshire who is part of the first all-amputee team taking part in the world's toughest rowing race is celebrating Christmas with tinned fruit. Nigel Rogoff, who's 56, is among four team members covering around 300 miles during the first five days of the Talisker Whisky Atlantic Challenge.
Nigel and his colleagues set off last Sunday to cross the Atlantic from La Gomera in the Canary Islands to Antigua in the Caribbean. Their Row2Recovery crew is one of 26 teams taking part in the annual Challenge, which depending on weather conditions, can take between 40 and 90 days to complete.
Nigel, a former RAF flight sergeant, lost his leg above the knee after being injured during a charity sky dive at Aston Villa's home ground in 1998.
"You have to encourage injured people to stick their heads out the front door and crack on with life, which is exactly what we're all doing.

It's hard going but wouldn't be the same if it wasn't and we wish everyone a Merry Christmas.We are eating tinned fruit and adding water to our dry food packs - there's not much room for turkey on our rowing boat.

We're missing our families but looking forward to hitting Antigua in 40 or so days' time a bit worse for wear but it's worth it for our great charities".
– Nigel Rogoff
"The seasickness has well and truly kicked in with two members of the team struggling to eat anything since they set off.

Their aim is to head south as quickly as they can to benefit from stronger currents. The conditions have also brought a new challenge where the oars are getting pushed by the force of the sea against their prosthetics sending them flying off their seats."
– Team's Facebook page, day three
A faulty Christmas light can burn down an entire room in 46 seconds, Hereford and Worcester Fire and Rescue Service have said.
Reminding the public about the fire hazards, they have have urged that Christmas lights should be thoroughly checked during the festive season.
The fire service has released this video:
Load more updates