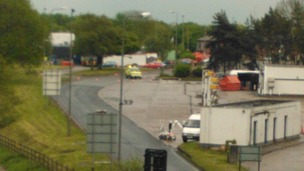 Police have apologised to motorists tonight after closing the M6 motorway during peak time for the Bank Holiday getaway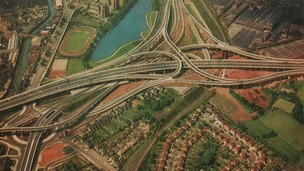 Today marks the 40th anniversary of the Spaghetti Junction, designed to link major motorways, with the heart of Birmingham.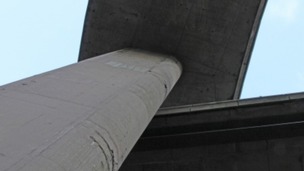 Art lovers are being told 'lie back and think of Brum' in an exhibition to celebrate the 40th anniversary of Spaghetti Junction.
Live updates
Police updates
#M6 #Warwickshire J4-J3A please take care there is a car travelling the wrong way down the motoroway. Police en-route.
Drivers are being warned to take care as a car is travelling the wrong way down the M6 motorway in Warwickshire.
The Highways Agency have said that police are currently on their way.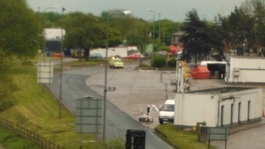 Police have apologised to motorists tonight after closing the M6 motorway during peak time for the Bank Holiday getaway
Read the full story
Advertisement
Lifesaving traffic cone launched
A Leicestershire company has invented a traffic cone which could help save lives.
Eight roadworkers have been killed in the last three years but now the Intellicone could help to reduce that number.
It has an in-built alarm which screeches if it is touched and sends a warning text message to workers. Kate Fisher reports.
Lifesaving traffic cone launched
Lifesaving traffic cone launched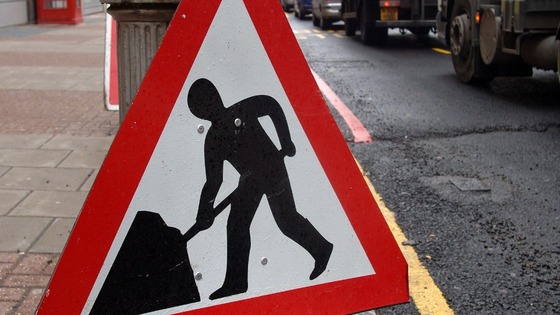 An 'intelligent' road cone which screams when hit by a vehicle will help save lives, claims the Highways Agency.
In the last three years, eight roadworkers have been killed by motorists while undertaking maintenance work on motorways and major A roads.
The cone works by 'screaming' when it's hit by a passing vehicle, which often happens at high speed.
This week the Highways Agency, which is responsible for the road network in England, is campaigning for drivers to take extra care and obey speed limits through roadworks.
National
The M6 northbound is closed in both directions between junctions J14 and J15, due to a serious accident, the Highways Agency have said.
Northbound traffic is being diverted leaving at J14 and rejoining J15 following the 'Hollow Triangle' symbol signed diversion, via the A34 and A500.
The road expected to re-open from 5:30 pm.
Advertisement
M6 Toll Incident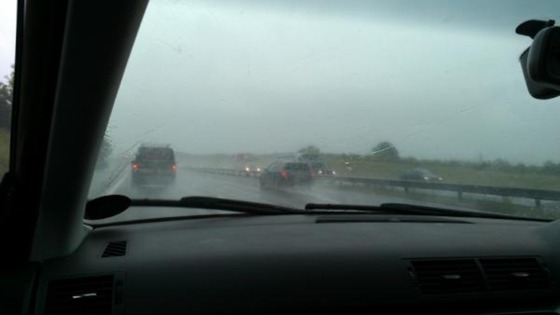 The Highways Agency is advising drivers to check the weather forecast and road conditions before travelling, as heavy rain is expected throughout the region today.
Simon Sheldon-Wilson at the Highways Agency said:
"I advise drivers to plan their journeys before setting out, check the weather and traffic conditions, leave extra time for their journeys if travel conditions are poor, and delay their journey if the weather becomes severe.
"Rain and spray can reduce visibility and when the road is wet it can take up to twice as long to stop so it makes sense to slow down when it's raining.
"It's also important to remember that surface water may affect motorways and major A roads where heavy rainfall occurs."
The Highways Agency say it's lifting or completing almost 90 percent of its roadworks for the Jubilee bank holiday to keep traffic moving.
Around 275 miles of works will be completed before the double bank holiday and a further 43 miles will be lifted between Friday 1 June and Wednesday 6 June, providing extra lane space for holiday traffic.
Some locations in the Midlands include the A46 near Stratford Upon Avon and A42 at Ashby de la Zouch.
For full details and a map go to the Highways Agency map.
Spaghetti Junction: Forty Years
It costs £7m a year to maintain the junction and because it's split over 5 levels making repairs pretty tricky.
Salt from winter gritting eats into the concrete and decaying sections are cut away using a super high-pressure water jet. They're then cleaned up with a pneumatic hammer and re-concreted back to their original condition.
Spaghetti Junction: Forty Years
The spaghetti junction was designed in 1972 to carry 75,000 vehicles a day but it currently takes three times that.
The plan back then was to link the existing sections of the M1, the M5 and the M6 - and provide a major route in and out of Birmingham. Gravelly Hill, just north of the city centre, was chosen as the site and the M6 and A38(M) or Aston Expressway were the mainstays of the new junction.
But existing local roads also had to be incorporated - resulting in 18 routes spread over 30 acres. A Birmingham newspaper journalist likened the junction to a plate of spaghetti - and the name was born. Andy Bevan looks back at the history of the spaghetti junction.
Load more updates
Back to top