A tribute to Labour politician Tony Benn will be held in the Commons today.
The former Chesterfield MP died at home last week aged 88. The Commons speaker has also asked the Queen if his body can rest in the parliamentary chapel overnight before his funeral.
Wesley Smith recalls the time he spent with the former MP for Chesterfield, Tony Benn, who died at his home today at the age of 88.
Read the full story ›
Advertisement
Education Secretary Michael Gove has paid tribute to former Chesterfield MP Tony Benn, describing him as a "spellbinding" speaker with a "luminously generous" personality.
During a visit to schools in the East Midlands, Mr Gove told ITV News Central that Benn had made politics a "noble calling".
Alison Mackenzie Political Correspondent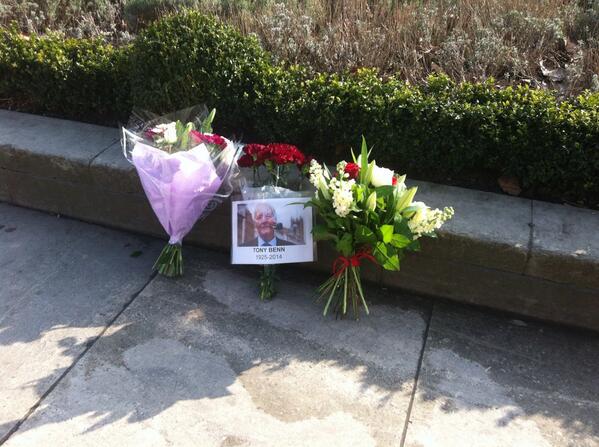 David Cameron has said Tony Benn's death is a "sad day for British politics" and described the former MP as "an extraordinary man, a great writer and a brilliant speaker".
Voted several times the 'most popular politician in Britain,' Labour stalwart Tony Benn continued campaigning and making speeches well into his 80s.
Political Correspondent Romilly Weeks looks back at his life in politics:
Advertisement
Labour leader Ed Miliband paid tribute to an "iconic figure of our age" Tony Benn.He said: "He will be remembered as a champion of the powerless, a great parliamentarian and a conviction politician.
"Tony Benn spoke his mind and spoke up for his values. Whether you agreed with him or disagreed with him, everyone knew where he stood and what he stood for.
"For someone of such strong views, often at odds with his party, he won respect from across the political spectrum."
He went on: "This was because of his unshakeable beliefs and his abiding determination that power and the powerful should be held to account.
"He believed in movements and mobilised people behind him for the causes he cared about, often unfashionable ones. In a world of politics that is often too small, he thought big about our country and our world.
"Above all, as I had cause to know, he was an incredibly kind man. I did work experience with him at the age of 16. I may have been just a teenager but he treated me as an equal. It was the nature of the man and the principle of his politics."
Prime Minister David Cameron has paid tribute to veteran Labour politician and former Chesterfield MP Tony Benn.
Tony Benn was a magnificent writer, speaker and campaigner. There was never a dull moment listening to him, even if you disagreed with him.
By any standards Tony Benn's was a rich and fascinating life - born into a political family he met Gandhi and Lloyd George before his teens.
Read the full story ›
Sad to hear that my predecessor in Chesterfield Tony Benn has died. He was a kind man,a political giant& one of the great orators of any era
Admired so many things about Benn: unwavering principles; always open to new ideas; stellar political speaker but unfailingly courteous.
Terribly sorry to hear about Tony Benn. Thoughts are with all his family and many friends…
Load more updates