Alison Mackenzie Political Correspondent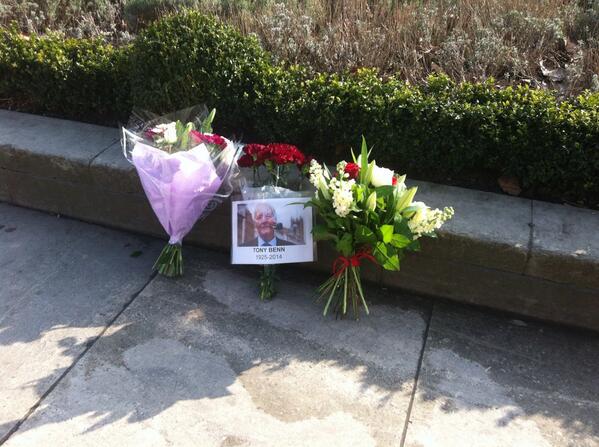 David Cameron has said Tony Benn's death is a "sad day for British politics" and described the former MP as "an extraordinary man, a great writer and a brilliant speaker".
Advertisement
Voted several times the 'most popular politician in Britain,' Labour stalwart Tony Benn continued campaigning and making speeches well into his 80s.
Political Correspondent Romilly Weeks looks back at his life in politics:
Labour leader Ed Miliband paid tribute to an "iconic figure of our age" Tony Benn.He said: "He will be remembered as a champion of the powerless, a great parliamentarian and a conviction politician.
"Tony Benn spoke his mind and spoke up for his values. Whether you agreed with him or disagreed with him, everyone knew where he stood and what he stood for.
"For someone of such strong views, often at odds with his party, he won respect from across the political spectrum."
He went on: "This was because of his unshakeable beliefs and his abiding determination that power and the powerful should be held to account.
"He believed in movements and mobilised people behind him for the causes he cared about, often unfashionable ones. In a world of politics that is often too small, he thought big about our country and our world.
"Above all, as I had cause to know, he was an incredibly kind man. I did work experience with him at the age of 16. I may have been just a teenager but he treated me as an equal. It was the nature of the man and the principle of his politics."
Prime Minister David Cameron has paid tribute to veteran Labour politician and former Chesterfield MP Tony Benn.
Tony Benn was a magnificent writer, speaker and campaigner. There was never a dull moment listening to him, even if you disagreed with him.
By any standards Tony Benn's was a rich and fascinating life - born into a political family he met Gandhi and Lloyd George before his teens.
Read the full story ›
Advertisement
Sad to hear that my predecessor in Chesterfield Tony Benn has died. He was a kind man,a political giant& one of the great orators of any era
Admired so many things about Benn: unwavering principles; always open to new ideas; stellar political speaker but unfailingly courteous.
Terribly sorry to hear about Tony Benn. Thoughts are with all his family and many friends…
Veteran Labour politician Tony Benn died this morning at his home in west London surrounded by family members.
In a statement his children Stephen, Hilary, Melissa and Joshua said:
It is with great sadness that we announce that our father Tony Benn died peacefully early this morning at his home in west London surrounded by his family.

We would like to express our heartfelt thanks to all the NHS staff and carers who have looked after him with such kindness in hospital and at home.
We will miss above all his love which has sustained us throughout our lives. But we are comforted by the memory of his long, full and inspiring life and so proud of his devotion to helping others as he sought to change the world for the better.

Arrangements for his funeral will be announced in due course.
The former Labour Cabinet minister Tony Benn has died at home today at the age of 88, his family said in a statement.
Former Chesterfield MP, Tony Benn is spending his fourth night in hospital and is understood to be "seriously ill".
The 88-year-old former Cabinet minister was admitted to hospital over the weekend.
A family spokesman said: "Tony Benn was taken to hospital on Saturday evening after feeling unwell. He is currently receiving treatment."
Mr Benn entered Parliament in November 1950 and served in the Cabinet under Harold Wilson and Jim Callaghan.
He campaigned against EU membership, oversaw the development of Concorde, narrowly missed out on election as Labour deputy leader in 1981, and was instrumental in party's 1983 manifesto.
He held a seat as MP for Chesterfield from a by-election in 1984 until 2001 when he stepped down from Parliament.
Mr Benn remains a significant figure in the Labour movement - in particular as a staunch opponent of the Iraq War.
Load more updates