Northampton claimed a club-record seventh straight win in emphatic style as a 4-0 victory at Leyton Orient.
Read the full story ›
Advertisement
Play-Off Final Wembley Stadium Burton Albion 0. Fleetwood Town 1 Sarcevic 75
Burton Albion 0 Fleetwood Town 1 (Antoni Sarcevic 75)
Hundreds of Burton Albion fans are on their way to Wembley Stadium as the club takes on Fleetwood Town in the League Two play-off final.
The fans gathered outside the Pirelli Stadium to catch coaches to the match, which kicks off at 3pm today.
Victory will seal Burton Albion's promotion, pushing them up into League One for next season.
Advertisement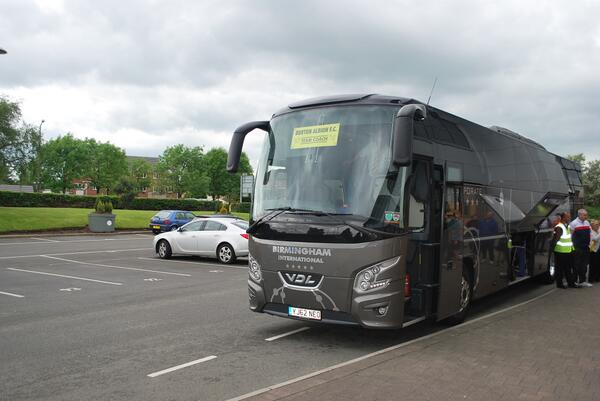 Burton Albion manager Gary Rowett has told the media his side's League Two play-off final is a "great occasion".
Burton Albion take on Fleetwood at Wembley on Bank Holiday Monday.
The winner of the encounter will be promoted into League One.
The chairman of Burton Albion says promotion to League One would be a a great thing for the club. The Brewers beat Southend on Saturday to get into the League Two Play-off final at Wembley against Fleetwood a week today.
Last night 5,000 tickets had been sold, out of a total of 21 thousand on offer.
Some Burton Albion fans had an early start this morning to queue for tickets for the League Two Play-off final.
Twenty one thousand fans will get the chance to go to Wembley on Bank Holiday Monday for the crucial clash against Fleetwood. The Chairman of the club Ben Robinson described exactly what promotion could mean for the Brewers.
Load more updates