Police are asking for the public's help in tracing missing teenager Molly Dawes.
The 16-year-old was last seen in Coalville at about 2:15pm on Thursday. Her family is increasingly concerned for her welfare.
Molly - who is from the Coalville area in North Leicestershire - is about 5ft 4ins tall, of slim build, and has long wavy brown hair.
She was last seen wearing a dark blue bomber jacket, light blue jeans and trainers.
When the remains of King Richard were found buried in a car park, the city of Leicester became big news.
Since that day, it has worked hard to capitalise on the attention, with various tourist attractions and visitor centres, as well as this weeks series of events to mark the reburial. As a result, the city has seen a boom in tourism.
Rajiv Popat reports on the financial impact King Richard III has had on the region.
Advertisement
Patients in the East Midlands will be able to see a GP or a nurse at weekends and evenings by phone, video or email under government plans
Read the full story ›
Former Tory MP Harvey Proctor has retired as private secretary to the Duke of Rutland at Belvoir Castle in Leicestershire.
Read the full story ›
One lane closed and slow traffic due to accident, lorry involved on M6 Northbound after M1 J19 / A14 (Catthorpe Interchange).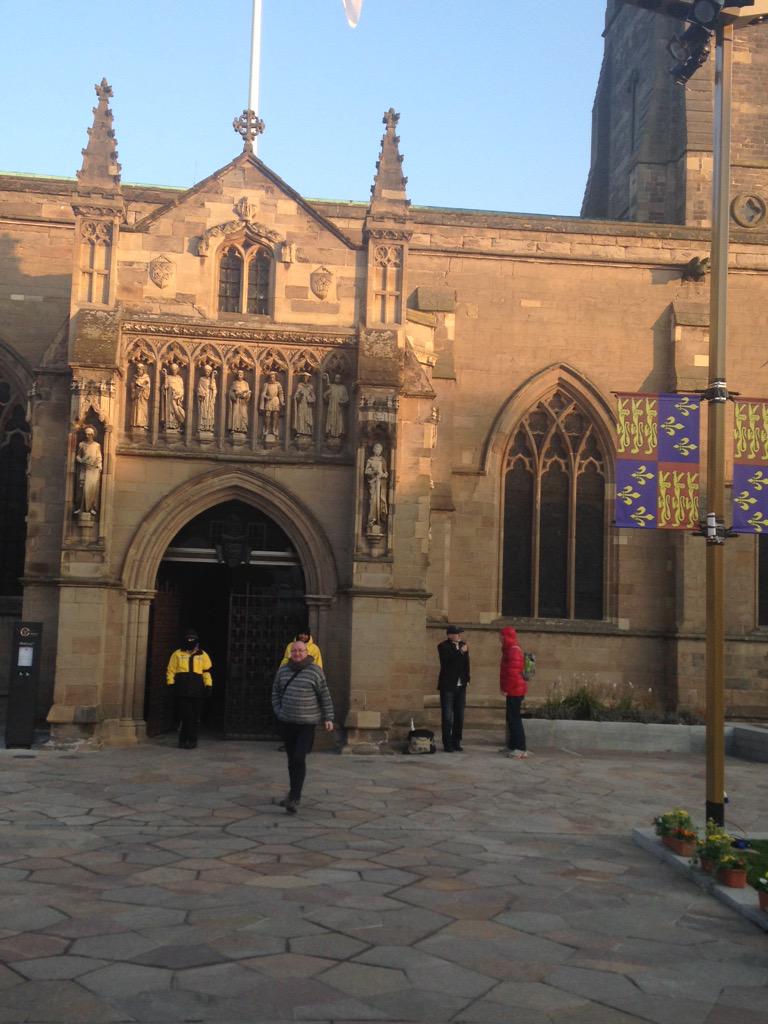 Advertisement
A dawn vigil and a re-enactment marked the start of a special day for Leicestershire, as the region prepares for the re-burial of King Richard.
Staff from the Bosworth Battlefield Heritage Centre gathered at Fenn Lane farm, an area thought to be the closest point to where the King lost his life in battle.
It was in this area that the 'Bosworth Boar' was found, a solid silver, gilded badge worn by someone of high rank, such as a knight from the King's household.
This badge was found on the edge of the only dated medieval marsh, suggesting that this could be the site where Richard III lost his horse in that final melee, before losing his life on August 22nd 1485.
Thousands are expected to turn out today with the King's cortege travelling around key historical sites, before arriving at Leicester Cathedral.
The King's journey will include a private ceremony at 12:30pm at Fenn Lane Farm, where there will be the blessing of a casket of three different soils.
The coffin will also be dressed by staff from the Bosworth Battlefield Centre before it travels through the local villages on its way back into the City of Leicester.
Kasper Schmeichel may make his return for Leicester after four months out with a broken foot
Read the full story ›
The family of two Midlands servicemen who died in combat in Afghanistan are due to attend a memorial service at St Paul's Cathedral later to mark the end of military operations there.
Flight Lieutenant Rakesh Chauhan from Leicester was killed in a helicopter crash in April last year, alongside Lance Corporal Oliver Thomas from Hereford.
Campaigners have lost their fight against proposals to expand one of the largest granite quarries in Europe.
Leicestershire County Council has voted to approve plans to extend Mountsorrel Quarry.
Some residents had opposed the proposals on grounds of noise and increased dust pollution.
LaFarge Tarmac, which runs the Quarry, says that new stone is running low at the 150-year-old quarry. Currently, the site produces and distributes around four million tonnes of crushed granite each year, which is used in construction projects throughout the East Midlands, as well as nationally thanks to its rail freight link at nearby Barrow-upon-Soar.
Load more updates