The number of people visiting the Library of Birmingham fell by almost 600,000 last year.
Read the full story ›
The Library of Birmingham is to be turned red, white and blue from 7pm this evening in solidarity with the people of France following yesterday's attacks in Paris.
Mark Rogers, the City council Chief Executive confirmed on Twitter that the Centenary Square building would change into the colours of the Tricolore.
Cities around the world have lit up some of their iconic buildings following the attacks that have left nearly 130 people dead.
Advertisement
Campaigners have questioned why library users in Birmingham are facing reduced opening hours and a lack of new books as Stafford celebrates the opening of a brand new library.
Bob Whitehead from the Friends of the Library of Birmingham said there was a real contrast in the experiences of library goers in the two areas.
The Library of Birmingham had almost 2.5million visitors, but still faces cuts to hours and staff.
Read the full story ›
A public meeting into plans to cut open hours & staff at the Library of Birmingham will take place later, but can the British Library help?
Read the full story ›
Three people have been banned from Birmingham's new library for 'personal hygiene issues', according to a Freedom of Information Act.
Read the full story ›
Advertisement
Birmingham's flagship £190 million library was forced to close last night when ceiling tiles fell to the floor, just 7 months since opening.
Read the full story ›
If you're feeling blue today, you won't be the only one - as the landmark Library of Birmingham will be lit up with blue lights as part of a global awareness campaign for autism.
The city centre library will go blue from 5pm to mark World Autism Day.
It is one of thousands of high-profile buildings around the world to join in the event - including the Sydney Opera House, the Empire State Building and Niagara Falls.
It coincides with a new push by Birmingham City Council in conjunction with Autism West Midlands to highlight the issue of adult autism.
Bus and train advertisements will appear across the city, along with a radio advertising campaign, posters, and a new advice and guidance service.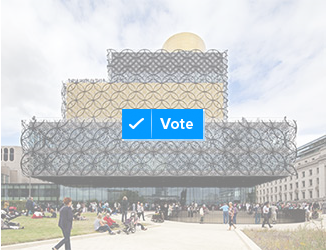 Load more updates