The East Coast rail line becomes privately run from today after more than five years in the public sector.
Read the full story ›
Parents pay tribute to a Lincoln boy whose funeral takes place today, as his grandfather awaits trial for his murder.
Read the full story ›
Advertisement
Three men who were found guilty of raping a woman in Lincoln despite a judge trying to stop their trial because he did not think there was enough evidence for a conviction have all been jailed for six years.
Pawel Chudzicki, 49, Michael Armitage, 44, and Rafal Segiet, 40, raped a 23-year-old woman at a flat in the city in 2012.
Judge John Pini QC, who jailed the men at Lincoln Crown Court, ordered their trial to be halted halfway through due to lack of evidence but this decision was overturned by the Court of Appeal in an unusual move.
The jury went on to convict the three men earlier this week.
A man has been handed a suspended sentence for stealing tens of thousands of pounds from his own mother, who was suffering from dementia.
Eileen Tozer's son Michael had spent six years withdrawing money from her bank accounts and using it to pay off his debts.
The thefts were investigated in January last year, when relatives of 90-year-old Eileen told police that they were worried that her 62-year-old son was taking money from her accounts.
While Eileen suffered with the late stages of dementia in a care home, police discovered that her son - a plumber from Tattershall Road in Kirkstead, Lincolnshire - had withdrawn about £55,000 in cash over the years.
The defendant made admissions during police interviews and he entered a guilty plea in court.
On Febraury 9, Tozer was handed a two year suspended sentence and a requirement to work 250 hours.
Police say he had been suffering with mental illness and depression for many years, and that he showed great remorse for what he had done. He has agreed to make sure that the money is repaid.
Tozer's mother died just before Christmas, and was never aware of the investigation or of the fact that her son had stolen money from her.
"This tragic story just shows how responsibility and temptation can end up tearing a family apart.

"Dementia and similar illnesses need families to seek advice about the future and make sure that measures are put in place to safeguard a vulnerable person's financial affairs.

"This has been a deeply emotional time for the whole family and clearly shows the potential dangers and the repercussions for people who are left in positions of trust and choose to cross the line.

"It was only because of the exceptional circumstances of this particular case that the defendant was not sent to prison and this needs to be seen as a warning to other families who find themselves in a similar position.

"Do not avoid the issue - seek advice and use the powers available to protect those vulnerable people in our families."
– A/DI Jim Hodgson, of Lincolnshire Police
Building work costing almost £600,000 is being carried out to improve Lincoln County Hospital's outpatients department.
The first phase of the revamp is the creation of a central reception area for many of the clinics near the main outpatient entrance.
This will be followed by improvements to clinical areas including the upgrade of treatment rooms to improve access for disabled patients, particularly people in wheelchairs.
Signs guiding people around the outpatient area will be improved along with installation of more effective and efficient lighting.
The total cost of the work will be £580,000
There will be some disruption as we will continue to run each and every clinic while the upgrade takes place. Some clinics will move to other parts of the hospital during the building programme and information about the nearest car parks and the best entrance to use will be included in appointment letters so it is important that patients look out for possible changes.
– Sandra Hayes,
The Magna Carta that is kept at Lincoln Cathedral will be brought together with the three other remaining copies for the first time ever.
All four will be exhibited at the British Library in London, marking the 800th anniversary of the documents' signing.
Advertisement
Protestors fighting proposed cuts to Lincolnshire's fire service have marched through Lincoln city centre.
They are hoping to get 3000 signatures on a petition to allow them to speak at a council meeting to oppose the changes. James Webster reports.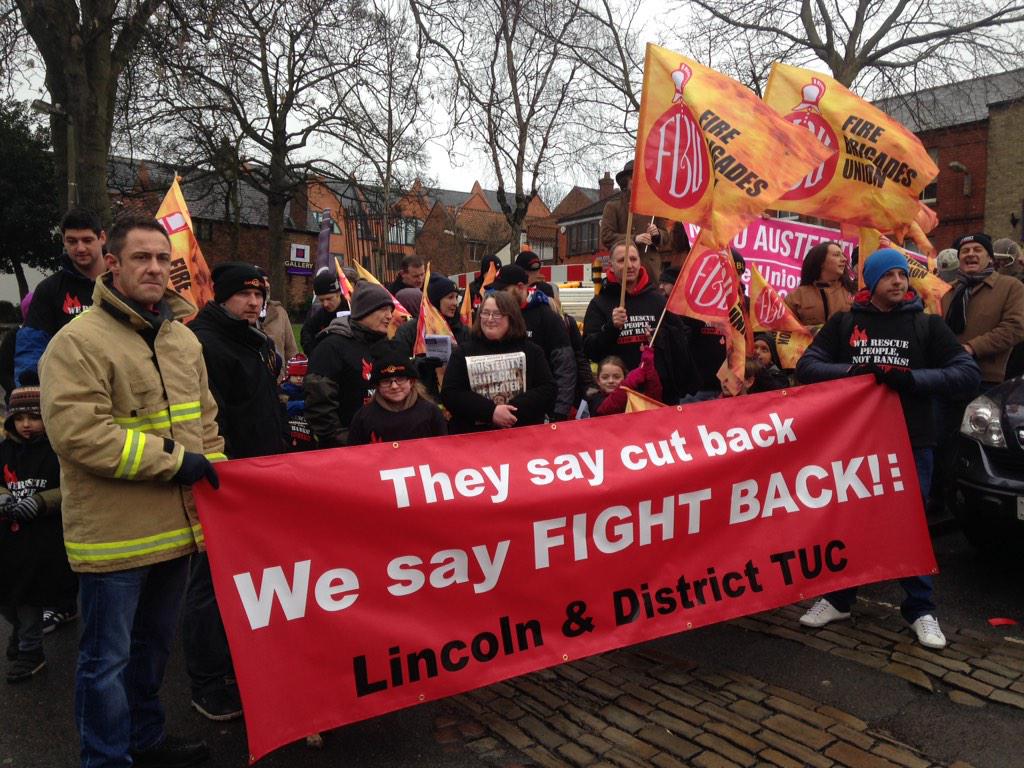 Protestors have been gathering in Lincoln to show their opposition to proposed cuts to the fire service.
The Defend Our Fire Services march started at St Martin's Square at the top of the High Street and was aimed at increasing public awareness to the effect cuts would have to response time and coverage by the service.
Campaigners in Lincoln are to march this weekend in protest to cuts which could be made to fire services in the county.
The Defend Our Fire Services march will start at St Martin's Square at the top of the High Street on Saturday 31 January from 11.30am.
Our campaign seeks to increase public awareness of how the proposed cuts to our Fire and Rescue services will impact on response times and coverage. The service has already experienced a significant reduction to its funding and consequently a further £1.23 million of cuts will have devastating affects for both fire fighters and the public. The campaign has developed real momentum so far and over 1000 people have already signed our petition. However, we still need many more signatures and we're calling on everyone who values their local fire services to march with us on Saturday.
– Elaine Smith, Defend Our Fire Services spokesperson
The Fire Brigade Union in Lincolnshire have praised the campaign saying it shows the strength of community support for the fire service:
We thank all members of the public who have thrown themselves into this campaign. It shows how strongly the local community feels about cuts to their fire service.
– Dan Taylor
The chief fire officer for Lincolnshire has argued that the proposals will enable the service to save money without reducing the service:
Obviously any reduction to the fire service is regrettable; however, we are confident that the proposals being consulted on allow us to achieve the required savings while having the least impact on the overall level of service provided. Since 2010, we have increased the number of fire engines crewed by whole-time firefighters on a 24 hour basis from two to nine, and on average our on-call firefighters across the county train for an extra hour each week. During this time there has been no reduction in the number of fire engines or fire stations and we have been able to make significant investments in new appliances and equipment, to allow our firefighters to continue to deliver a first class fire and rescue service for Lincolnshire.
– Dave Ramscar, chief fire officer for Lincolnshire Fire and Rescue
Load more updates