A teenager accused of plotting a Columbine-inspired massacre in Loughborough has been cleared of preparing an act of terrorism, after a second jury at the Old Bailey in London could not reach a decision.
More to follow.
A controlled explosion has been carried out in Leicestershire today after a hand grenade was found in a recycling bin.
Bomb disposal experts were called to the public recycling plant in Loughborough at around 10am after the explosive was spotted.
A police spokeswoman said no damage was caused, and said no further incidents had been reported.
Advertisement
High quality CCTV images of three men wanted in connection with an aggravated burglary at a Leicestershire flat have been released by police.
It's thought the men are not from Leicestershire but are from elsewhere in the East Midlands, and investigating officers hope someone will recognise their faces.
Video footage shows three men wielding a sledgehammer trying to smash their way in to the flat in Tuckers Road, Loughborough, in a violent raid on December 21 last year.
The trio were forced to leave empty-handed as the resident managed to keep them out.
Det Cons Steve Briance urged anyone with any information to get in touch.
This was a shocking incident and fortunately the victim wasn't injured but substantial damage was caused to the front door.
There is a strong possibility that the suspects may not be from the Leicestershire area and we are appealing to people living in the East Midlands region to contact us if they recognise any of these men.
We would also like to speak to anyone who may have any information about the incident, it took place during the weekend just before Christmas and we appreciate this was some time ago but hopefully the footage may jog someone's memory.
Terrifying CCTV footage shows the moment a sledgehammer-wielding gang try to smash their way into a Leicestershire flat - with the owner still inside.
The three men were caught on a high-quality camera repeatedly hitting the door of the flat in Tuckers Road, Loughborough.
Despite several attempts, the resident of the flat managed to keep the men out and they ran off empty handed.
The attack happened at around 7.25pm on December 21 last year. Witnesses or anyone with information are urged to call police on 101.
Three men who shone a laser into the cockpit of three planes have been sentenced.
Alex Parker, 19, was sentenced to 7 months in jail and Craig Appleby, 20, and Luke Walters, 21 were sentenced to five months.
Anyone who aims a laser at planes coming in to land will get a custodial sentence. The danger of pointing a laser at planes coming to land is obvious, pilots risk being dazzled endangering the crew and passengers.
– Judge Simon Hammond
Three men are being sentenced at Leicester Crown Court this afternoon after a laser pen was deliberately shone into the cockpits of three aircraft.
It happened in February last year as two passenger flights and a cargo flight were coming in to land at East Midlands Airport.
Alex Parker, 19, Craig Appleby, 20, and Luke Walters, 21, all from Loughborough, have admitted a charge of endangering the safety of an aircraft by recklessly acting in a manner likely to endanger aircraft.
Advertisement
A Downing St spokesman has clarified that the new Financial Secretary, Nicky Morgan, will report directly to David Cameron on women's issues, rather than to the new Culture Secretary, Sajid Javid.
The role of minister for women and equalities has been split, with Ms Morgan taking on the women's brief and Mr Javid handling equalities.
She will report directly to the Prime Minister on women's issues. She will have an office as Minister for Women, supported by DCMS staff. But with regard to her responsibilities for women, she will report to the Prime Minister.

Sajid Javid will have the ministerial lead on equalities issues and Nicky Morgan will have the lead on women's issues.
– Prime Minister's spokesman
The Department for Culture, Media and Sport has tweeted a picture of the new secretary of state, Sajid Javid, along with the department's Permanent Secretary, Sue Owen.
Mr Javid, who was previously Financial Secretary to the Treasury, will also become Equalities minister.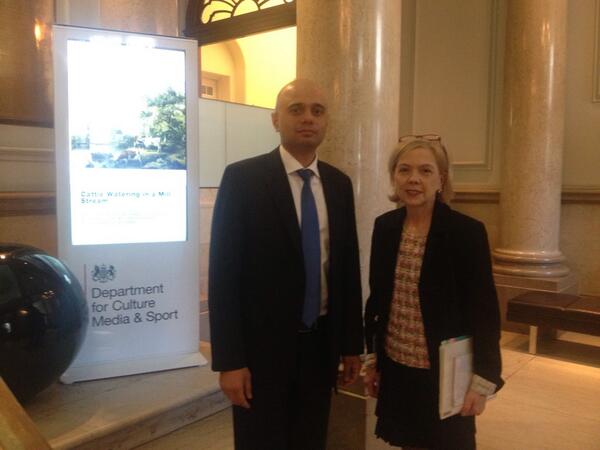 Northamptonshire MP Andrea Leadsom has been made a junior Treasury minister following the resignation of the Culture Secretary Maria Miller.
Andrea Leadsom has been the Conservative MP for South Northamptonshire since May 2010.
She is now the Economic Secretary to the Treasury replacing Nicky Morgan who is now Financial Secretary to the Treasury, a job vacated by Sajid Javid who was promoted to the Cabinet as the new Culture Secretary.
Load more updates