There is stationary traffic due to rolling road block and accident on M1 Southbound between J22 A50 / A511 (Coalville) and J21A A46 (Leicester North / Kirby Muxloe).
Lane two and three (of three) was closed. Traffic has been held while emergency service are at the scene.
There are long delays on the M1 southbound with the main carriageway closed and queueing traffic between J23 A512 (Loughborough) and J22 A50 / A511 (Coalville),
There is congestion on M1 to J25 A52 Brian Clough Way (Nottingham / Derby).
Police have closed the main carriageway. Northbound is not affected.
Diversion - Leave at J23 follow the A512 to the B591 then southbound to the A511 to rejoin the M1 southbound at J22.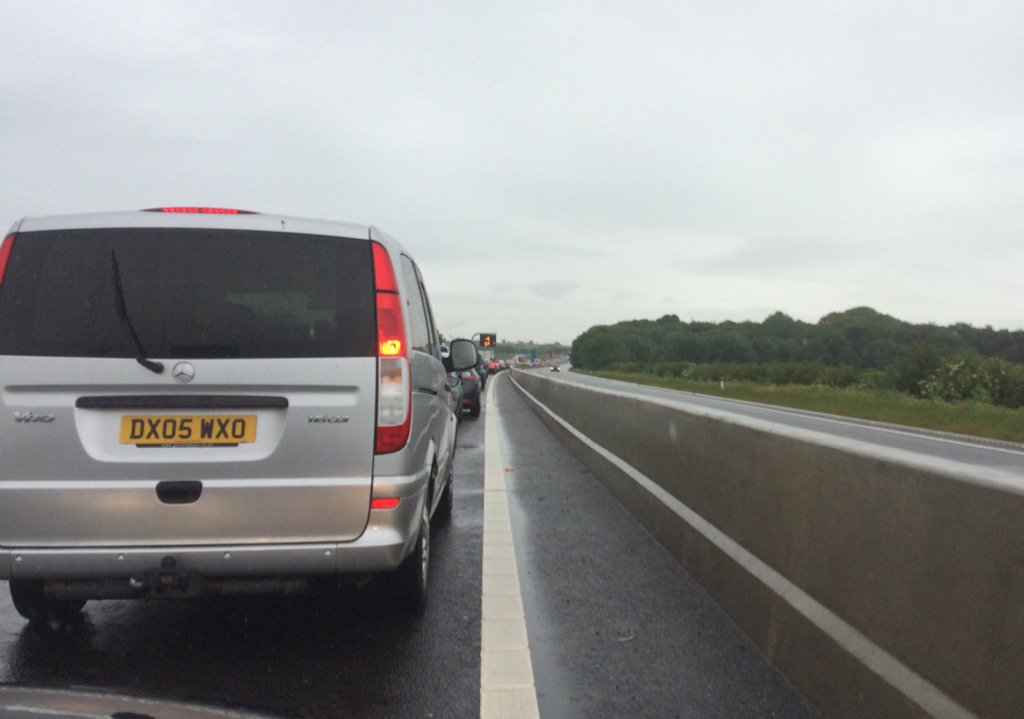 Advertisement
There is slow traffic due to earlier accident on the M1 northbound in Leicester.
A lorry and a car were involved at J21 M69 / A563 (Leicester) and are both now on the hard shoulder.
All lanes have been re-opened. Lane one (of three) was briefly blocked.
There is queueing traffic on the M1 southbound due to an earlier accident on between J25 A52 Brian Clough Way (Nottingham / Derby) and J24A A50 (Derby/Stoke/East Midlands Airport).
Lane three (of three) closed.
Two lanes are closed and there is queueing traffic due to an overturned trailer on the M1 Southbound at J27 A608 (Hucknall / Underwood). There is congestion on M1 to J28 A38 (Alfreton / Mansfield).
Lanes three and four (of four) are closed. A car towing a trailer has overturned. Emergency services are at the scene.
The M1 Southbound is blocked after a multi-vehicle crash at J18 A5 / A428 (Rugby).
The crash involved a lorry, two vans and a car.
There is currently congestion back to congestion to J20 A4303 / A4304 (Lutterworth).
Advertisement
Motorists using the M1 in Leicestershire will see road signs from today warning them in advance of major works set to start in the New Year.
The signs will be going up near Junction 22 and the A511 corridor.
Details Of Major Works
Permanent traffic signals which are being installed on the busiest four of the five approaches to the roundabout next year.
A 50mph speed limit will be introduced in the run-up to the lights.
The carriageway will also be widened in places to increase the number of approach lanes from two to three on the major routes.
The existing footpath will be widened and uncontrolled pedestrian crossing points added.
Other improvements include:
The existing footpath will be widened and uncontrolled pedestrian crossing points added.
Resurfacing on the A511 between Junction 22 and the Flying Horse roundabout
Alterations to the gap in the central reservation at the junction with the cul-de-sac part of Little Shaw Lane
"This is a major investment in improving an already busy junction. The improvements being made over the next six months should greatly ease congestion around the Markfield area, helping road users to avoid delays now and in the future, as Leicestershire continues to grow."
– Leicestershire Environment and Transport Director, Phil Crossland
Most of the work will be carried out overnight to avoid lane closures during the day and avoid traffic delays where possible.
Work starts today on a new road linking the M1 to Daventry.
The A45 link road should reduce traffic in villages west of Northampton. It will run for three and half miles, and is expected to cost £32 million.
It's being built as single-carriageway, but designed so that it could be dualled in the future.
"One of the big gains is for the villages for which this road will provide a bypass, as it will bring long-awaited relief to the heavy traffic that has passed through these communities for many years."
– Cllr Jim Harker, County council leader
The M1 in Derbyshire is blocked Northbound following an accident between Junction 28 (Alfreton) and Junction 29 (Chesterfield/Mansfield).
One lane is blocked and there's queueing traffic due to an accident involving two cars on the M1 Southbound between Junction 15 A45 / A508 (Northampton) and Junction 14 A509 (Milton Keynes).
Load more updates