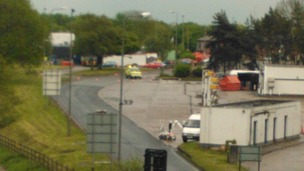 Police have apologised to motorists tonight after closing the M6 motorway during peak time for the Bank Holiday getaway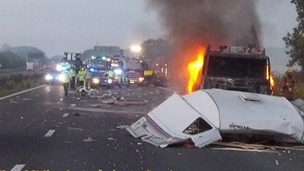 A man is in hospital after a lorry caught fire after being in collision with a car towing a caravan on the M6 overnight.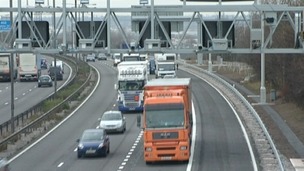 Work on the next phase of the multi-million pound project to turn the M6 in the West Midlands into a managed motorway starts today.
Live updates
Long delays on M6 after four-vehicle crash
A man has been arrested after officers spotted him filming a four-vehicle crash on the M6 - while behind the wheel himself.
The man was stopped by officers from the Central Motorway Policing Group, who said they were "gobsmacked" when they noticed the man had both hands off the steering wheel as he drove past.
1/2 At earlier serious RTC gobsmacked when driver passing scene had both hands off the steering wheel filming scene on his phone
2/2 driver of car even more shocked when we pulled him over and he was dealt with and is now going to court!
The crash, between junctions five and six of the M6 northbound, involved four lorries and caused major delays for most of the day.
Long delays on M6 after four-vehicle crash
One person was taken to hospital following a motorway pile-up involving four lorries on the M6 motorway earlier today.
The crash, between junctions five and six through Birmingham, caused major delays and miles of tailback.
One of the lorry drivers was taken to City Hospital in Birmingham, but his injuries are not thought to be life-threatening.
All lanes have now been reopened.
Advertisement
Long delays on M6 after four-vehicle crash
Multi agencey work continuing on RTC M6 N between junc 5&6 on elevated section of mway. 4 lorries involved in collision. Long delays in area
Long delays on M6 after four-vehicle crash
Police have warned drivers to steer clear of the M6 after a major smash along the Birmingham stretch of the motorway.
Two lanes are closed on the northbound carriageway at junction six after a four-vehicle crash.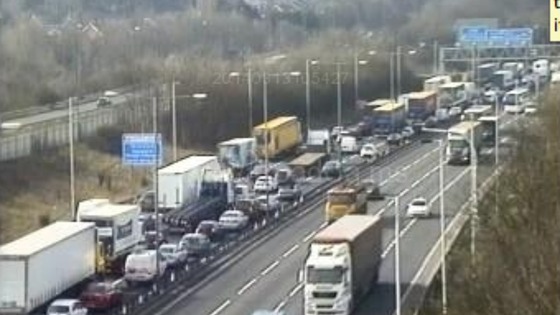 Long delays can be expected, with tailbacks stretching beyond junction 4a for the M42.
Taking to Twitter, West Midlands Police warned people to take alternative routes, writing: "Two lanes of M6 closed northbound at junction six following a collision. Delays expected - please avoid the area if poss."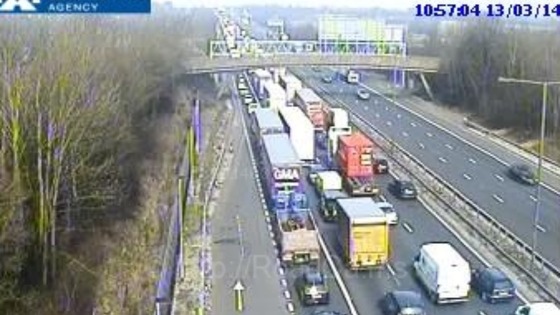 Long delays on M6 after four-vehicle crash
Long delays are being reported after a major four-vehicle crash on the M6 motorway through Birmingham this morning.
Two lane are closed between junctions five and six on the northbound carriageway due to the crash.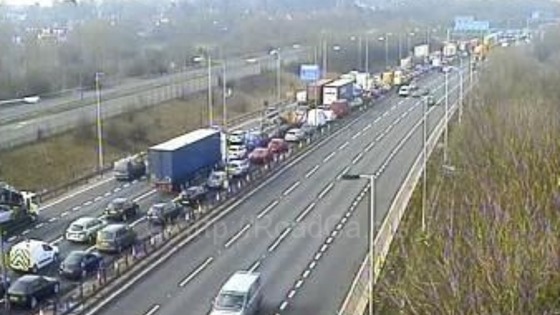 Fire crews and the ambulance service are at the scene.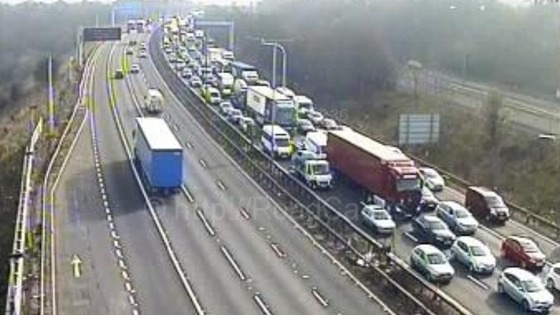 Long delays on M6 after four-vehicle crash
M6 junctions 5-6. Officers dealing with a 4 vehicle RTC. Lanes 1 and 2 blocked. Long delays expected. Fire and ambulance in attendance.
Advertisement
Ambulance updates
Three people were taken to hospital after a major motorway crash involving three HGVs and a car - though all escaped serious injury.
The smash happened between junctions six and seven of the M6 through Birmingham shortly after 3pm yesterday, closing off the northbound carriageway for several hours and causing major delays in the area.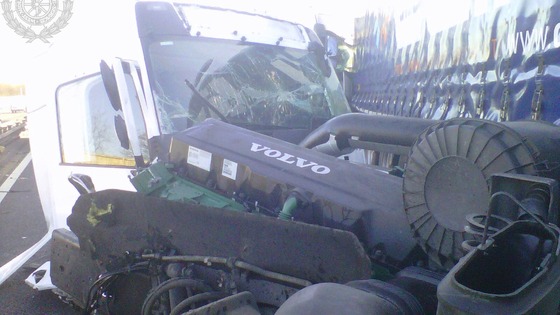 One of the lorry drivers and the car driver were taken to Sandwell Hospital, while the other lorry driver was taken to Walsall Manor Hospital.
The motorway was reopened in the early hours of this morning and no delays are currently reported.
Read: M6 northbound closed after three lorries and car crash
ITV Central Travel
Traffic is slow on the M6 southbound between J6 A38(M) Aston Expressway / A5127 Gravelly Hill / A38 Tyburn Road / Slade Road Spaghetti Junction and J5 A452 (Castle Bromwich) due to debris on the road in the inside lane.
The latest updates on all the Midlands flooding
A tree caused chaos on the M6 motorway this afternoon when it toppled over - and landed onto a passing lorry.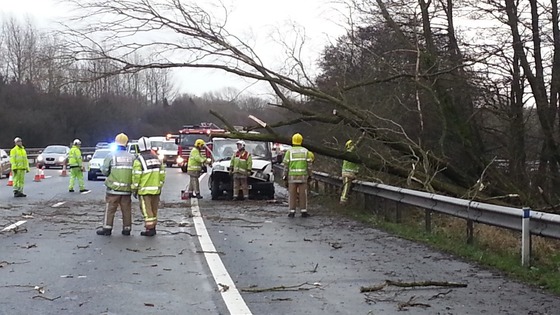 A second lorry and a recovery truck carrying a car were also involved in the crash, which happened on the northbound carriageway between junctions 15 and 16 at around 3.45pm.
Nobody was injured, but the fall forced two lanes to be closed off.
Heavy traffic and long delays are reported.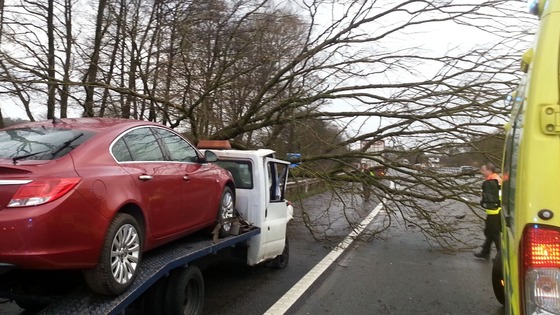 Police updates
Vehicle was just spotted by West Mids traffic travelling wrong way on M6 south between J3&4. Excellent work by professional truck drivers..
@cmpg who shaddowed the vehicle while travelling north and warned oncoming traffic.Vehicle stopped wrong way in lane 3.Elderly driver.
Police have tonight stopped an elderly driver travelling the wrong way down the M6 motorway (south), between junctions 3 and 4 in Warwickshire.
Officers have praised professional truck drivers on the northbound side, who shadowed the vehicle and warned oncoming traffic of the danger.
The vehicle was driving in the wrong direction in lane three when it was stopped and escorted off the motorway network.
The driver is now being dealt with by Warwickshire Police.
Load more updates
Back to top