Siôn Simon, Labour's candidate for West Midlands Mayor is urging the Chancellor Phillip Hammond to give the region control over the route.
Read the full story ›
Shocking footage has been released showing a drunk lorry driver reversing along the M6 Toll forcing cars to dodge his Eddie Stobart truck.
Read the full story ›
Advertisement
Two Romanian men have been given suspended prison sentences after going the wrong way down the M6 Toll Road in a lorry.
Read the full story ›
Two police officers have been injured during a high-speed car chase on the M6 Toll in Staffordshire.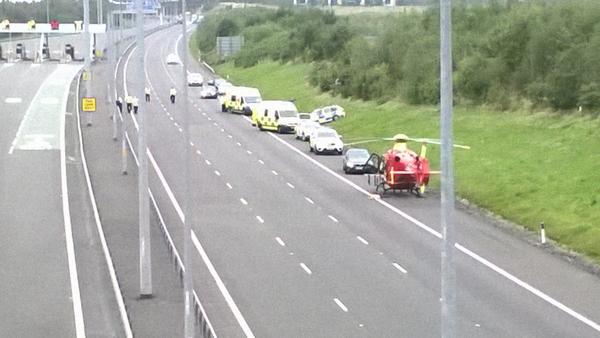 At around 9:45am police began tracking an MG ZR, which was being driven 'erratically' on the M6 through Staffordshire.
Officers tried to stop the car and put a rolling road block in place to protect other road users.
The car, travelling at speeds of up to 90mph, then went onto the M6 Toll.
After the motorway had been closed between junctions T8 and T6, the car collided with the marked police BMW.
Both cars crashed into the central reservation and ended up in the embankment.
Two police officers have been taken to hospital, but their injuries are not thought to be serious.
A 23 year old man, has also been taken to hospital with reported leg injuries.
He was arrested at the scene on suspicion of dangerous driving, failing to stop and driving while under the influence of drink or drugs.
Advertisement
A crash involving six vehicles on the M6 Toll motorway in the West Midlands is causing long delays.
The incident happened on the southbound side of the road, at JT3 A38 (Tamworth/Sutton Coldfield).
Crews dealt w. 6 car RTC on M6 Toll. 1 woman released using cutting gear. Scene cordoned off due to unstable road furniture. 1 lane open.
Fire crews are at the scene of a crash involving six cars on the M6 Toll motorway in the West Midlands.
Eyewitnesses have described how there was heavy hail or sleet falling at the time of the incident.
It's a nonsense to suggest that the M6 Toll 'benefits no-one'.

The Campaign for Better Transport report has ignored the fact that up to 50,000 customers use the M6 Toll each work day - this is traffic that would otherwise be adding to congestion on the M6 Motorway.

Like many other businesses in the UK, the M6 Toll has been impacted by the prolonged economic downturn
– Midland Expressway Limited statement
It is the tenth anniversary of the first pay-as-you-go motorway in the UK today - the M6 toll.
When it first opened it cost £3 to skirt 27 miles around Birmingham and has risen to £5.50 since then.
The company which runs the toll say up to 50,000 people use it each working day but Chris Crean, a Friends of the Earth campaigner, says that is not enough to make it worthwhile.
Load more updates