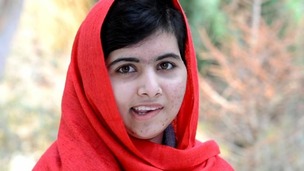 Malala Yousafzai announced the first grant from the charity fund set up in her name, with support from Angelina Jolie.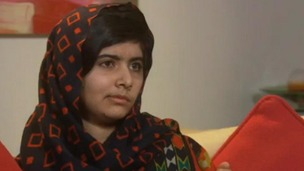 It is the first day of term in Swat Valley Pakistan and the girls in High School have much to be thankful for.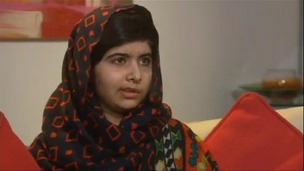 Speaking for the first time since her attack by the Taliban, schoolgirl Malala Yousafzai said she wants every child to be educated.
Live updates
First public speech for Malala
National
Malala undergoes cranial reconstruction surgery
The hospital treating Malala Yousufzai has confirmed that she underwent surgery yesterday.
The procedures carried out at the Queen Elizabeth Hospital Birmingham were a cranial reconstruction and cochlear implantation.
First public speech for Malala
Malala Yousafzai up for Nobel Peace Prize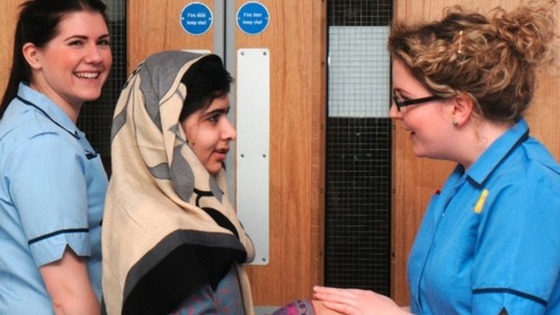 It's being reported by NBC that Malala Yousafzai – the young girl shot in the face by the Taliban – has been formally nominated for a Nobel Peace Prize.
Malala, who was treated for her injuries at Birmingham's Queen Elizabeth Hospital, was shot on her way home from school for her efforts in promoting girls' education in Pakistan.
Her name was put forward by three members of the Norwegian parliament on Friday.
If awarded, Malala will be the youngest recipient and one of only 15 females to be awarded the prize.
Advertisement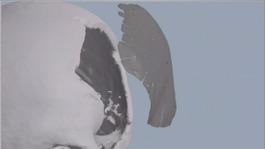 Doctors have said they plan to carry out two procedures to reinforce Malala Yousafzai's skull and to restore hearing to her left ear.
Read the full story
First public speech for Malala
National
Malala unlikely to feel normal for 15-18 months
Dr Dave Rosser said Malala is unlikely to feel completely normal before 15-18 months.
He added that there were "lots of ramifications" associated with cranial surgery including "memory loss" and "hormone changes", but that there were no particular concerns for Malala.
First public speech for Malala
National
Malala not 'naive' about her profile around the world
by Rupert Evelyn: ITV News Midlands Correspondent
Dr Dave Rosser said that Malala's recovery is "first and foremost" testament to her "desire to get better and her strength".
He said that she is not "naive at all" about the fact that she is a high-profile patient and that she remains a target for some.
He added that she is a "remarkable young lady" and described her as "very lively" with a "great sense of humour".
First public speech for Malala
National
Damaged part of skull 'stored' in Malala's abdomen
by Rupert Evelyn: ITV News Midlands Correspondent
Malala is to undergo major surgery in the next few days to repair the missing part of her skull.
The fragment of skull that was damaged by the bullet has been stored in her abdomen since she was initially treated.
Dr Dave Rosser,Medical Director at Queen Elizabeth Hospital, told me that the procedure is quite common and that Malala made the final decision to opt for a titanium plate.
Advertisement
First public speech for Malala
National
Hospital describes Malala's injuries and surgery
The titanium cranioplasty procedure [to fit a titanium plate to Malala's skull] is carried out first and will take between one and two hours. The head will be shaved at the wound location and the flap of skin covering it will be prepared and draped back ...

The 0.6mm metal plate that has been moulded from a 3D model created through CT imaging from Malala's own skull, will then be put in place. It is secured to the skull with screws placed in 2mm counter-sunk holes.

The flap of skin is then draped back over the plate and stitched into place.
The cochlear [hearing implant] surgeon then takes over from the neurosurgeon. The surgeon will locate the cochlear and identify the structures of the inner ear. An incision will be made in the round window membrane and the implant is fed through it ...

This part of the surgery will take approximately 90 minutes.
– queen Elizabeth hospital statement
First public speech for Malala
National
Prosthetist describes how titanium plate was made
In this video, Principal Maxillofacial Prosthetist Stefan Edmondson describes how he moulded the titanium plate that will cover the missing section of Malala's skull.
He describes how an exact model of the damaged part of the skull was made so that the metal plate could be gradually moulded and refined until it was a perfect fit.
The metal plate is just over half a millimetre thick and is secured to the skull with tiny screws.
First public speech for Malala
National
Details of Malala's next phase of surgery revealed
Birmingham's Queen Elizabeth Hospital has revealed details of the next phase of surgery for the Pakistani schoolgirl Malala Yousafzai.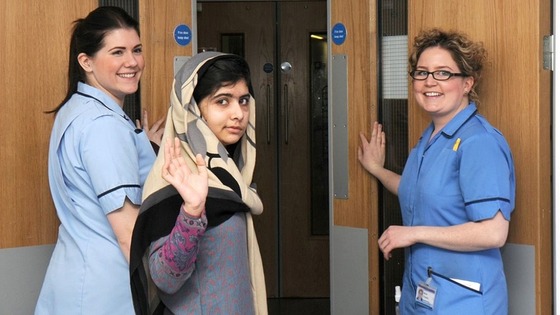 The surgery will involve fitting a specially-moulded titanium plate to replace a missing section of her skull after she survived being shot a point blank range.
Surgeons will also be fitting a small electronic device to improve hearing in her left ear.
First public speech for Malala
National
Titanium plate to be fitted to Malala's skull
This animation has been released by Queen Elizabeth Hospital in Birmingham to illustrate the surgery that Malala will undergo.
The straight line in the video shows where the bullet entered and exited Malala's head.
It then shows the section of Malala's skull that is missing, and how a moulded titanium plate will be fitted to cover this.
The final part of the video shows the small electronic device that will be fitted to her left ear to improve her sense of hearing. She can still hear normally through her right ear.
Load more updates
Back to top