Firefighters in the Midlands will walk out today in a week of strike action in a dispute over pensions.
They will walk out between 12noon and 2:00pm and then between 11:00pm and midnight.
The government has previously said strike action is disrupting talks and will damage firefighters' reputation.
Advertisement
One in five children will have a drowning near-miss - according to new figures out today.
There has also been a 10% rise in the number of deaths in the water.
And two in five parents here in the landlocked Midlands admit their children have sometimes gone into the sea unsupervised on holiday - the highest percentage in the UK.
Thousands of passport workers are striking today as the Summer holidays get underway.
They have taken the action in a bid to end staffing shortages which have caused an ongoing backlog crisis, with holiday-goers left waiting for their renewed passports.
It could affect holiday plans for families across the Midlands.
A new recruitment drive is underway but many of the posts being advertised are not permanent jobs and are only likely to replace 8% of staff needed. The Passport Office has cut hundreds of staff since 2010 but the agency only agreed to meet the union to seriously discuss jobs after recent media and political scrutiny.
– Public and Commercial Services union
J17/16 M6SB - The Bridge Inspector is on scene and will advise when it is safe to pass.
There are 1 and a half hour delays on the M6 southbound following reports of a piece of an unsafe bridge falling onto the road.
It's affecting traffic between junctions 19 and 18 after the road was shut earlier this morning.
It's expected to re-open from 10.30am.
Advertisement
Part of the M6 remains shut this morning following reports that a piece of an unsafe bridge collapsed onto the motorway.
It happened between J17 and 16 on the Southbound carriageway.
The bridge is between Manor Rd and Reynolds Lane, near to Sandbach services.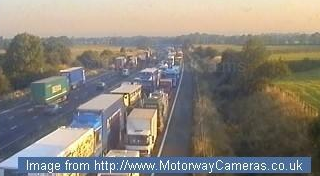 Viewers have been sending in their photos of this weekends wild weather.
A combination of sunny spells and severe storms made up the conditions across the Midlands.
The BT Tower in Birmingham was hit by lightning and a petrol station roof collapsed in Leicestershire following the torrential weather.
Here are just a few of the moments you captured on camera...
To see if your area is one of these at risk from rising waters, click here.
Load more updates