Viewers have been sending in their photos of this weekends wild weather.
A combination of sunny spells and severe storms made up the conditions across the Midlands.
The BT Tower in Birmingham was hit by lightning and a petrol station roof collapsed in Leicestershire following the torrential weather.
Here are just a few of the moments you captured on camera...
To see if your area is one of these at risk from rising waters, click here.
Advertisement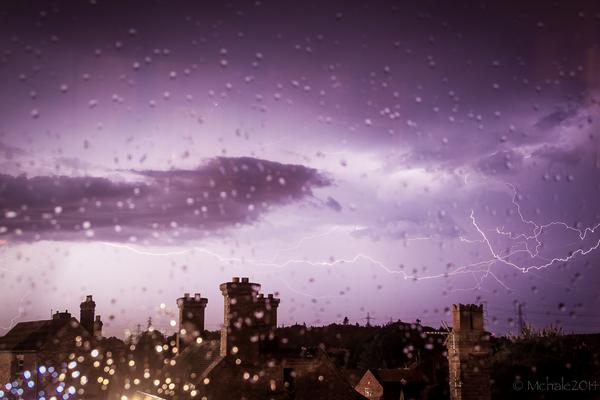 This mornings fire strike across the Midlands has now concluded.
Firefighters walked out for two hours between the hours of 6am and 8am as the row with Government over pay and conditions continues.
18th July Strike Action is now over and normal fire cover has resumed across Herefordshire and Worcestershire
People are being warned to look after the vulnerable as temperatures in our region could rise to more than 30 degrees over the next couple of days.
It comes after the The Met Office issued a heatwave alert for the East Midlands.
The advice is to drink plenty of water and keep out of the sun.
Advertisement
Thousands of people are expected to attend or even take part in big mela events across the Midlands over the summer.
Read the full story ›
ITV News Central's correspondent Keith Wilkinson is celebrating 30 years of reporting for the Midlands.
Read the full story ›
More than three hundred volunteers, many from the Midlands, have helped raise thousands of pounds for charity after conquering Mount Snowdon.
Volunteers from Birmingham, Leicester, Coventry, West Bromwich and Walsall were among those who took part in the fourth annual Snowdon trek challenge, raising more than 15 thousand pounds for Khalsa Aid in the process. The charity helped relief operations during the UK floods earlier this year.
Trek teams were greeted by youngsters from Handsworth in Birmingham, who had just completed the Three Peaks Challenge, which involves walking the highest mountains in England, Scotland and Wales within 24 hours.
Bal Sandhu from Khalsa Aid said: "Every year we see hundreds of hikers complete this event, these hikers raise money in support of humanitarian work carried out by Khalsa Aid across the globe. This year over 300 people completed the hike, with the youngest hikers being just five years old".
Narinder Singh from Oadby in Leicester was one of those who took part in the trek. He said "It was an unbelievable day. We had approximately 130 people hiking from the East Midlands who safely returned with smiles on their faces. We were overwhelmed with generosity".
As well as helping the UK's flood relief efforts, Khalsa Aid have also assisted relief efforts in Albania, India, Somalia and Indonesia. Money raised from the latest Snowdon trek will also go towards helping those in need.
Thirteen-time World and Olympic sprinting champion Michael Johnson has been in the Midlands giving coaching sessions to footballers.
He's been helping five players from Mansfield Town get ready for the new season.
Load more updates