One in four workers in the Midlands earn less than the living wage, according to new report.
The annual living wage report by KPMG, published today, estimates that nearly 900,000 workers in the region earn less than the living wage.
The living wage is the amount an individual needs to cover the basic costs of living. It is currently set at £7.65 outside London.
People deserve a fair day's pay for an honest day's work. But low pay is blighting the lives of hundreds of thousands of families in the West Midlands...

The fact is there are employers out there in the Midlands who can afford to pay living wages, but aren't.

It is now time for all responsible employers to commit to adopting this standard, which enables workers to earn just enough to be able to live a decent life.
– Lee Barron, TUC Regional Secretary for the Midlands
Seven Midlands firms have been chosen to supply parts for a major new rail contract.
They have been selected to help build trains for the first phase of the government's multibillion pound Intercity Express Programme.
The companies chosen are:
- Balfour Beatty Rail (unmanned geometry measurement systems – UGMS), Derby
- Dellner (Train gangways and couplers), Derby
- Eminox (exhaust systems), Gainsborough
- Harting (jumper cable systems), Northampton
- Trent Instruments (cab equipment), Nottingham
- Arrowvale Electronics (driver safety devices), Worcester
- DCA Design International (interior train design), Warwick
Business Secretary Vince Cable has described the announcement as a major boost for Midlands firms:
"The Government is committed to helping companies attract inward investment to develop strong, coordinated and competitive supply chains here in the UK.

"We have created a new Rail Supply Chain Forum to help British businesses win work both here and abroad and I am greatly encouraged to see that world leading companies such as Hitachi are placing their confidence in UK suppliers."
– Business Secretary Vince Cable
Advertisement
A new report has found the Midlands is among the hardest-hit areas in the country by thieves targeting equipment, livestock and even fuel.
Last year rural crime cost the region £10.6m, according to figures from NFU Mutual.
In the West Midlands the total was £4.5m, a rise of 9%, while in the East Midlands it was more than £6m, an increase of 38%.
The insurance firm say the rise is down to three main factors:
High-value tractors being stolen and then sold abroad
A 'substantial' rise in sheep rustling
Thieves targeting garden tools and ornaments
Firefighters in the Midlands will walk out today in a week of strike action in a dispute over pensions.
They will walk out between 12noon and 2:00pm and then between 11:00pm and midnight.
The government has previously said strike action is disrupting talks and will damage firefighters' reputation.
One in five children will have a drowning near-miss - according to new figures out today.
There has also been a 10% rise in the number of deaths in the water.
And two in five parents here in the landlocked Midlands admit their children have sometimes gone into the sea unsupervised on holiday - the highest percentage in the UK.
Advertisement
Thousands of passport workers are striking today as the Summer holidays get underway.
They have taken the action in a bid to end staffing shortages which have caused an ongoing backlog crisis, with holiday-goers left waiting for their renewed passports.
It could affect holiday plans for families across the Midlands.
A new recruitment drive is underway but many of the posts being advertised are not permanent jobs and are only likely to replace 8% of staff needed. The Passport Office has cut hundreds of staff since 2010 but the agency only agreed to meet the union to seriously discuss jobs after recent media and political scrutiny.
– Public and Commercial Services union
J17/16 M6SB - The Bridge Inspector is on scene and will advise when it is safe to pass.
There are 1 and a half hour delays on the M6 southbound following reports of a piece of an unsafe bridge falling onto the road.
It's affecting traffic between junctions 19 and 18 after the road was shut earlier this morning.
It's expected to re-open from 10.30am.
Part of the M6 remains shut this morning following reports that a piece of an unsafe bridge collapsed onto the motorway.
It happened between J17 and 16 on the Southbound carriageway.
The bridge is between Manor Rd and Reynolds Lane, near to Sandbach services.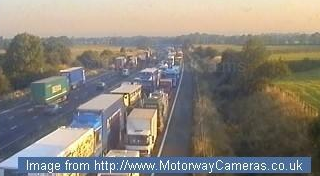 Load more updates