Animal welfare groups have criticised researchers who attached so many trackers to a hedgehog it was unable to curl up and later died.
Read the full story ›
With 8 days to go before we go to the polls in the EU referendum, a survey has shown young people are pro European Union, but less likely to bother voting, so we asked students at Nottingham Trent University for their views on staying in, or leaving, the European Union.
Advertisement
England and Notts County Ladies goalkeeper Carly Telford will launch a campaign later today to encourage women to get involved with sport.
Read the full story ›
The Ending Female Genital Mutilation Together Conference will look at how to protect vulnerable young women and children at risk.
Read the full story ›
East Midlands universities scooped a host of top prizes at last night's Student Choice Awards.
Loughborough University had a particularly successful evening - it was named WhatUni's 'University of the Year', and also took back a series of other trophies.
The poll ranked the University of Nottingham top for job prospects, with Loughborough coming third in that category.
Students who voted thought that Loughborough had the best student union, too, with Nottingham Trent University coming in third place.
Loughborough also came top for student accommodation and took second place in the student vote for best university facilities.
Students at Nottingham Trent University were considered to enjoy the second best 'city life' after Bristol.
Loughborough was considered to have the third best student support services, while Nottingham Trent came sixth in that category.
Loughborough University consistently comes in the top twenty of UK institutions in league tables. It counts Sebastion Coe, Tanni Grey-Thompson, Paula Radcliffe and Monty Panesar among its alumni.
"We are delighted that our students took time to vote and to know that they rate the Loughborough student experience so highly.

"The award is an opportunity for all members of the University community to celebrate and for me to thank everyone for their contribution to our success."
– Professor Robert Allison, Vice Chancellor of Loughborough University
Nottingham Trent University has been left embarrassed after prospective students were told they had not achieved their expected grades yesterday - a day before A-level results day.
The university sent out 30 emails telling applicants they had got a place despite not getting their predicted results.
In a statement, the university said:
The issue was identified and resolved very quickly. The emails, which did not disclose any results, were to offer applicants a place on a similar but alternative course.
Advertisement
All four falcon chicks have officially hatched! Here they are enjoying breakfast in the sunshine http://t.co/Tu53ZLuLGJ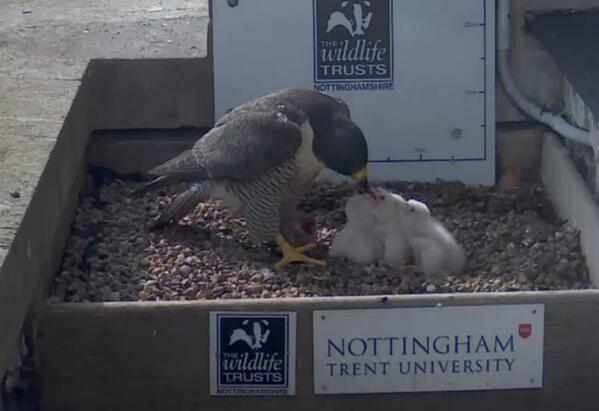 Paralympic athlete Richard Whitehead MBE will receive an honorary degree from Nottingham Trent University later today.
Richard is the current world record holder for leg amputees in both the half and Olympic marathon distances. He is also the first ever leg amputee to complete the marathon event in under three hours.
This summer the Nottingham-born former Colonel Frank Seely School pupil ran 40 marathons in 40 days - from Land's End to John O'Groats - and raised more than £300,000 for charities Sarcoma UK and Scope.
The double amputee is to receive the Doctor of the University award and will be presented with his degree alongside Nottingham Trent University students at the Royal Concert Hall this afternoon.
A senior lecturer in childhood studies has started up a "Forest School" in woods at the university's Brackenhurst campus near Southwell, Nottinghamshire.
Children can learn about risk through climbing trees and searching for insects in a safe and controlled environment.
Under-fives from Lowdham Pre-School spend a morning a week at the site. Staff say it boosts the children's confidence and improves learning.Forest Schools started in Scandinavia where research has found they encourage children to play longer, make them less irritable and less likely to be off sick.
There are calls for young children to be given more opportunity to play outdoors and learn about the risks involved.
Academics at Nottingham Trent University say youngsters need to explore their surroundings without being smothered by over-protective adults.
Load more updates