Mourners are gathering at St Edmund's Church in Walesby, Notts for the funeral of John Stollery.
The church only holds 100 and many more are expected to listen to the service outside.
There will be a guard of honour from veterans of the Parachute Association. Mr Stollery served with 2 Para Regiment before becoming a social worker.
John Stollery was one of 38 victims killed in the attack on June 26.
He had worked at Nottinghamshire County Council for 33 years and had worked with children in care for the last 16 years.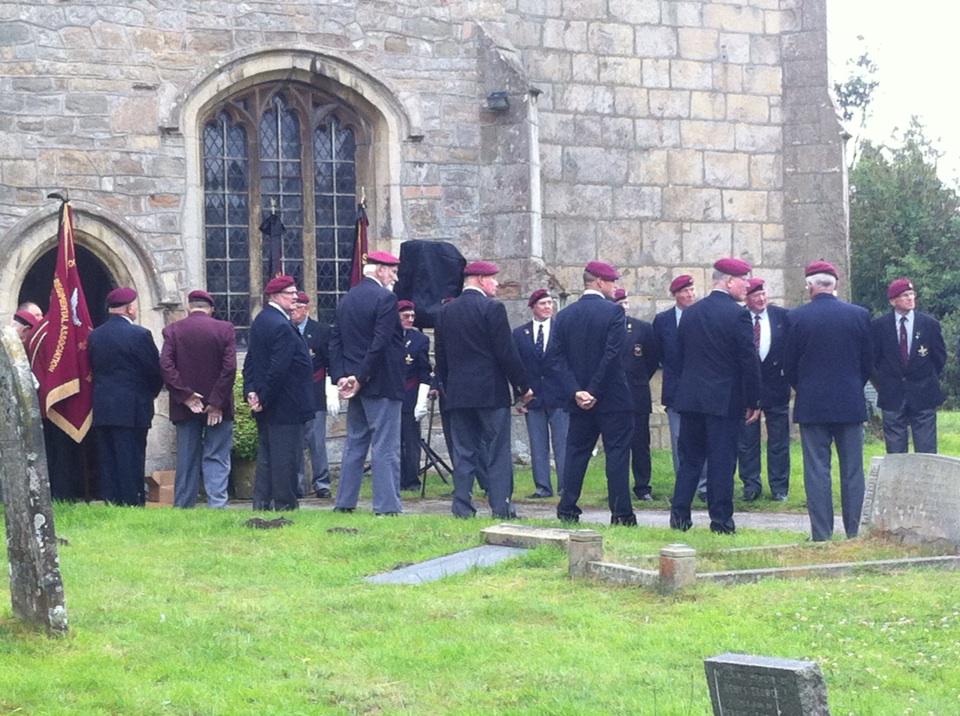 Advertisement
Detectives are investigating two robberies at shops in the Mansfield area which have been committed in the past two weeks.
Police have issued CCTV footage following a third similar offence and want to talk to the people in the video in regards to the robbery.
The latest incident occurred at the Shell service station in Leeming Lane South at around 10.30pm on 20 July.
Last week, a reward of up to £1,000 was offered for information leading to the arrest and conviction of the offender who carried out similar robberies at the One Stop shop in Woodhouse Road at around 10.40pm on Wednesday 8 July and then at the Sainsbury's store in Westfield Lane at around 10.30pm on Sunday 12 July.
Footage of all three incidents have also been released in order to help detect those incidents.
Anyone with any information about those or the incident on Monday 20 July (incident 973) should telephone Nottinghamshire Police on 101.
Police are growing more concerned for the well-being of a woman who has been reported missing from home in Nottingham.
33-year-old Caroline Billson from Mapperley, Nottingham, has not been seen since the evening of Sunday 26 July night, when she was in the Radford area of the city.
Caroline is around 5ft 7ins tall and of slim build.
She was last seen she was wearing black skinny jeans, a black and white striped top and a black leather jacket.
Police are asking for anyone with information to telephone Nottinghamshire Police on 101, quoting incident number 862 of 26 July.
The funeral of a Nottinghamshire social worker killed in the Tunisia terror attack last month will take place this afternoon.
John Stollery was one of 38 victims killed in the attack on June 26.
He had worked at Nottinghamshire County Council for 33 years and had worked with children in care for the last 16 years.
The funeral service will take place at St Edmund's Church, in Walesby, from 3pm.
John's family say his funeral will be a celebration of his life and achievements and those attending are asked to wear something pink, his favourite colour. Family, friends and close colleagues will wear pink ribbons as a tribute.
Advertisement
The parade began this morning in Castle Gate at 11:00 and around 1000 people made their way to the Lace Market for music and entertainment.
The death of Lance Corporal Michael Francis Campbell brings the total number of soldiers killed in the Afghan conflict to 454.
Read the full story ›
Around 2,000 people will leave Castle Gate at 11:30 today to march through the city to the Lace Market, where performers will entertain up to 6,000 people.
Leigh Ellis, Chairman of the Nottingham Pride Committee, says,
At a time when homophobic hate crime is still prevalent on our streets and homophobic bullying in schools is not tackled as well as it should be, we need to see more action. By being visible, loud and proud, we will march through the city as one united rainbow of colour.
– Leigh Ellis
Nottinghamshire Police will be supporting the event and ensuring safety,
If you've never attended the Pride event before I'd urge you to do so this weekend. Previous events have been fantastic colourful and noisy events with a really fun and welcoming atmosphere and they have been enjoyable for our officers and staff to participate in.
– Deputy Chief Constable Sue Fish
We have had a wet end to a sunny week and this weekend the weather will continue to change its mind with mixed weather.
Read the full story ›
Load more updates