Nottinghamshire's Police and Crime Commissioner has called for an independent review to be carried out 'as soon as practically possible' into allegations of physical and sexual abuse at children's care homes in the county.
In July, police said they were investigating claims that residents were abused by staff at the council-run Beechwood Children's Home in Mapperly which closed down in 2006.
Police also confirmed they were investigating three other children's homes - Bracken House in Bulwell, Ranskill Gardens in Bestwood and Wood Nook in Beechdale.
Paddy Tipping says he is talking to the local Safeguarding Boards on the best way forward.
Nottinghamshire Police said they had no comment to make.
Around sixty firefighters are tackling a blaze at the University of Nottingham this evening.
A fire has started on the Nottingham University Jubilee Campus. It is unconfirmed on how the blaze started. http://t.co/wYtnqPbHOE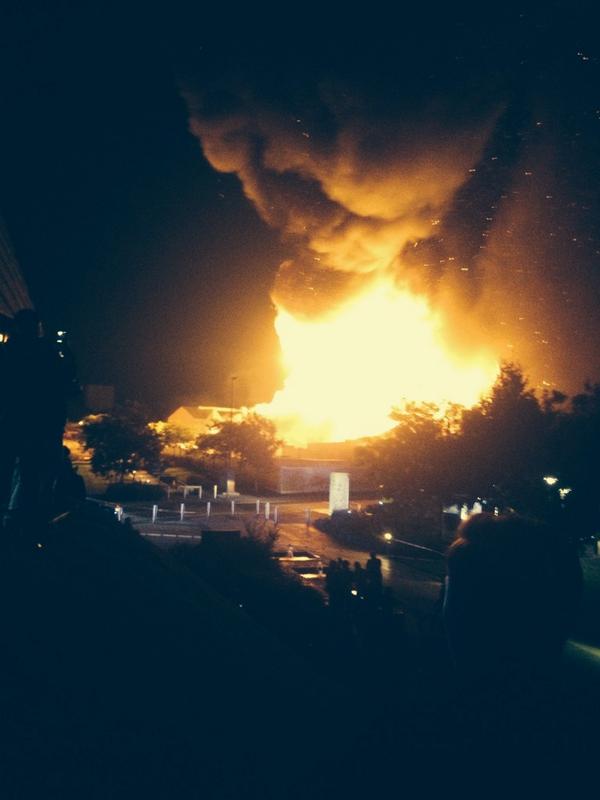 Nottinghamshire Fire and Rescue service said the blaze started at around 8:30pm this evening.
Ten pumps are at the scene, along with two aerial ladder platforms.
Reports say the fire is at the Jubilee Campus on Wollaton Road.
Advertisement
Rebecca Adlington has tied the knot with fellow swimmer Harry Needs and said I'm A Celebrity helped her get in shape for the big day.
Read the full story ›
Emergency services in Nottinghamshire are joining forces today to show off their skills at a special open day.
Fire engines, ambulances and rescue helicopters are some of the things on display at Newstead Abbey.
Visitors also have the opportunity to discuss policing issues and community remedy options with Nottinghamshire Police and Crime Commissioner Paddy Tipping and his team.
This is an ideal opportunity for people not only to see how the county's emergency services work but also for victims of crime to have a say on punishment for some offences. We will be asking people, as part of our continuing consultation, how they would like our police force and criminal justice agencies to deal with low-level crime and isolated incidents of anti-social behaviour.

One of the main driving forces behind community remedies is the opportunity it provides to rehabilitate offenders, make them more accountable to their victims and less likely to reoffend in the future.
– Paddy Tipping, Nottinghamshire Police and Crime Commissioner
Police are looking to trace a man involved in a crash in Sutton-in-Ashfield which has left a woman critically injured.
The accident happened at 9.40pm on Mansfield Road, and involved a white Nissan and a silver Peugeot.
A man and a woman were taken to hospital. The woman, thought to be in her 40s, is in a critical condition.
A 19-year-old man was arrested in connection with the collision.
Police are now carrying out extensive enquiries around a second man who was travelling in the silver car, and who left the scene.
A number of wards in Nottinghamshire could close under proposed changes to mental health services in the county.
Under the plans two wards at Queens Medical Centre, Enright Close Rehabilitation Unit in Newark and two more wards at Nottingham City Hospital could close.
Nottinghamshire Healthcare says it will concentrate on improving services for people in their own homes including a 24/7 home treatment service for adults.
The consultation process into the changes lasts for six weeks.
Advertisement
Two Midlands restaurant have made it into the prestigious Good Food Guide's list of top 10 restaurants in the UK.
Restaurant Sat Bains in Nottinghamshire was ranked in seventh place, while Cheltenham's Le Champignon Sauvage is listed at number nine.
No Birmingham restaurants were selected to be in the top 50, despite the city boasting four Michelin stars.
The guide is compiled by experts on public recommendations and also includes pubs and cafes.
A three hundred mile protest march by campaigners fighting to save the future of the NHS arrives in Nottinghamshire today.
More than 35 women supported by hundreds of followers set off from the North East earlier this month on the route of the 1936 Jarrow March.
Today, the '999 Save Our NHS' march arrives in Mansfield. The group aims to protect the health service from privatisation and to keep it safe for future generations.
A group of local football players have recreated the famous Christmas truce match of World War One in Ypres.
Read the full story ›
Southwell woman found safe and well. Thanks to everyone who helped find Joyce Hughes.
Police say a woman who went missing in Nottinghamshire earlier today has been found safe and well.
81-year-old Joyce Hughes has Alzheimers Disease, was reported missing from her home in Southwell in Nottinghamshire.
Load more updates