Nottinghamshire Police are looking for this man after a CCTV camera was stolen in Worksop on August 31.
The device was taken from the back of Coffee 'n' Cake on Watson Road.
The Metropolitan Police say they are 'really grateful' for the support Nottinghamshire and Lincolnshire Police have provided in the search for missing teenager Alice Gross.
The search for the 14-year-old has now reached its fifth week. She was last seen on the 28th of August in West London.
Nottinghamshire and Lincolnshire forces have both provided specialist resources to help with the search.
The Met is reviewing material from around 300 CCTV cameras.
Advertisement
40 protesters detained by police after they stopped and climbed on a coal train in Nottinghamshire have been released.
The Greenpeace activists blocked the 400-metre freight train on sidings leading to Cottam power station for ten hours yesterday after flagging it down using the stopping signals.
A life-size polar bear puppet was used to stop the train from moving.
British Transport Police have confirmed they arrested 3 activists and spoke with 37 others.
Investigations will begin today into how a group of climate change protestors managed to stop a freight train loaded with coal.
50 Greenpeace activists boarded the train yesterday as it was heading to Cottam Power Station near Retford.
They stopped the train for eight hours before being detained by police.
A group of climate change activists, who seized a freight train carrying 1,500 tonnes of coal in Nottinghamshire, have been detained by police, according to Greenpeace UK on twitter.
UPDATE 1/3: The team on board the coal train outside Cottam Power Station have now been detained by the police
Climate change activists have hijacked a freight train delivering fifteen hundred tonnes of coal to a Nottinghamshire power station.
The Greenpeace campaigners say they plan to stay with the train until midnight. From the scene, Gareth Owen sent this report.
Advertisement
Fifty Greenpeace activists have stopped and occupied a freight train delivering 1,500 tonnes of coal to Nottinghamshire's Cottam power station.
We were called to a crossing at Westbrecks Lane in South Leverton, Retford at 2.45pm following reports of a number of protestors, believed to be from Greenpeace, halting the progress of a coal train.

Officers are currently responding to the incident together with colleagues from Nottinghamshire Police.
– Spokesperson, British Transport Police
French energy giant EDF, which operates Cottam and West Burton A coal-fired power station and West Burton B gas-fired power plant in Nottinghamshire, said: "EDF Energy can confirm that individuals have boarded a freight train carrying coal to Cottam power station in Nottinghamshire.
"The safety of our employees and the public is our priority and we are currently working with British Transport Police to ensure everyone involved is safe and out of harm.
"We operate a diverse mix of electricity generation and produce more low-carbon electricity than any other generator in Britain from our nuclear power stations and wind farms."
Meanwhile DB Schenker Rail UK confirmed that one of their trains has been brought to a stand by a number of protesters on the Cottam branch line near Retford. The train was travelling from Humber International Terminal to Cottam Power Station carrying 1,500 tonnes of coal.
Greenpeace activists have used a life-size polar bear puppet to stop a coal train heading for Nottinghamshire's Cottam power station.
The charity says the "highly realistic, life-size, moving polar bear puppet - previously used in National Theatre productions - has just walked up to the front of the locomotive, where it's now stopping the train from moving."
The animal is intended to symbolise the global movement to save the Arctic from climate change, which is mainly driven by coal.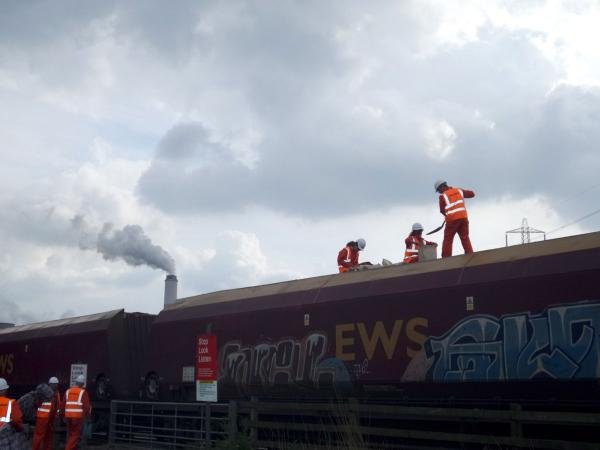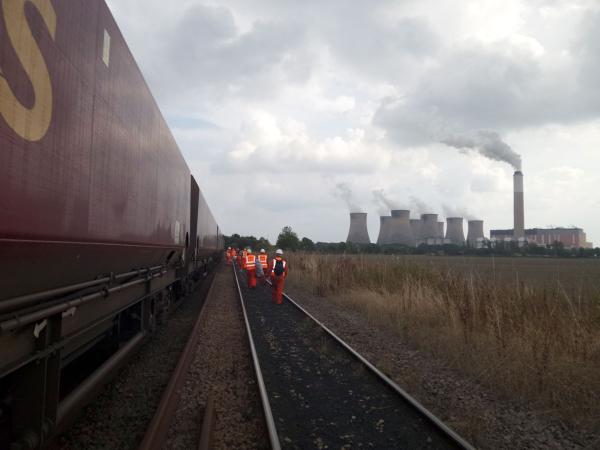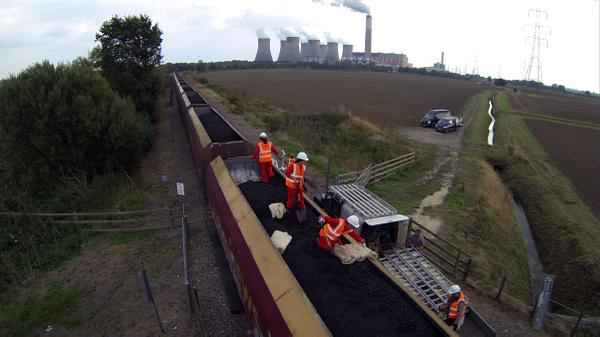 Fifty Greenpeace activists have stopped and occupied a freight train delivering 1,500 tonnes of coal to Nottinghamshire's Cottam power station. The action comes as David Cameron prepares to speak at a high-profile climate summit in New York today.
The activists used emergency signals to flag down the 400-metre-long coal train as it was slowing down along rail sidings leading to the plant. The main coal supply route to the power station - which is run by French energy giant EDF - has now been cut off.
Dozens of Greenpeace campaigners have climbed onto the open coal wagons, and have started unloading the train's cargo. The charity says they are carrying enough food and water to stay on the train all day.
Load more updates