The young horse was discovered wrapped up in tarpaulin tied up with string on the verge at the edge of a road in Nuneaton.
Read the full story ›
An application to build a school dedicated to outdoor education in Camp Hill is due to be submitted to the Government
Read the full story ›
Advertisement
Two people have had a lucky escape after a tree crushed the roof of the car they were in on Coventry Road in Nuneaton today. Two ambulances were sent to the scene after a 999 call at 12.05pm, a West Midlands Ambulance Service spokesman said:
"On arrival, crews found a car that had suffered considerable damage to the roof, with the ceiling being pushed down into the vehicle. The 17 year old woman driving had managed to get out of the car herself but was complaining of neck and shoulder pain. She was immobilised before being taken to University Hospital Coventry & Warwickshire. A 46 year old man in the passenger seat was complaining of head pain. After assessment he was discharged at scene."
– West Midlands Ambulance Service.
A man has died following a collision between a car and a motorcyclist. West Midlands Ambulance Service attended a call to the A444 in Nuneaton, just after 7.35pm on Tuesday. A West Midlands Ambulance Service spokesman said:
"Crews arrived to find two patients, a man from the motorbike and a woman from the car.The man was found to be in cardiac arrest. Unfortunately it quickly became apparent that nothing could be done to save him and he was confirmed dead at the scene. The woman, believed to be in her 30s, was treated for a leg injury and a minor cut to the head. She was then transported to University Hospital Coventry and Warwickshire for further assessment."
– West Midlands Ambulance Service.
A man with cancer from Nuneaton was told his surgery had been cancelled for the second time while waiting to be taken to theatre.
Read the full story ›
Warwickshire Police have released a CCTV image after a motorbike was stolen in Nuneaton.
Read the full story ›
Advertisement
Train services have been affected between Nuneaton and Atherstone this afternoon after a trampoline blew on to the rail line power cables following strong winds.
There was also disruption to the road network due to fallen trees, the A6 was blocked due to a fallen tree at Vernon Green.
Train services running through these stations may be delayed by up to 15 minutes and the disruption on the line is expected to last until 1.30pm.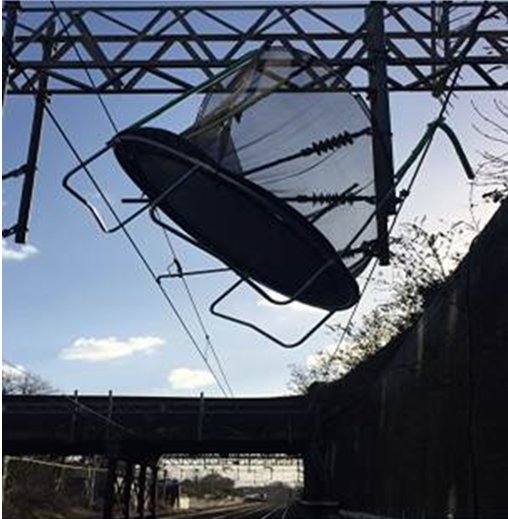 Have you witnessed the effects of the high winds? email us your pictures at centralweb@itv.com or send them via our Facebook or Twitter pages.
Tracy Planas was punched in the throat outside her Nuneaton home as she tried to stop the group making off with her mobility scooter.
Read the full story ›
Replacement bus services are running between Coventry and Nuneaton due to a faulty train.
London Midland services are currently unable to run on the line between the stations.
Disruption is expected to continue this morning until 8:15am.
A thief stole a handbag from a mother while she was breastfeeding her baby in a Nuneaton supermarket.
Read the full story ›
Load more updates