The FA Cup trophy was also on display ahead of the Imps' trip to Arsenal in the quarter final
Read the full story ›
Fans of the Red Arrows could see the legendary aerial acrobatics team's planes made into in Lego after an online petition reached its target of ten thousand signatures.
The Danish company will now consider manufacturing a Lego model of the world-renowned Hawk jets, which fly out of RAF Scampton in Lincolnshire.
A prototype has already been built, and it'll be reviewed by Lego's own designers to see if it's suitable for distribution.
Advertisement
The 60-day tour has seen them take in some incredible sights - as captured by the RAF official photographers.
Read the full story ›
The team will be flying at speeds of up to 400mph in one of the largest air shows in the world.
Read the full story ›
The Lincolnshire based Red Arrows won't perform stunts at Britain's largest airshow due to safety fears after the Shoreham air disaster.
Read the full story ›
The last airworthy Vulcan Bomber has taken to the skies to fly one last time before it retires.
Read the full story ›
Advertisement
The Red Arrows flew over the West Midlands today, and this spectacular footage was sent in by viewer, Sue Garbutt, who was in Elmdon Park in Solihull this afternoon.
It's being reported that the new Defence Secretary over-ruled plans for the Red Arrows to trail the colours of the Scottish flag at the Commonwealth Games.
According to the Daily Mail, Michael Fallon said it would have been a highly political statement.
It would have come just weeks ahead of a referendum in Scotland on whether the country should become independent.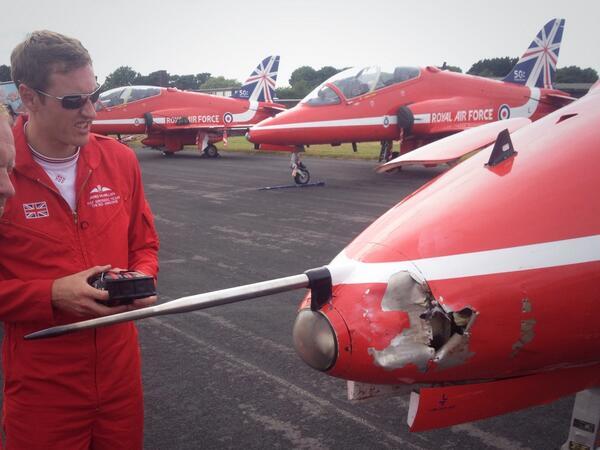 It's the RAF Waddington Air Show today and organisers are reassuring people that the Red Arrows will still be performing - despite one of the planes colliding with a bird!
It's been a busy weekend for the air acrobatic team - the helped the Tour de France get underway yesterday in Yorkshire.
Load more updates