The Lincolnshire based Red Arrows won't perform stunts at Britain's largest airshow due to safety fears after the Shoreham air disaster.
Read the full story ›
The last airworthy Vulcan Bomber has taken to the skies to fly one last time before it retires.
Read the full story ›
Advertisement
The Red Arrows flew over the West Midlands today, and this spectacular footage was sent in by viewer, Sue Garbutt, who was in Elmdon Park in Solihull this afternoon.
It's being reported that the new Defence Secretary over-ruled plans for the Red Arrows to trail the colours of the Scottish flag at the Commonwealth Games.
According to the Daily Mail, Michael Fallon said it would have been a highly political statement.
It would have come just weeks ahead of a referendum in Scotland on whether the country should become independent.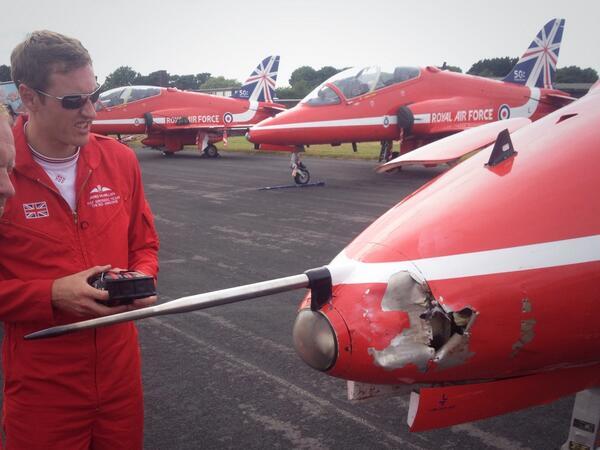 It's the RAF Waddington Air Show today and organisers are reassuring people that the Red Arrows will still be performing - despite one of the planes colliding with a bird!
It's been a busy weekend for the air acrobatic team - the helped the Tour de France get underway yesterday in Yorkshire.
Advertisement
Pro cyclist Ian Stannard swapped two wheels for jet power at the start of the Tour de France, by flying with the Red Arrows.
Read the full story ›
Students in Lincoln will be presented with awards today to recognise their completion of an RAF programme set up in memory of a Red Arrows pilot from Warwickshire who died during a display three years ago.
The Blue Skies Programme charity was set up in memory of Flt. Lt. Jon Egging from Ufton, who lost his life in August 2011 at the Bournemouth Air Festival.
The charity aims to realise his dream of helping young people overcome adversity, identify their strengths and work towards their ambitions.
Twenty five students aged 13 to 15 from the Priory Witham Academy have been mentored through the nine session programme by trained personnel from RAF Coningsby, RAF Cranwell, RAF Scampton, RAF Wittering, RAF Waddington and MoD North Luffenham.
Load more updates