East Midlands' 'dangerous roads'
People in the East Midlands are at the highest risk of dying or being seriously injured on the region's motorways and A-roads, a new study has found.
The survey, by the Road Safety Foundation, has identified the A5012 in Ashbourne, Derbyshire, as the road with the highest risk.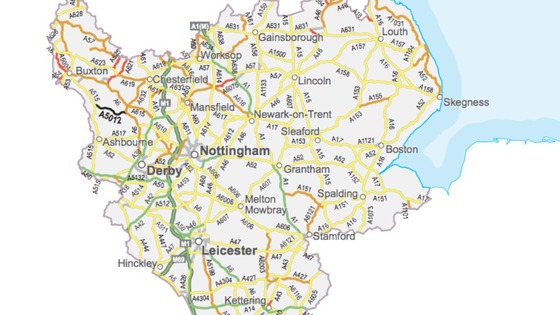 The research looked at British motorways and A-roads outside major urban areas. These roads make up 11% of the road network but 51% of road deaths occur on these routes.
It also showed that running off the road accounts for 30% of all deaths on these roads and that junction crashes are the most common accidents leading to serious injury.
While 9% of motorways are rated in the "'low risk" category, 97% of single carriageway A-roads are not. The overall risk of death and serious injury on motorways and A-roads was lowest in the West Midlands and highest in the East Midlands, the poll revealed.
Road Safety Foundation director Dr Steve Lawson said: "Most recent improvement in road safety has come from car design and safer driving. The specification that authorities currently set road managers is to reduce crash rates in general."
"That approach is too weak and must be replaced, because it muddles factors over which road managers have no control - such as car safety, hospital care and traffic levels - with factors very definitely under their control such as roadside safety barriers or junction layouts."
Read: See the Road Safety Foundation's full report and view the map here