The main carriageway of the M1 Southbound is closed after a lorry full of cheese caught fire there last night, damaging the tarmac.
Resurfacing work is continuing at J18 A5 / A428 (Rugby), causing congestion on the M1 to J20 A4303 / A4304 (Lutterworth).
The road is unlikely to reopen before 8am. There are also queues on the bottom of the M6.
One lane is closed due to a broken down lorry on M1 Southbound before J18 A5 / A428 (Rugby).
Advertisement
Police have released shocking CCTV of the moment a shop worker in Warwickshire was attacked with what's believed to be a wooden cane, by a gang of three men.
Warwickshire Police have released the video to appeal for help in tracing the men seen in the CCTV. The attack happened at a shop on Church Street in Rugby on Tuesday October 28th, at around 6:40pm.
Officers said one of the men attacked the 30-year old shop worker with a wooden cane, while another threw a jar at his head, causing it to crack on impact. The gang then left the scene in the direction of Railway Terrace.
The shop worker was treated at Walsgrave Hospital for serious injuries.
People angry at proposals to build 62 houses on Oakfield Recreation Ground in Rugby will be holding a protest today.
They will be tying yellow ribbons around oak trees and posing for a group photograph.
Around 1400 people have signed a petition against the plans, proposed by the Heart of England Cooperative Society.
They say:
"We are acutely aware of the strength of feeling amongst local residents with regard to the Oakfield Recreation Ground.....discussions are continuing and we can confirm that as yet no planning application has been submitted."
– ALI KURJI, CHIEF EXECUTIVE, HEART OF ENGLAND CO-OPERATIVE SOCIETY
There's disruption to Virgin train services between Rugby and Stoke on Trent. Reports are coming in that a person has been hit by a train,
Advertisement
Wellesbourne, Stratford & Rugby Large Animal Rescue team working to rescue Tally the 28year old horse in Walton today http://t.co/iW0wA8MMH5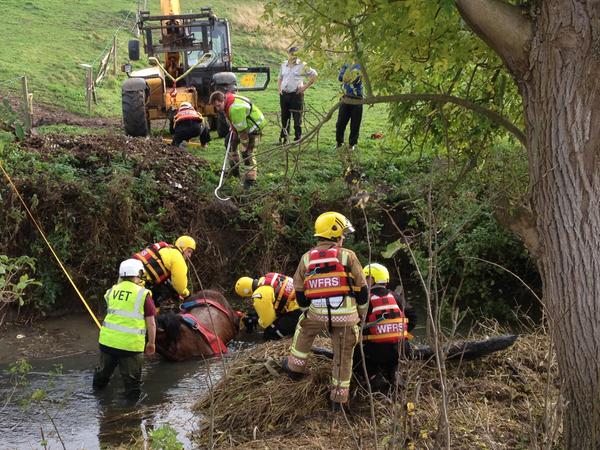 One lane is closed and there's queueing traffic due to broken down vehicle on M1 Northbound at J19 M6 / A14 (Catthorpe Interchange), congestion to J18 A5 / A428 (Rugby).
Police searching for a missing man, Christopher Sherwood, 47, have found a body in a garden in Constable Road, Hillmorton, Rugby.
The body was found at 10:50am today and Christopher's family have been informed.
Christopher, who lives on a narrowboat moored on the canal on Cathiron Lane, was reported missing on September 24th.
The death is currently being treated as unexplained.
Hundreds of fish will be rescued from the Rugby Arm of the Oxford Canal ahead of important dredging work to improve the depth of the waterway for canal boats visiting Rugby.
A specialist fish rescue team will pass an electric current through the water which temporarily stuns the fish causing them to float to the surface. They will then be scooped up and put into holding tanks before being returned, unharmed, to another stretch of the Oxford Canal.
Paul Fox, dredging manager for the Canal & River Trust, said: "With a popular hire boat base in Rugby and lots of visiting boats on the Oxford Canal, it's really important that we undertake this important maintenance work to remove the silt that has built up over the years in this historic canal.
"But before we get the dredging underway, we'll be minimising the impact on wildlife. The best thing to do for the fish is to move them downstream away from the dredging. As well as being a haven for people, the Oxford Canal is also great for wildlife, so I'm expecting to see several hundred fish."
Load more updates