A woman from Oakham in Rutland, says she's living in fear after a homophobic attack on her by two men left her battered and bruised.
Read the full story ›
A review into levels of healthcare in Leicestershire has found 89 patients received 'unacceptable' care in hospital or the community in the days before they died.
The review looked into 381 cases dealt with by the NHS in Leicester, Leicestershire and Rutland, and found care was not good enough for 89 patients. The review said 30 of them were admitted to hospital when other types of care should have been given.
Most of the issues related to patients who were on the Leicester, Leicestershire and Rutland emergency care pathway, finding that communication between different parts of the health system was poor.
Of the 292 patients that were found to have had acceptable levels of care, in 119 of those instances, there were lessons to be learned.
Doctors have written to the patients and relatives involved in the review, to apologise for the care they received.
We take this report very seriously. As doctors we want to do much more for our patients and it is essential that we have a high quality local joined up health care system.

On the evidence of this review, we have let some people down. For this, we want to apologise to the families of all 89 patients whom the review found to have received substandard care and assure them that we are going to work tirelessly with our colleagues to make substantial and lasting improvements to the local health system.
– Dr Kevin Harris, UHL Medical Director, and Professor Mayur Lakhani, GP Chair of West Leicestershire CCG
The review, which was carried out by Local Clinical Commissioning Groups (CCGs), the Leicestershire Partnership NHS Trust (LPT) and University Hospitals of Leicester NHS Trust (UHL), did find that end of life care had seen improvements.
85% of patients since April 2013, who had a care plan for the end of their life, died in their place of choice and their wishes were carried out, which is almost double the national average of 45%.
And to ensure this care to continue to improve, the local NHS community will be holding a series of listening events across Leicester and the surrounding counties.
Advertisement
A young soldier killed in a trailer accident on Dartmoor was looking forward to becoming a father, his devastated family have revealed.
Read the full story ›
A serving soldier from the East Midlands has been killed after being crushed by a military trailer in west Devon.
The 20-year-old, who served with 7 Theatre Logistic Regiment Royal Logistic Corps in Rutland, was part of a small convoy of military vehicles heading towards Okehampton battle camp.
He was hit by an uncoupled trailer and pinned against the towing vehicle, suffering serious head and chest injuries before going into cardiac arrest.
He was pronounced dead at the scene.
A spokesman for Devon and Cornwall Police said family had been informed and identification had taken place.
An investigation has now been launched and the Health and Safety Executive has been informed.
Parts of the region were hit by another earthquake today, the second in as many days.
The British Geological Survey says it happened in the Rutland area, and has been felt in parts of Cambridgeshire and Northamptonshire.
Today's earth tremor was more powerful, at 3.5 on the Richter scale and it took many people by surprise.
Click below to watch a video report by Lauren Hall:
An earthquake that struck the Rutland area of the East Midlands has been felt as far away as Grantham, 25 miles away.
It was just 24 hours after a slightly smaller tremor shook houses in Rutland for around 10 seconds. The latest quake struck the Oakham area at around 7.50am today.
Scores of people in the Grantham area of Lincolnshire have taken to Facebook and Twitter to say they felt the quake, which measured 3.5 on the Richter scale.
Advertisement
Rutland locals have been taking to Twitter all morning to say how the 3.5 earthquake affected them:
@therutlandtimes that's a relief - I thought I was going mad when I felt it as I walked through Hambleton Wood this morning!
Nottinghamshire and England cricketer Stuart Broad also told of his mum's cup of tea being spilled:
Mum just text saying an Earthquake knocked her brew off the table. Not normal news coming out of little Rutland!!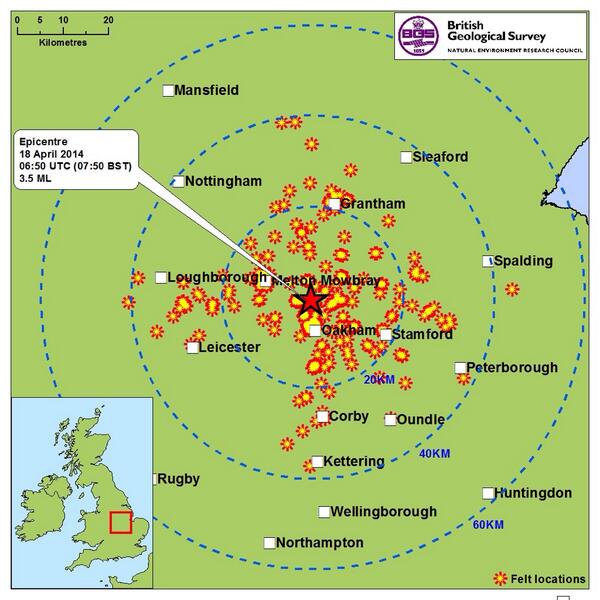 The British Geological Survey has reported a second earthquake in Rutland in 24 hours.
Read the full story ›
The British Geological Survey has reported a second earthquake in Rutland in 24 hours.
The earthquake is said to have been stronger than yesterday's, with a magnitude of 3.5, and a depth of 2km. It started at shortly before 8am this morning.
Load more updates