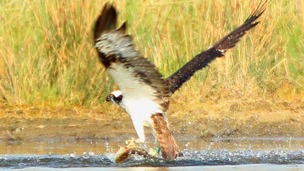 A record number of Ospreys have returned to Rutland Water this year to breed.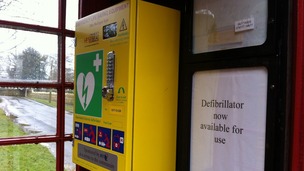 A decommissioned red phone box in Rutland has been fitted with a defibrillator machine to help save lives in the area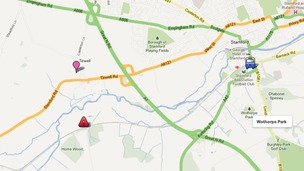 A teenager has died after being hit by a train near Tinwell in Rutland.
Live updates
Olympic stuntman dies in crash
National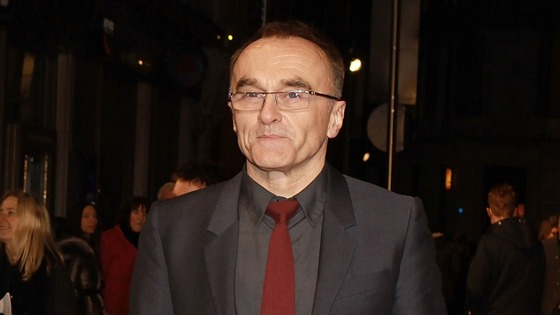 The mastermind of last year's Olympic opening ceremony, Danny Boyle, has paid tribute to the event's James Bond stuntman Mark Sutton as a "gentle and thoughtful" man following his reported death in a wingsuit flying accident.
Mr Boyle told the Evening Standard: "The show was built from so many contributions from so many people, none finer and braver than Mark Sutton's.
"On behalf of everyone in the show we were all honoured to have him worked with him and to have known him as a friend and a professional."
He added that Mr Sutton's death would be a "huge loss to his profession" and said "all our thoughts are with his family, friends and colleagues".
Watch: Mark Sutton charted his experiences with wingsuits on YouTube
Olympic stuntman dies in crash
National
Swiss police have said the fatal wingdiving accident occurred among a group who were in the region as guests of a company that makes extreme sport films for the internet.
Although police have yet to confirm the victim's identity, he is understood to be Olympic stuntman Mark Sutton.
Police, though, said: "The victim, a Briton, was 42 years old. He was staying in Chamonix (in France) with 20 followers, considered among the best in the world in this discipline."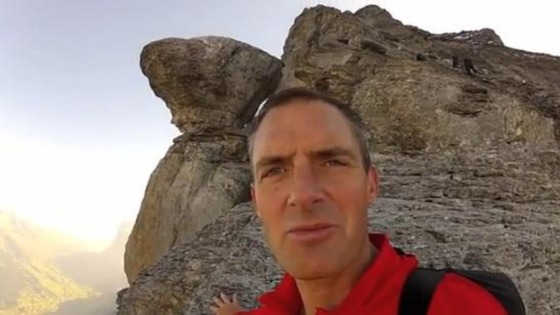 Advertisement
Olympic stuntman dies in crash
National
Swiss police have confirmed that a 42-year-old British man has died after a wingsuit jump close to the French border.
The Valais canton said the man, understood to be Olympic stuntman Mark Sutton, jumped with a friend from a helicopter above the Grandes-Otannes area.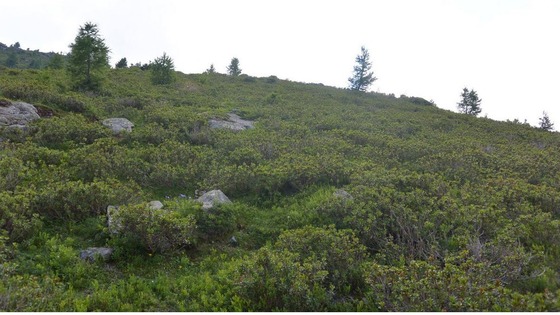 Police said the pair jumped from a height of 10,826ft (3,300m) at around 11:00am yesterday and had planned to land close to the hamlet of Le Peuty, near Trient.
They said a preliminary investigation suggests that he hit a ridge.
Olympic stuntman dies in crash
National
Wingsuit expert Gary Connery has told The Sun that his fellow Olympic stuntman Mark Sutton was "smart, articulate and funny", adding:
In any sport where you share a common bond you can make friends in a heartbeat that last a lifetime. My relationship with Mark was like that.
As well as teaming up for London 2012's opening ceremony, the pair also worked together on Mr Connery's successful maiden jump without a parachute, which made headlines around the world in May 2012.
Olympic stuntman dies in crash
National
The stunt parachutist who played the Queen to Mark Sutton's James Bond during the Olympic opening ceremony warned of the dangers of sky jumps yesterday:
all you jumpers/flyers out there, stay safe, make wise choices and know your limits and your locations live to tell your stories one love
It is unclear if Gary Connery's message was sent before or after Mr Sutton's reported death.
Read: Stuntman Gary Connery jumps from 2,400ft without parachute
Olympic stuntman dies in crash
National
Olympic parachutist Mark Sutton's reportedly fatal accident is understood to have happened on the first day of a three-day wingsuit event near Martigny, in the Valais canton, near the French border.
Mr Sutton had been very experienced in using the special jump suits, which increase the surface area of the body and act like a parachute wing, allowing users to glide through the air at high speeds.
A video on Mr Sutton's YouTube account shows him in several wingsuit flights, including this one near Riva del Garda in northern Italy in August last year, which he introduces with a reference to Team GB:
Advertisement
Olympic stuntman dies in crash
National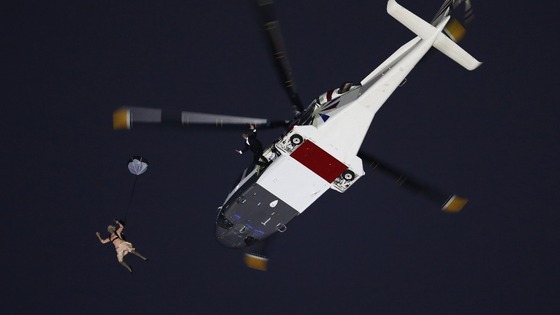 A British stuntman who parachuted into the Olympic Park dressed as James Bond during the London 2012's opening ceremony has reportedly been killed in an accident.
Mark Sutton, 42, crashed into a mountain ridge in the Swiss Alps yesterday and is understood to have died on impact, The Times has reported.
He had been invited to take part in a wing-diving event with 19 other wing-suit pilots, which involved being filmed jumping from helicopters. The cause of the accident is not yet clear.
Mr Sutton took part in one of the most memorable sequences of the Olympics ceremony when, dressed as Daniel Craig's 007, he parachuted into the stadium with a fellow stuntman, who was dressed as the Queen.
Following the news that three Tory councillors have joined UKIP, Nigel Farage said he was "excited", "happy" and "pleased" about his party gaining more supporters and momentum.
Three members of the Rutland Anti-Corruption Group of Councillors are joining UKIP at a meeting with party leader Nigel Farage.
Cllr Richard Gale, Cllr David Richardson and Cllr Nick Wainwright will provide the official opposition on the County Council.
UKIP is the obvious choice, as it supports the same ideals as ourselves; those of honesty, integrity, openness and transparency, along with upholding the fundamental principles of democracy. UKIP also does not impose a whip, thus allowing Councillors to exercise their own judgement and vote in line with the wishes of their electorate.
We believe, as does UKIP, that Local Government has to be returned to the people and must no longer rest with the bureaucrats, working too closely with Council Leaderships, bureaucrats who do nothing but use the tools of burdensome bureaucracy, created by them, to suit nothing more than their own agendas and interests and most certainly not those of the people.
624 mile bike ride for son
A father from Leicestershire who lost his son to the same condition that caused Fabrice Muamba to collapse during a football match, has been cycling more than 600 miles to raise awareness of the condition.
Joe Humphries' dad and a group of friends, have riden one mile for each life lost to Sudden Arrythmic Heart Disease every year.
Load more updates
Back to top