A serving soldier from the East Midlands has been killed after being crushed by a military trailer in west Devon.
The 20-year-old, who served with 7 Theatre Logistic Regiment Royal Logistic Corps in Rutland, was part of a small convoy of military vehicles heading towards Okehampton battle camp.
He was hit by an uncoupled trailer and pinned against the towing vehicle, suffering serious head and chest injuries before going into cardiac arrest.
He was pronounced dead at the scene.
A spokesman for Devon and Cornwall Police said family had been informed and identification had taken place.
An investigation has now been launched and the Health and Safety Executive has been informed.
Parts of the region were hit by another earthquake today, the second in as many days.
The British Geological Survey says it happened in the Rutland area, and has been felt in parts of Cambridgeshire and Northamptonshire.
Today's earth tremor was more powerful, at 3.5 on the Richter scale and it took many people by surprise.
Click below to watch a video report by Lauren Hall:
Advertisement
An earthquake that struck the Rutland area of the East Midlands has been felt as far away as Grantham, 25 miles away.
It was just 24 hours after a slightly smaller tremor shook houses in Rutland for around 10 seconds. The latest quake struck the Oakham area at around 7.50am today.
Scores of people in the Grantham area of Lincolnshire have taken to Facebook and Twitter to say they felt the quake, which measured 3.5 on the Richter scale.
Rutland locals have been taking to Twitter all morning to say how the 3.5 earthquake affected them:
@therutlandtimes that's a relief - I thought I was going mad when I felt it as I walked through Hambleton Wood this morning!
Nottinghamshire and England cricketer Stuart Broad also told of his mum's cup of tea being spilled:
Mum just text saying an Earthquake knocked her brew off the table. Not normal news coming out of little Rutland!!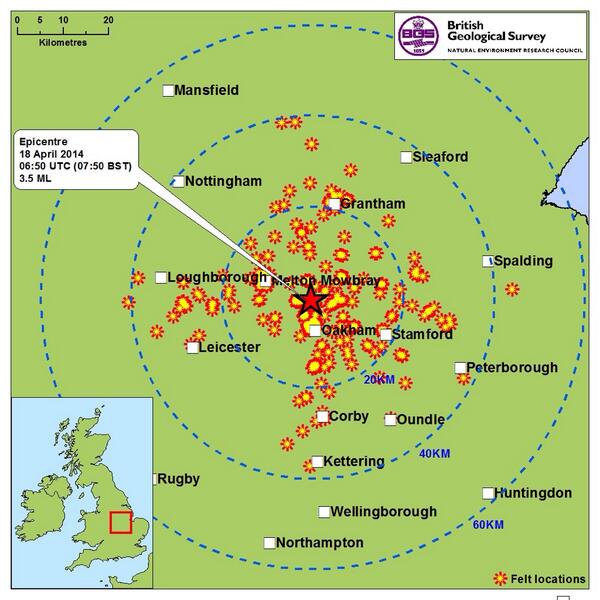 The British Geological Survey has reported a second earthquake in Rutland in 24 hours.
Read the full story ›
Advertisement
The British Geological Survey has reported a second earthquake in Rutland in 24 hours.
The earthquake is said to have been stronger than yesterday's, with a magnitude of 3.5, and a depth of 2km. It started at shortly before 8am this morning.
After Rutland was rocked by this morning's earthquake, we look back at the tremors that have hit the Midlands in the last 20 years.
Read the full story ›
We've just had an earthquake in #oakham the house was shaking for about 10secs
The earthquake felt in Rutland this morning was not powerful enough to have caused any significant damage, according to the British Geological Survey (BGS).
A spokesman for the organisation said earth movement measured this morning was around 100,000 times smaller than a recent 8.2 magnitude Chile earthquake.
In terms of energy release, the Rutland quake was 33-and-a-half-million times smaller.
The BGS says it has had 265 reports from members of the public who say they have felt the quake, with the furthest away coming from Wellingborough, 45 kilometres (27 miles) to the south.
Load more updates