Live updates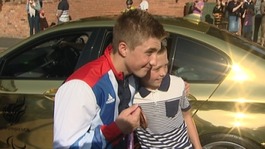 Olympic bronze medallist, Sam Oldham, received a hero's welcome back to his home town of Kegworth today.
Read the full story
London 2012 Olympics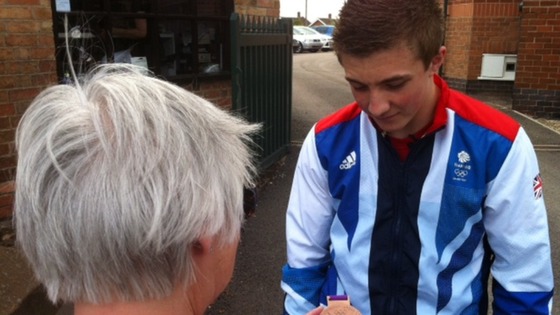 Olympic bronze medalist Sam Oldham showing his medal to a fan in his home village of Keyworth in Nottingham.
Advertisement
London 2012 Olympics
On my way home:D Olympics was best experience of my life, summit I'll never forget. But After 5 weeks away can't wait to see the fam!
Packing my bags and saying goodbye to the village. Time to hand over to our GB Paralympians. Still wearing my medal :-)
London 2012 Olympics
Right then so proud of my team we've done what we set out to do and whatever happens now happens! Let's juice it up boys!!!
Completely overwhelmed by this experience it's just crazy!!! All the support we've got has been incredible!!! #teamGB
Most incredible experience of my life thanks to the whole British public you guys are amazing!!! Oh my days I'm an Olympic medalist!!!
Sam Oldham, who's 19 and from Keyworth in Nottinghamshire, celebrated his historic bronze medal win in the gymnastics and thanked his fans on twitter last night.
It's the first time in more than a century Team GB have won a team medal in Gymnastics.
Sam along with his team mates Louis Smith from Peterborough, Kristian Thomas from Wolverhampton, Max Whitlock, and Daniel Purvis, narrowly missed out on a silver medal after a judging error put them ahead of the Japanese before they appealed the final score.
London 2012 Olympics
Friends and family of fellow gymnast Sam Oldham were out in force at a pub in Nottinghamshire to watch and shout their support. The 19 year old from Keyworth was competing in the first of two qualifying sessions today.
Back to top